Company Name: Silver Cloud Telecom Ltd
Address: The Exchange, 130 Cubie Street, Glasgow, G40 2AF
Website: silvercloudltd.com
Michael McMillan
Managing Director
"We are very excited to be accepted as a partner with Wildix and to be their first partner in Scotland. Silver Cloud are an innovative, energetic, vibrant company, and we definitely share the same passions as Wildix. We are very much looking forward to growing the partnership between Silver Cloud and Wildix and getting the products out to the marketplace."
Michael McMillan
Managing Director
"Silver Cloud Ltd are a hugely successful business, they have a wealth of knowledge of the communications industry and therefore are a perfect fit for our solution. I am proud to highlight they are our first Partner in Scotland, really happy to have them onboard" – Rob Loakes, UK Channel Manager, Wildix.
Having extended the Partners' base to Scotland, we had the pleasure to talk to Michael McMillan, Managing Director of Silver Cloud Telecom (a high-profile industry professional with over 25 years of experience) about the reasons for  entering into a partnership with Wildix, the benefits the solution brings to businesses of all sizes and discussed the ambitious plans for growth that adding Wildix to their portfolio will enable.
"I had been looking for an alternative hosted platform in the UK, I had been considering various brands, when one of my business contacts in Germany pointed me in the direction of Wildix claiming the brand was massively known in Italy and had recently expanded to the UK telecoms market with a very powerful offering. Luckily, almost at the same time, I was contacted by the Wildix UK Sales team who presented the solution to me, I instantly thought it was fantastic! Having a technical background, myself, I can say that the ability to communicate internally and externally just using a web browser is really impressive and powerful, I had never seen another vendor do this and with such ease."
Among the other reasons Silver Cloud partnered with Wildix, Mr. McMillan highlighted:
"Our main purpose as a company is to facilitate our customers with the easiest, most efficient and up to date communication systems that will add more value to both their businesses and customers, and from that perspective Wildix is a perfect solution: powerful intuitive, innovative technology, easy to use, with reasonable pricing.
"Like most of us nowadays I am a busy person I like the fact that with Wildix I do not have to listen to all voicemails I get, Wildix technology transcribes all voicemails into texts, so I can keep up with things very quickly, saving a lot of time. Everything is so simplistic: I think we should all really embrace this new Wildix technology as it's such a powerful platform that can help in our hectic day to day lives".
We asked Mr. McMillan to foresee what changes might occur having entered into the new partnership, and he stated:
"WebRTC is a game changer, I honestly believe that from a sales perspective we will witness a positive shift within our business as we go to the market offering one product that can encapsulate everything: Videoconferencing,  Collaboration, Location services, Contact Center, Call Recording, Speech to Text, all the features that are essential for any business. Another shift we expect is higher margins, for our business and for the sales people, recurrent revenue is key and helps build foundations for the future".
Comparing Wildix to other brands that are established in the UK, Michael McMillan commented:
"Wildix is a WebRTC single platform solution, no additional servers or extra software is required for any of the functionality, yet the majority of more established Vendors (around 80%) that make a big push in the UK now, collaborate with other manufacturers for video or collaboration as their solutions lack many of the functions we are seeing more business requiring, this means support is disjointed and the deployment is complex.
Wildix have a very proactive approach to Research and Development, they listen to their resellers and end users and are bringing new beta software out on a weekly basis, in addition Wildix manufacture their own range of hardware from WebRTC handsets to IP Dect systems and Video conferencing systems to name just a few. Wildix poses a holistic portfolio whether it's hardware or software, all Wildix branded, with a five year guarantee. We are very excited at Silver Cloud to bring the Wildix portfolio to the Scottish marketplace.
Company Name: Portal Voice and Data
Address: 63 Thorpe Road, Norwich, Norfolk, NR1 1UD
Website: www.portal-comms.co.uk
Phone: +44 1603 228500
John Corney
Managing Director
"Ideally, we were looking for a responsive supplier whose partner base wouldn't be overly expanded within the UK, we wanted a supplier that would protect the business of existing partners. And we got this with Wildix!"
John Corney
Managing Director
In a conversation with John Corney, Managing Director at Portal Voice and Data Ltd (Wildix Gold Partner in the UK since 2018), we discovered what features stand Wildix out against the industry competition, why Portal decided to partner with Wildix and found out what Wildix functionality impresses John Corney and his team the most.
"Wildix is currently disrupting the market! The deployment timescale is incredible compared to a traditional PBX: really fast, efficient, easy. The product is ready "to go live" in a matter of hours, and our engineers are positively impressed about that. Being able to arrange this interview with just several clicks via KITE is truly incredible."
Alongside the above mentioned features, Mr Corney also pointed out that: "Wildix Support deserves being mentioned as well as it always very efficient and timely."
"Wildix will allow us to spend less time on support and more time on advice, and this will help us win more business".
Talking about industry competition and other offerings in the market, John Corney said:
"The reason why we didn't add any other solution to our portfolio is that the majority of the market's offerings look very much like "ME TOO" solutions and the functionality they provide is so far from Wildix."
"One of our existing Customers has just started using Wildix in preference to some other well-known leading communications solutions in the UK, and, already at this early stage, they are very excited about the Wildix product, its functionality, ease of use and capabilities".
When we asked Mr Corney to point out his personal TOP Wildix features, he said:
"Wildix product is very straightforward compared to the majority of the market competition. Wildix is a winning solution thanks to its focus on being a pure Web product and the vast range of functionality it offers. Not many products can beat this combination, and I do not think we have seen any other product being more powerful than yours."
*Portal Voice and Data Limited is a leading supplier of next generation voice and data products and services. The company offers a full portfolio of branded products to companies throughout the UK, backed by an expert team offering professional advice and exceptional customer service.

Company Name: Netmetix
Address: 4 Sycamore Court, Birmingham Road, Allesley, Coventry CV5 9BA
Website: netmetix.net
Phone: (+44) 024 7640 8100
Paul Blore
Managing Director
When Wildix started recruiting partners in the UK at the end of 2017, the UK management team were aware of Netmetix' reputation for their outstanding customer service, technical excellence, and expertise, therefore Netmetix were one of the very first companies that Wildix approached when setting up the UK business.
In the interview with Paul Blore, Managing Director at Netmetix we found out what convinced them to partner with Wildix:
"We are always looking for innovative technologies that push the boundaries and deliver new technological solutions for our customers. Wildix and the WebRTC technology fit within our vision perfectly: extremely simple to deploy, highly functional, and – a recurring business model that didn't require us or our clients to enter into a long or minimum term agreement. Wildix is the perfect match for Netmetix as 87% of our business each month is recurring."
When discussing the difference between Wildix and other vendors that Netmetix have partnered with, Paul Blore stated:
"We constantly review our products and services to ensure that we are always providing the best in class for our clients and Wildix is the third  VoIP vendor we have partnered with.
Wildix is the first of a new breed of VoIP services and provides  a complete Unified Communications Solution and not just a telephone system. It touches all aspects of digital communication within an organisation."
The fact that Wildix offers a complete Unified Communications Solution in one single platform is one of the key reasons for Netmetix choosing the solution. With Wildix, Netmetix can provide their customers with the functionality they need, and thus build closer relationships with their clients.
Wildix's collaboration with numerous technological partners is among other advantages that attract Netmetix: "We have recently upgraded our own Wildix system to the latest WMS 4.0 version. As Zoho CRM customers we are very happy about Wildix's latest collaboration with them, and are already taking advantage of the integration between the two and all of the capabilities that the new WMS 4.0 version offers."
"There is no one single reason why we like Wildix. It's more  because it provides the complete solution we are looking for to give our customers: the conferencing, geolocation, presence information, desktop sharing and file transfer, virtual Post-It reminders, attendant console, shared phonebooks and security all provide an unequalled feature set."
*Netmetix are Cloud Network Specialists based in Coventry, UK. Since the company's launch in 2001, they have evolved from an on-premise IT systems specialist into an innovative managed services provider at the cutting edge of the cloud revolution. The company prides itself on combining knowledge, trust and quality to deliver an outstanding service to their clients.  Netmetix are among the top 3 Wildix Partners within the UK Channel in 2018!

Company Name: Convergence Communications Ltd
Address: Unit 11/12 Hall Barn Road Business Park, Hall Barn Road, Isleham, Cambridgeshire, CB7 5RB
Website: www.convergencecomms.com
Phone: (+44) 01638 783 620
Oliver Shevki
Operations Director
During the kite session with Mr Oliver Shevki, the Operations Director at Convergence Communications Ltd, we talked about the first introduction to Wildix, the shift Wildix Technology brings in the industry, and the way partnership with Wildix influences Convergence Customers.
Convergence Communications is based in East Anglia, UK and a multi-award winning business telecoms specialist with over 60 years of combined experience in the industry.
The Company has received numerous industry awards for its professional achievements, innovations and contribution to the UC market development within the UK.
Apart from its high profile portfolio, Convergence Communications sponsors a number of local charities and community initiatives, and this fact pays additional credit to all in Convergence.
The Convergence vs Wildix Partner Story began with a customer who was changing their system that has been transformed into a mutually beneficial partnership for the future.
"We came up against the Wildix system in competition with one of our existing customers, for a long time this customer had purchased their phone systems from us. One of the competitors was proposing the Wildix solution, I had a look at the solution and knew instantly that I wanted to know more about Wildix".
"I arranged a meeting with Ian (Mr Ian Rowan, UK Channel Manager, Wildix), who showed us a demonstration and, at the end of that meeting, we said – "So, where do we sign?" The solution is perfect as an enterprise product and we'll certainly be introducing it to our larger clients.
The Wildix platform is so flexible, it just changes the way people will communicate. Wildix is a real "Game Changer".
Talking about changes, Mr Shevki has noticed a big shift in negotiation with customers since entering Wildix Partnership, he said: "I would say that since partnering with Wildix it has become easier to convince customers to start using Cloud Technology. Alongside that, Wildix flexibility allows us to design Bespoke Solutions specifically for our Customers and this is how we will win more business."
"We have compared the Wildix solution to other products within our portfolio, but it is difficult, as the technology Wildix offers to the industry is so far advanced compared to a traditional telephone system, it's just incredible!"
While discussing best Wildix features, Mr Shevki shared:
"As far as I can see, the WebRTC (real-time) and the collaboration capability is what is sparking the interest. It's changing the conversations we're having with prospects and clients as we're not just talking about voice now, we're talking about video, instant chat and true collaboration.
Just to give you one example, we are now talking to a potential customer, a big university in the UK, and what we can do for them using the Wildix System, is totally unbelievable! We look forward to that project coming to fruition along with many more!"

Company Name: Arrow Comms LTD
Address: Unit 2, Gosforth Park Avenue, Newcastle Upon Tyne, NE12 8EG
Website: www.arrowcommsltd.co.uk
Phone: (+44) 0808 164 3040
"The set of Wildix features has really impressed us, we have never dealt with a manufacturer who offers an "all- in one" product, proprietary deskphones, DECT handsets, call recording and reporting, conferencing and CTI software from a single Vendor, with great commercials."
Paul Clark
Arrow Comms Ltd
Understanding that each business has different requirements when it comes to communications, Arrow Comms LTD, the  Business Telephone Systems & Cloud Telephony Specialist from Newcastle upon Tyne, designs its philosophy around the individual requirements of every Customer, ensuring that the offered services are best of breed and correspond to the latest trends in the UC&C Industry and, most importantly, satisfy needs of the Arrow Comms Customers.
Arrow Comms vs Wildix Partnership started with a series of web demos that opened up the way to the personal meetings with the Wildix UK Team who gave a complete introduction to the Wildix solution and demonstrated the real advantages the Wildix technology embodies itself. "After having a tentative call with the Wildix UK Team who sounded so passionate about the product,  we agreed to have a personal demonstration which subsequently convinced us to move forward with Wildix. We saw immediately how this product is a game-changer"– said Paul Clark, Director at Arrow Comms Ltd.
We have asked Mr Clark to compare Wildix to the Vendors of the similar profile and he stated:
"With the Wildix Product the standard and the more advanced features really allow users to immediately become more productive, with collaboration for instance a user can make and take calls, listen to business voicemails, see the availability of colleagues from multiple devices – a Wildix desk-phone, a personal iPad or simply a laptop – no headset or additional devices, simply using the speaker and the microphone.
You can do similar things with some other Vendors although from my own experience, all of these features are bolt on products or services from third parties making the whole user experience less than smooth.
Just to sum up the comparison, I would say – all the Wildix products perform perfectly, out of the box making the user experience simple and effective".
Arrow Comms Ltd is relatively new to the Wildix Blue Ecosystem, but already now Mr Clark and his Team can see an increasing conversion ratio thanks to the Wildix Solution.
"From someone new contacting us for a general inquiry or a referral from a Client,  we are converting these opportunities much quicker and much easier due to the demos we are doing ourselves now and the demos the guys from Wildix UK are doing.
Wildix makes my job easier and from a commercial perspective this Solution is easy to use, deploy and sell.
From an engineering perspective my Team finds it really easy to deploy Wildix as an installation which may take 2-3 days with a traditional PBX can be carried out in a day with Wildix, and time is money, as you know"- Paul Clark.

Company Name: Ampletech Managed IT Services
Address: Morgan Reach House, 136 Hagley Road, Birmingham, B16 9NX
Website: ampletech.co.uk
Phone: (+44) 0121 392 7545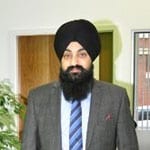 Harjeet Singh
Technical Director
"Wildix ticks all the boxes that we were looking for in a modern phone system, having compared to others in market and with our experience in industry we are feeling proud on our decision to partner with Wildix. Now we can say yes to any type of customer whether it's a single user garage, a high street professional firm or a thousand seat call centre, Wildix fits all. Ease of deployment, management, long list of features and hardware devices make it all in one solution for any industry's telephony requirements and Wildix really has done great job in developing a cutting-edge IP-PBX, topped with 5 year warranties that sells itself".
Harjeet Singh,
Technical Director of Ampletech Ltd
Ampletech is an IT support and service provider in Birmingham, UK, committed to improving the digital IQ of small- and medium-sized businesses across the Midlands region.
Ampletech offers businesses a range of IT services and support to boost their digital IQ in a number of areas such as IT infrastructure, cloud computing, network security, and digital marketing. With over 10 years experience in managing IT systems and environments for SMEs, Ampletech has helped develop innovative structures which has helped businesses realise their digital potential, and maximise their digital capabilities and infrastructure.
Thanks to its exceptional portfolio, advanced vision on the UC&C industry and the services itself, Ampletech has recognised the true power of Wildix and was among the first companies that entered Wildix Partnership back in 2017, right after the Vendor opened its sales office in Coventry, UK.
According to Harjeet Singh (Technical Director – Ampletech)- "being introduced to Wildix Solution by an old business friend Rob Loakes (Wildix UK Channel Manager), we substituted our former Vendor with Wildix's disruptive technology as all the features we found at Wildix were not present at our former Vendor's products.
Therefore, the ease and efficiency of the Wildix Solution deployment has only proved, it had been the right decision and choice for Ampletech."
"Must admit, since offering Wildix products, the "Customers Satisfaction" has improved greatly. We do not have such issues as with the previous system anymore, and even if we do have some minor things on the side, they get resolved much faster as the Tech Team is very responsive and is great at support.
From the technical point of view, management wise, we get control over deployment in the easiest way possible. We have definitely become more successful, as our Customers are happy with the provided services."
Among the best Wildix features Mr Harjeet Singh pointed out- "with Wildix, we have all the needed features in one Solution, we do not need to manage any hardware or physical installations, all the processes can be managed from the Cloud Solution Manager directly.
It is the most brilliant thing as for me, as you can just open any browser and start using the Unified Communication System at once"!
Company Name:  ElemenTel
Address: Chancery House, Premier Way, Romsey, Hampshire, SO51 9DQ
Website: www.elementel.co.uk
Phone: (+44 ) 0330 024 8998
Martin Jupp
Sales Director
When the guys from Wildix Unified Communications introduced us to their Browser Based WebRTC system we were impressed about how it would support the positive shift in attitude to the work life balance. Allowing the user to work remotely with absolutely no compromise to the customer. As long as they have a browser, they have their interface as if they are in the office.
This should help towards a healthier happier workforce and the list of benefits to the environment is a long one. We are looking forward to working with the Wildix guys and we are excited about the future.
Martin Jupp, Sales Director,
ElemenTel Ltd, UK
ElemenTel is a leading provider of next generation voice over internet (VoIP) telephony solutions to businesses of all types and sizes, with a headquarter in Romsey, Hampshire, UK.
Founded in 2012, ElemenTel has established itself as a leading provider of a unique portfolio of products and services to manage the vast range of communication needs. The Company prides itself on its customer service and believes it is what sets it apart from the competition. The fact that over 75% of new business comes from customer referrals proves that excellent service has paid dividends.
"Our Ecosystem of partners in the UK is growing at a great rate however we are not just partnering with anyone, we are selecting and partnering with companies that fit a preferred profile and as such ElemenTel are a perfect match for Wildix. We are really excited to work with Martin, Ceri, Paul and their team. What is most exciting for us is that ElemenTel have selected Wildix to replace their existing lead product from a vendor that no longer offered ElemenTel the features and services their customers needed. We know ElemenTel will do great things with our solution and look forward to working with them closely in this partnership". – Rob Loakes, Wildix UK Channel Manager.
Wildix was recently awarded an Italian government contract that was featured in many UC&C magazines worldwide due to the sheer size of the contact, it was this news that inspired ElemenTel to look into the Wildix solution and was the starting point of the partnership between both companies: "Having read an article in one of the UK communications magazines about Wildix's 45k+ deployment for a governmental organisation in Italy, I contacted someone at the Marketing Department at Wildix and arranged a web demo with Rob (note: Mr Rob Loakes, Wildix UK Channel Manager) – said Mr Paul Farr, the Technical Director at ElemenTel Ltd.
"I think, initially, when we did the web demonstration, the first thing that really grabbed us and we were excited about was the WebRTC and the lack of installation – its there and it's ready to go. The web collaboration, the video conferencing, the voicemail transcription- all the things we didn't have available with the former primary vendor. It was something that was out of the box for Wildix. It is all very exciting!"
Starting by using the Wildix solution internally, ElemenTel is now in the process of marketing the Product to new Prospects and existing Clients. The management team is already noticing the embracement of the Collaboration by the entire ElemenTel Team.
Among the changes the Wildix solution is able to bring to ElemenTel, Mr Farr underlined: "with the flexibility of Wildix dialplans, we can see avenues that will open up different customers for us in areas that previously have been limited in the routing flexibility."
All of the office staff have been really excited about taking on the product as they can see the difference it can make to the initial contact with potential Clients. Everyone is looking forward to being able to demonstrate all the features live, it's going to help to open up doors to sales leads before we have even stepped through the door."
Talking about the features that distinguish Wildix from ElemenTel's former lead product, it is important to mention the Collaboration, the CDR collaboration, the ability to consult developers for further integration, the direct feedback with the developers: "The Wildix Senior leaders Dimitry (note: Dimitri Osler, Wildix CTO) and his Team, are obviously very involved with the development. I think, the development process of other Vendors we have used previously and the road map were very limited. The things that we see Wildix working on, just reinforce how the Product continues to push the boundaries of telecoms systems and unified communications."
Commenting on the features Mr Farr likes the most about the Wildix he said: "Being an engineer, I must admit the great flexibility of the dialplans, it looks like the developers have put a lot of thought and consideration in the deployment and it's straightforward to connect, devices. Along with that, the phones are well built across the range, from the desktop handsets, the Vision and the entire DECT range of handsets and Headsets. The Collaboration, the core coding, the call recording and CDR – it just seems really easy from an engineering point of view."

Company Name: FCP Technologies
Address: Unit 3b, Wixford Park, Georges Elm Lane, Bidford-on-Avon, B50 4JS
Website: www.fcptech.com
Phone: (+44 ) 0345 193 4900
Sam Hodgetts
Director, Co-Founder and Investor
Being 100% Channel focused in its business model, there is no big surprise that Wildix met one of its most valuable Partners in the UK, FCP Technologies, during the Channel Live 2017, the UK's only ICT trade specific conference and exhibition.
Founded in 2005, FCP Technologies specialises in true cloud voice based solutions. With established infrastructure, FCP provides market leading, enterprise level cloud solutions capable of delivering calls and voice services to destinations across the globe. FCP Technologies offers sophisticated Cloud IVR Solutions, Cloud Contact Centre and Voice Services in a number of specialist areas.
In the conversation with Mr Sam Hodgetts (Director, Co-Founder and Investor at FCP Technologies), we found out the main reasons for FCP to enter Wildix Partnership: "The combination of the feature-set and flexibility really convinced us to partner with Wildix!
We have a lot more control over the virtual PBX, compared to some other cloud vendors like Broadsoft, etc… as often those platforms are a single shared solution and you are reselling a turnkey product with less control over the configuration.
However with Wildix, each customer has their own instance, so as a Reseller, you have much more control over the PBX and the type of services you can offer, for example; connecting multiple SIP providers if you have users located in different countries and wanting to terminate and originate locally on the same PBX"
FCP Technologies sells Wildix as an add-on to their contact centre solutions, this allows their Customers take advantage of Wildix's UC functionality in their back offices- "In the past we traditionally sold more basic Cloud based PBXs, but now our Customers can get advantages of the UC for their back office functions and I think it is one of the most important changes that has added value to our portfolio".
Commenting on the difference between Wildix and other brands, Mr Hodgetts said: "We see as Wildix being agile and lean, therefore more tuned into the market's trends and needs, being more responsive in developing solutions as a Vendor. With regular new releases of features we see as market leading or changing.
Plus there is obviously no Channel conflict with Wildix as they do not sell directly to the End- Users. Another great thing for me- Wildix does not create the conflict among the Channel Resellers.  With the larger vendors many resellers are approaching the same prospects with the same underlying solution, this can be obvious to the customer, thereby making the choice more difficult for the customer and reducing the odds of a successful sale to the reseller. But currently Wildix presents a new and unique solution for the Customer, it stands out. Also Wildix is more selective when it comes to Partnership and works with resellers who want to differentiate and frankly speaking, it is one of the key reasons for FCP working with Wildix".
Among the things Mr Hodgetts likes the best in Wildix he mentioned: "It's ultimately the flexibility of the model, that's the key. Wildix offers flexibility with pricing, licensing and deployment and this kind of overall flexibility is quite unique.
As for me, the flexibility of deployment tops that all, as with Wildix you can deploy on the Cloud, you can deploy on AWS, you can deploy on site and, I don't think, there are many Vendors that can do the same, as  easily as Wildix can.