Kite:
More Than a Chat Widget for Websites

Create sales opportunities with any online visitor over text, voice or video.
All directly in your browser.
Kite by Wildix takes the next step in improving your customer sales journey. Far more than a live chat widget for websites, Kite gives visitors on your homepage immediate communication with your team as anything from a plugin to an embedded set of contact buttons.


Any questions or concerns customers need addressing, from product information to pricing, you can answer within an intuitively designed chat window — all while keeping them right on your website and without having to use an additional communications tool on your company's end. Ultimately, Kite helps you sell through better responding to customer needs.


Now, you and your customers can talk in the browser with the best chat and calling solution for websites that's focused on increasing your sales.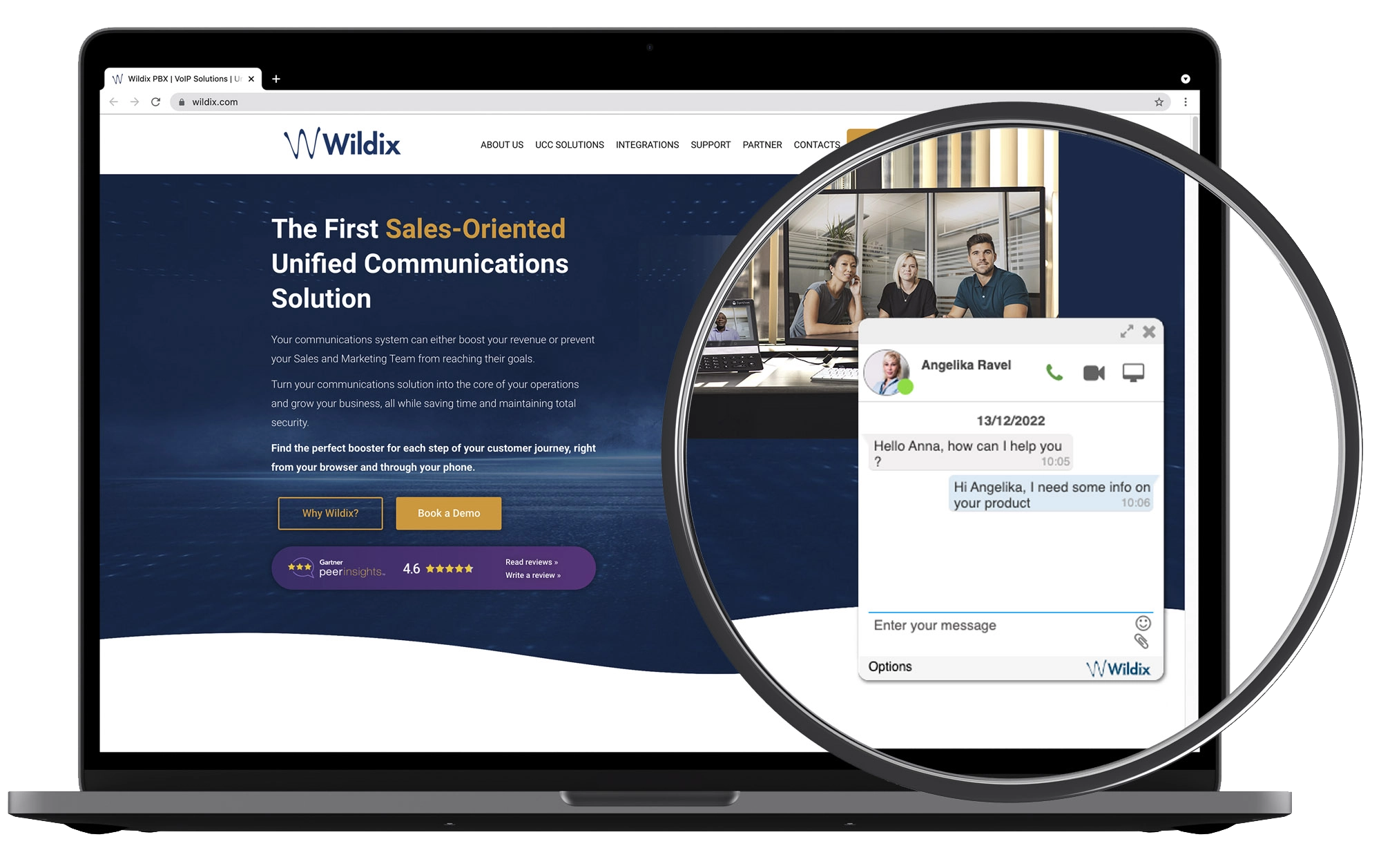 How Organizations Use Kite
"Our university's objective is to offer increasingly advanced and innovative services to our students. With Kite they can connect to a web page conveniently from home or the library, indicate which faculties they belong to, see the person available at that moment, and easily access the information."
"Using Kite, we have added online chat on our portals, which has in fact lightened our load of calls and reduced wait time for our clients. Thanks to the ease in accessing the Wildix communications system for our operators, we have been able to extend our hours of service and even made it possible for some operators to work from home."
"The most striking innovation introduced with the Wildix system is the new way to manage customer service: 98% of communications with customers are now realized via the live chat service present on our company website."
A Communications Revolution for Sales
Kite comes to you from Wildix, the only European UCaaS vendor recognized by Gartner, Forrester and Frost and Sullivan. Wildix revolutionized unified communications by being the first to use WebRTC for a communications solution to work directly in the browser.
Right from its launch, Kite showed businesses around the world the effectiveness and efficiency possible through WebRTC. Today, this award-winning tool goes far beyond a chat widget, serving as a fully customizable customer communications solution directly on your website.
Click on an agent to try Kite now
Business Development Representative US
A Sales-Focused Online Chat Widget for Websites & Much More
When visitors to your website have questions, they want to feel seen instantly and get a response quickly. With Kite, your business can give them exactly the service they want, increasing your sales opportunities. It provides live chat as a seamless experience on desktop or mobile devices with no downloads, all on the same page.

Kite makes it simpler than ever to manage queries. The tool works as a website chat widget displaying specific profiles, with live chat and call buttons built into each. Visitors can call those individual profiles to get in touch with one specific person, or they can reach out to multiple agents, either to contact any available associate or start a group chat or call.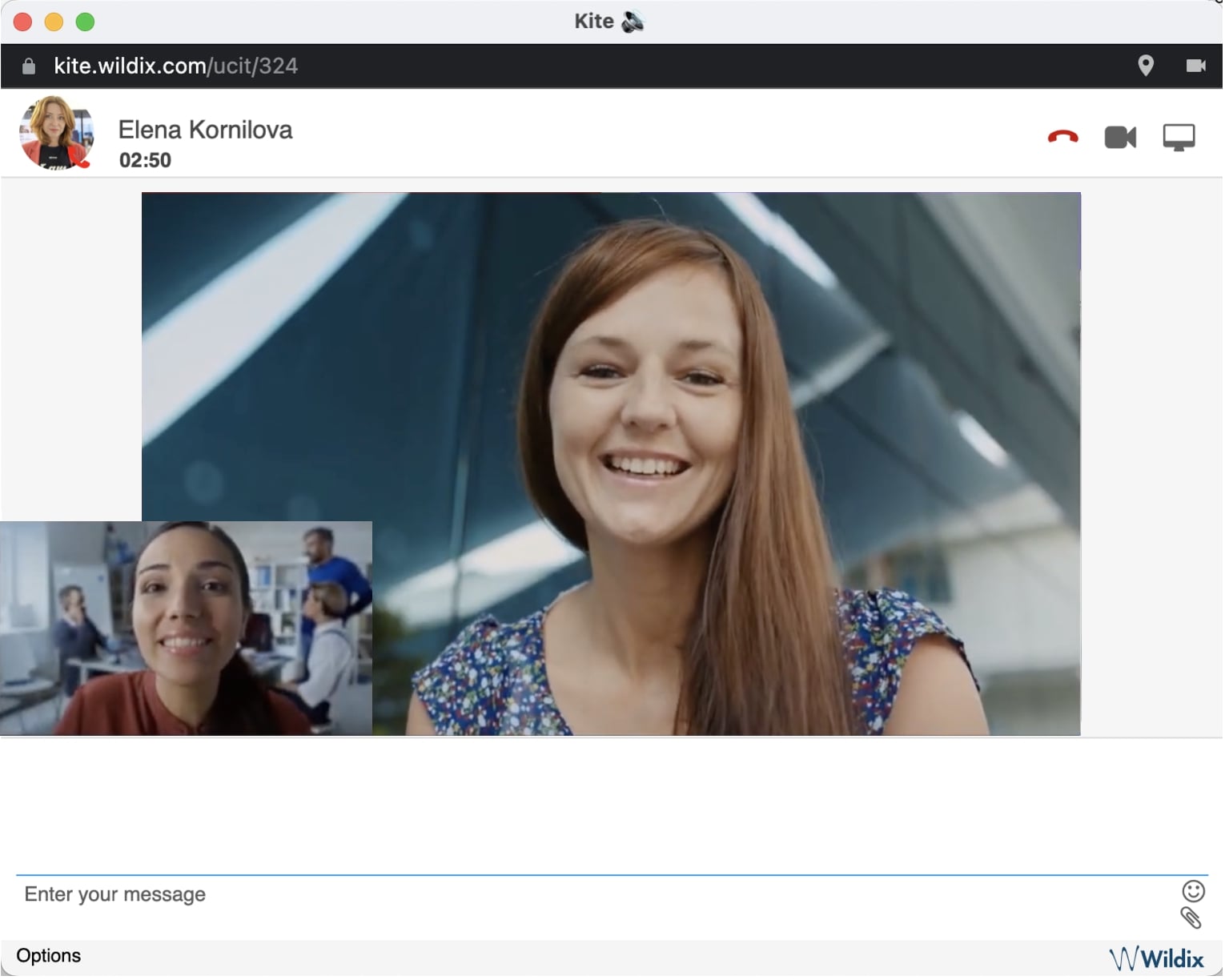 Complete your webpage's live customer service with:
With Kite, anyone arriving at your website can receive support in the fastest, most convenient way possible. Whatever communication option they prefer, they can make a direct connection and get help with just a click.
Call hand-offs are a breeze, too, as the widget allows representatives to pass visitors to a different colleague. You can even add other decision-makers to any given group session if more help is needed for support.
With this versatile chat widget for websites, customers can spend more time receiving service from real, live people — and your business can spend more time making sales.
Combined with other Wildix solutions, this results in a 52% uplift in your sales funnel.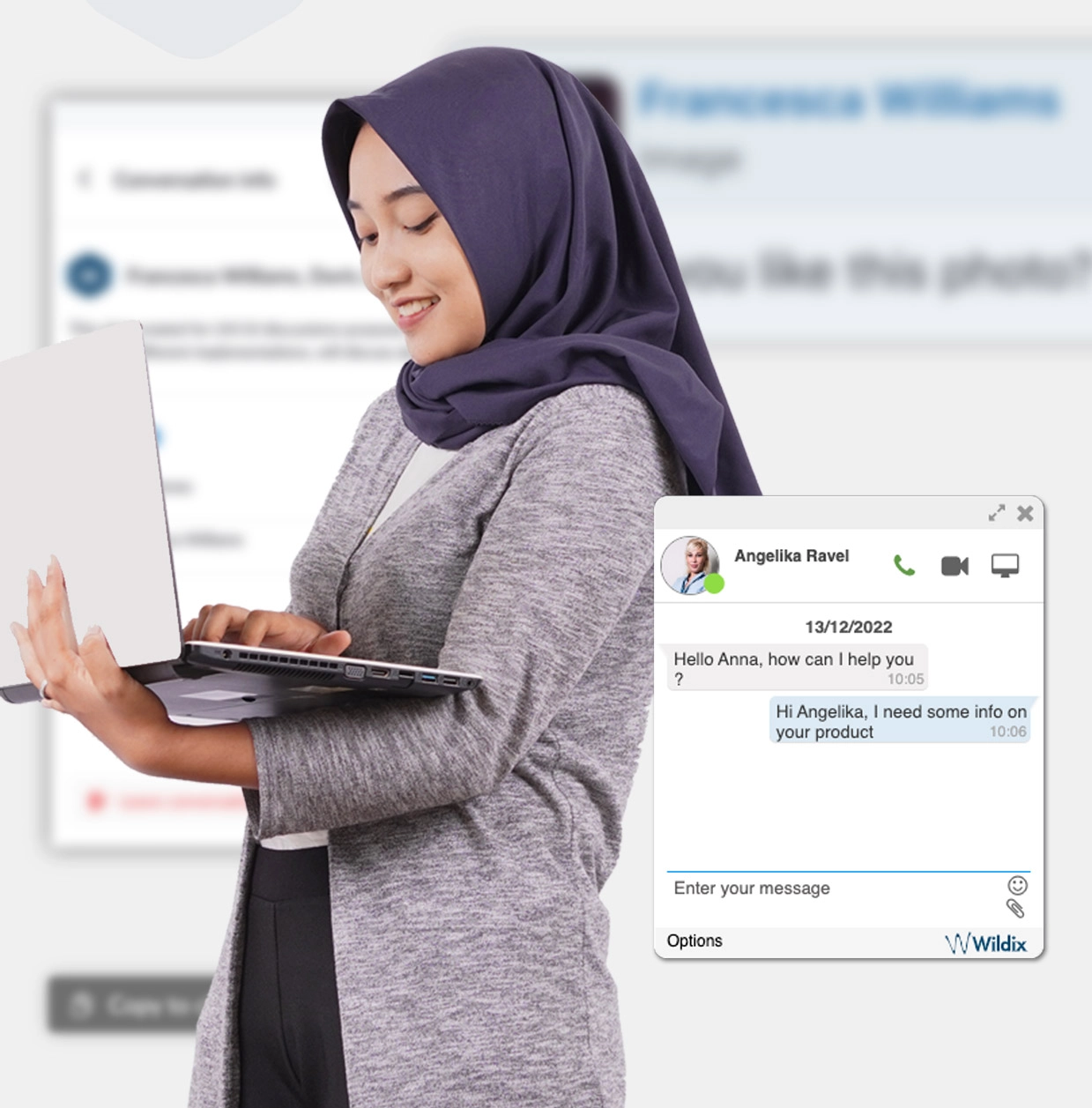 Create the Best Chat Widget for Your Website
You worked hard to create a site specifically for your business. Why should you settle for a chat plugin for any website at all?
Kite stands apart with a design that's flexible and customizable enough to fit your webpage's specific look and layout. Thanks to its HTML format, this business chat client can be tailored to meet the exact look, feel and display you need to provide a cohesive experience. Plus, the API is fully accessible for quick, convenient customization within the source code itself.

Once you get started, you have the power to alter it to fit your specific homepage. Or, go beyond an ordinary chat widget or plugin. If a pop-up window isn't what works for you, Kite can be designed from the ground up as an embedded part of your website. Have the solution instead on the page as buttons directly part of the site layout, complete with automatically updating fields powered by various integrations with your communications system.
Include as many or as few of these details as you like on each profile. With the customization of the Kite chat widget and its set of free included features, it's all up to you. Because all this communication happens directly on your website, visitors don't have to leave for a download or redirect. That helps you reduce bounce rates and increase engagement for a tighter, more reliable growth rate. A full suite of features and total customization — that's how Kite goes beyond acting as an ordinary business chat client and becomes a chat client for your website.
Start using Kite and customize your contacts list with: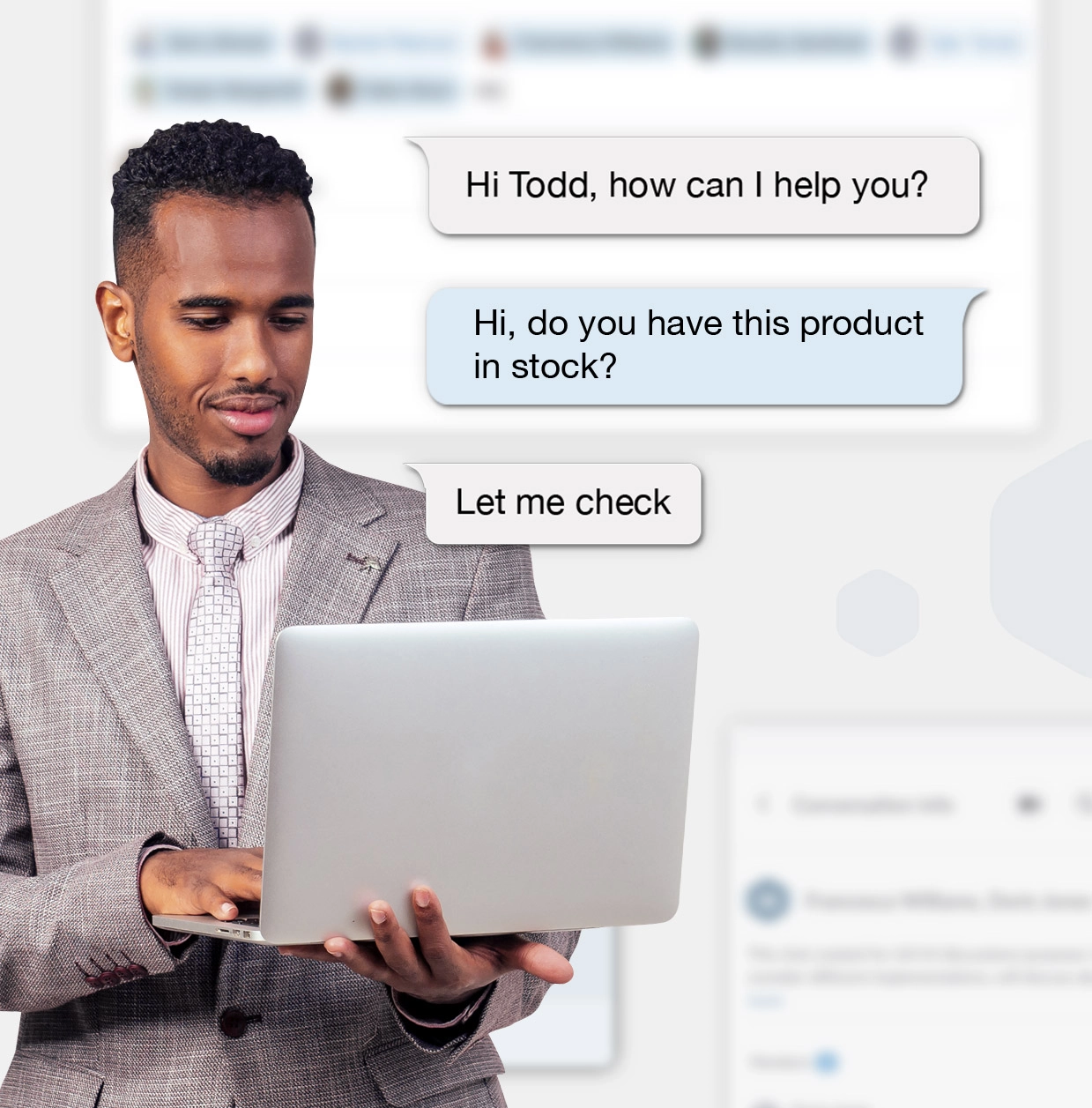 All Customer Messages in One Place
Using Kite, talking to your customers gets simpler on your team's end, too. Instead of requiring a separate application to hear from visitors, it routes all incoming chats and calls into the interface for your current Wildix communication tools. This means any on-call agents hear from clients exactly as if they were receiving communications from their colleagues, smoothing out the sales journey.

Kite runs in conjunction with Wildix Collaboration working within the browser. When a visitor sends an instant message via the plugin, that chat comes to designated employees through Collaboration. If visitors place a voice or video call, the alert also will come to them through their main communication app — no switching windows required.

And because Collaboration syncs between devices, company representatives can switch seamlessly from their desktop to their smartphone and back again. Site visitors experience no interruption and communicate with the same profile that they've been talking with no matter what device the agent is using.

Those site visitors can switch devices, too. Should they change from their desktop device to a smartphone, they can enter the same site and use Kite on the mobile page. That creates consistent spaces for every conversation, whether users want text, voice calls or video calls.
Create the Best Chat Widget for Your Website
Kite as a Real-Life Chat Tool
How would Kite fare in business scenarios? Here are a couple of use cases:
Sterling Automotive is a car dealership. A potential client visits their website to browse the available cars, but they have questions. However, Kite is installed on the homepage as a live chat website plugin; with a single click, the prospect can exchange instant messages with an agent. As questions become more complicated, the representative offers to switch to a voice discussion. The customer accepts the incoming call with another click and is now on a voice call via the browser and his laptop microphones. Eventually, they agree to a test drive, which is scheduled via Google Calendar. The result is a seamless customer journey that ensures your website becomes a major part of your sales funnel. 
Leonard's Landscaping provides yard work at variable rates. A potential client arrives at the website and wants a quote on how much it will cost to landscape the area around her office building. Using the "Contact Us" button displayed on the website via the Kite customer service widget, she informs a rep via instant message about her landscaping project. For more detail, the Leonard's Landscaping assistant initiates a video call directly from the client's mobile device. Now, the client takes her phone with her as she walks around her office to demonstrate its size over video. Using this information, Leonard's Landscaping decides on a quote within a few minutes. The result is instant customer satisfaction and communication, making it easier to capture sales opportunities through your website.
Customer Service via a Live Chat Widget
With Kite, it's never been easier for prospective and repeat customers to connect with your business through a reactive live chat module for your website. On your website or beyond, it allows existing and prospective customers to reach real live staff. Because it's available as an HTML template, it can be added to your webpage's design instantly. Integrate it seamlessly into your homepage, contact us page or beyond. Thanks to the range of designs, it's a breeze to add a complete chat widget to whatever part of your site where it'll be a good fit.

It's just as convenient to automate your customer support as needed. Since Kite's API can be fully customized, chatbots can plug into the solution to give each visitor initial support. Or, use a chatbot only when all agents are busy.

Stop complicating your help pages, and start providing instant support. Kite makes it easier than ever to usher potential buyers through your sales pipeline.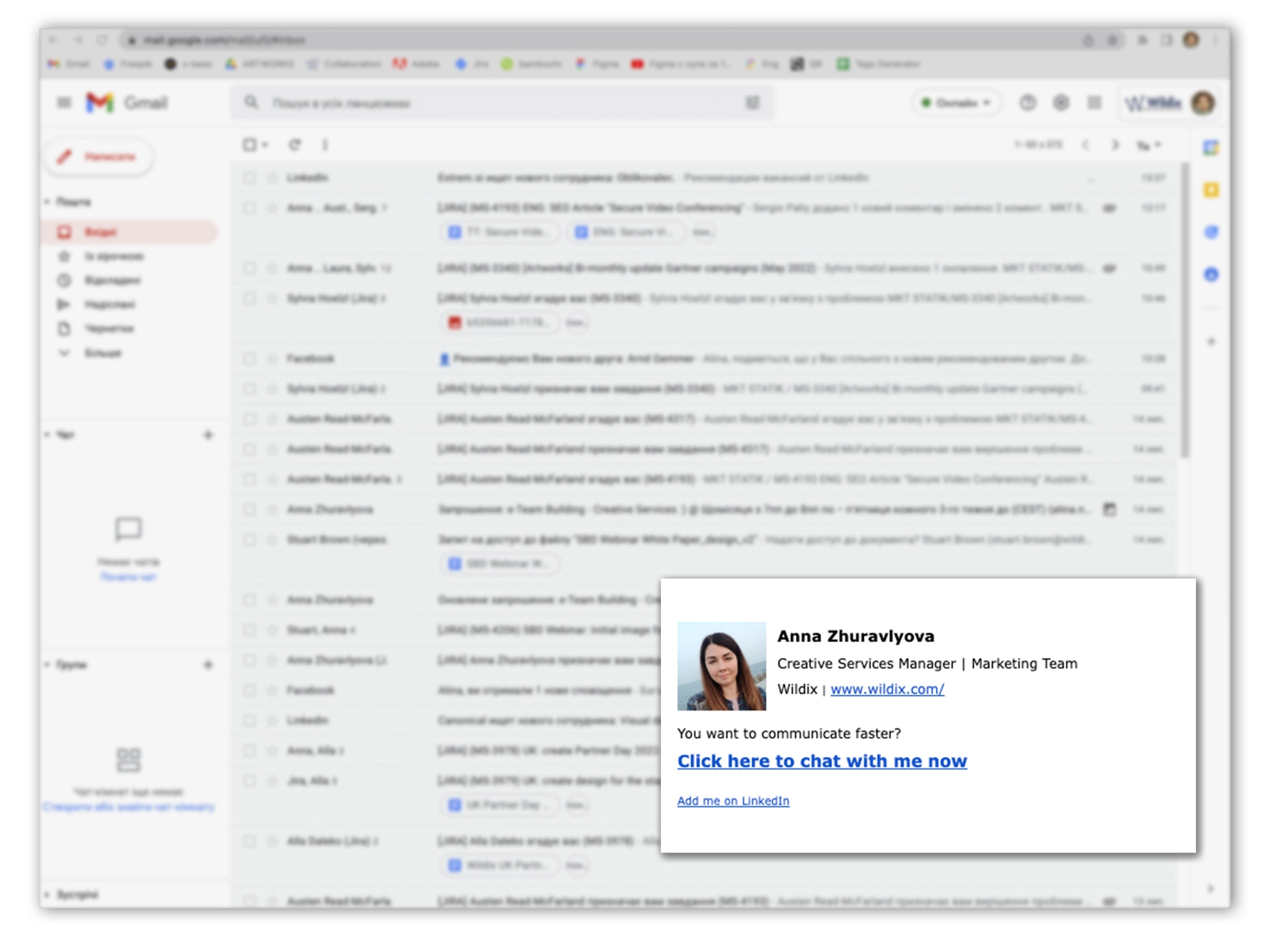 Conversations, Even Off Your Website
Unlike ordinary live chat widgets for websites, Kite lets you stay in touch with potential customers even after they close the window. Before it connects them to an agent, it can require customers to enter their names and contact info to maintain a persistent channel to them.

Is requiring that information too much? No problem — you can easily configure it to let clients message with just a click, no further input required. But Kite doesn't have to stay only on your website. It can be customized to fit into emails and offer anyone you talk to a quick, convenient means of communication. No need to limit customers to sending email after email for inquiries — Kite lets them chat or call a specific person right away.

Help your customers communicate however they prefer, on your webpage or beyond, with the chat widget for websites that's not simply limited to your websites. No matter where or when clients find your brand, Kite helps them talk to the people behind it right away.
Click on an agent to try Kite now
Business Development Representative US
Switch to Streamlined Communications
Kite is all about a simplified customer experience: instead of confusion and extra downloads, your leads get communication, pure and simple. That gets web visitors talking to your company faster, bringing more sales down the pipeline more often.
Once you add it to your webpage, talking to representatives is as straightforward as:
Live chat over text or voice
That means your company gets:
Ditch the extra downloads and just chat. With Kite and Wildix's suite of apps, connecting customers to your sales funnel is easier than ever.
Fill out the form to request a demo