x-caracal:
All-in-One Contact Center Analytics Solution
All your contact and call center analytics tools, all in one place.
Get the data you need to convert more leads with x-caracal.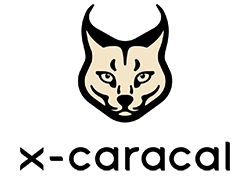 Care for and control the performance of your sales team
In a sales-focused business, customer communications aren't simple. At every stage of your customer journey, you have multiple conversations happening at once — over voice calls, instant messaging, webinars and more — all contacting a wide range of people.

And if you don't have access to the metrics at the heart of those communications, how can you improve your sales funnel?
"Ever since the implementation of Wildix, we have been able to increase our volume of phone calls by about 10%. Over the last year the amount of missed calls dropped from 25% to 8% at the moment, and the fact how many inquiries we can deal through the Trade Center increased, obviously, the revenue to the bottom line; it increased customer retention and the capability of us growing into the future <...> We use a Wallboard for KPIs within our Trade Center — we actually got additional operations where the Wallboard is a very useful tool to see the KPIs, see the performance of the team. On top of that we use x-caracal. The full package makes it a very powerful system in our environment."
"I open the dashboard and see who is currently on the line with which customer. If everything here is red, the lines are busy. Then I have to take care of it. I add myself or contact colleagues. <…> It was a big benefit being able to manage it yourself and not having to call in a telephone technician to reprogram something in the server cabinet or on the telephone system"
"The investment in Wildix has paid off because it makes work more efficient. <…> We have high first-time solution rates because the colleagues can concentrate on the factual issues and don't have to look first who is calling and how they have to get in touch. <…> I can definitely recommend Wildix to other companies."
x-caracal puts the most effective call center analytics software directly in your browser, hosted safely in the cloud
To make the most of your communications, you need hard data immediately as calls, chats and webinars are happening. That takes more than just a voice analytics tool, and more than what everyday call center tools can offer.

Most call center analytics providers don't offer solutions as expansive or as easy-to-use as you need. Usually, you're limited to data only from a select few of your tools, with analysis and reports available only in a separate app. To make necessary shifts in real time, you need the most agile, lightweight and integrated data analysis tool possible — not the usual entries from the call center analytics market. That's where you bring in x-caracal: the sleek, simple and fully aware contact center analytics solution.
x-caracal wins Comms Business 2022 Award for Contact Centre Vendor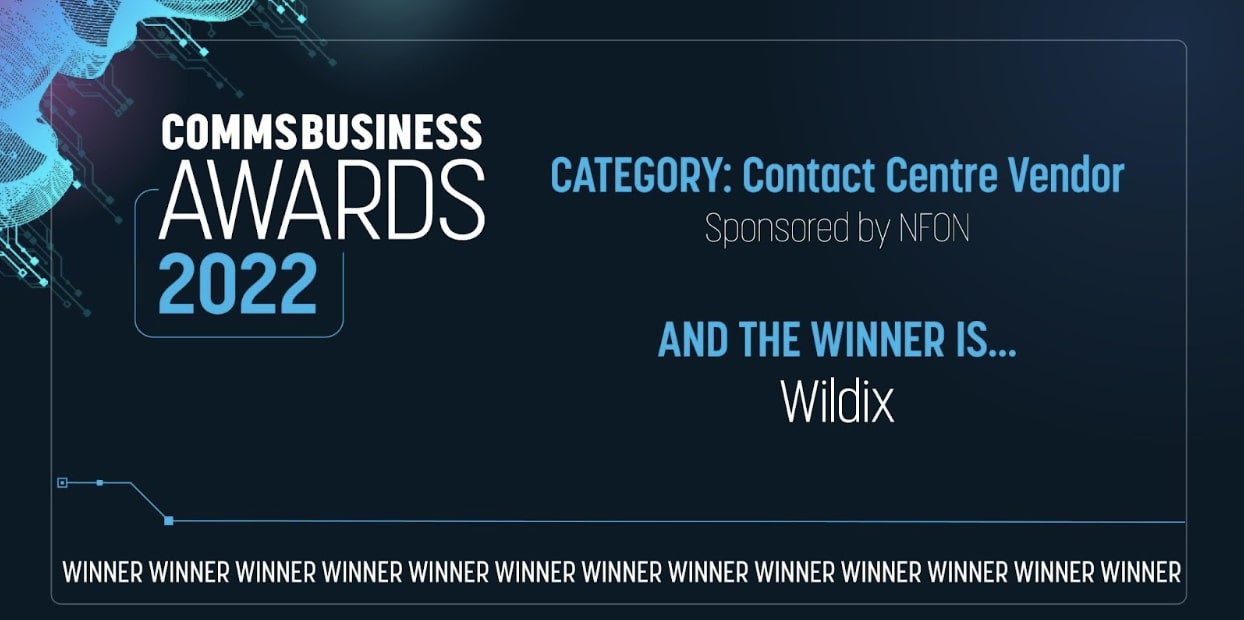 With x-caracal, UCaaS and contact center analytics are…
Lightweight

: Work entirely in the browser and fully in the cloud for an instant overview of your

contact center analytics

at the moment you need them.

Agile:

View and respond to every part of your call flow with real time

call

center analytics

software

as x-caracal shows you data right as it comes in.

Integrated:

Take control of your entire communications process with the

contact center tool

that monitors all agents' devices, including mobile.
Using x-caracal, it's never been easier to run contact center analytics and reporting. Simply introduce the tool into your Wildix setup with an instant, fully cloud-based deployment, and right away you'll be ready to start utilizing the best in real-time call center analytics tools.
That brings you your easiest ticket ever to more intuitively tracking the effectiveness of your customer experience and, from there, improving customer satisfaction and retention.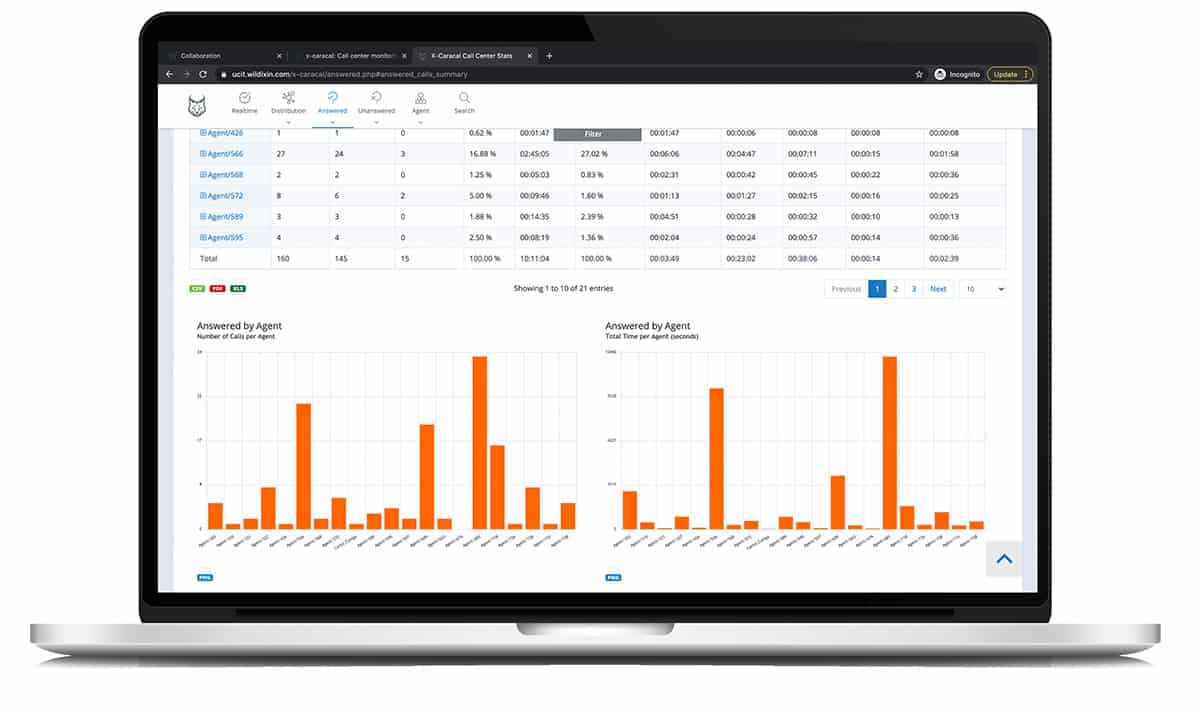 x-caracal optimizes your customer outreach
in just four steps:
Plug x-caracal into your setup
x-caracal is fully cloud-based, so deployment is instant and requires no physical hardware. Once it's synced up with your Wildix tools, it's ready to gather all the data you need to improve your customer journey and increase customer satisfaction.
As you work, x-caracal monitors your calls, chats and webinars with customers. No need to alter your call flows or procedures — the tool automatically analyzes your communications as they're currently set up.
See your call data in real time or save it off for later as a spreadsheet, image or PDF. No matter what, x-caracal provides a smooth, simple interface to examine your data, all directly in the browser.
Update your communications strategy
Your data from x-caracal is the foundation for a leaner call flow. Take your reports to learn from top performers, improve lagging performances and shape up your greater communications processes with more data on agent productivity.
Ask for your FREE demo now to learn more
about x-caracal
A complete view of your most important
communications data
No more guesswork in working out your sales funnel and customer support.
With x-caracal, you get instant access to your business's most important communications data points and agent KPIs, including:
Reorient your contact and call center analytics for big data, all implemented through a sleek, simple and entirely agile view. x-caracal unifies all your communications with tools that make it easy to instantly see how your communications are flowing in real time or over a set period.
x-caracal brings you the full scope of contact center analytics with:
Multiple dashboard overviews
Get instant data on your call flows via x-caracal's main dashboards:
Real-time: See data from current and recent calls

Distribution: View reports sorted by a time frame (hour, day, week, etc.) or by agent

Answered: Shows all calls that were picked up

Unanswered: Shows all calls that were not picked up

Agent: See communications and performance data from specific users

Search: Narrow results with specific information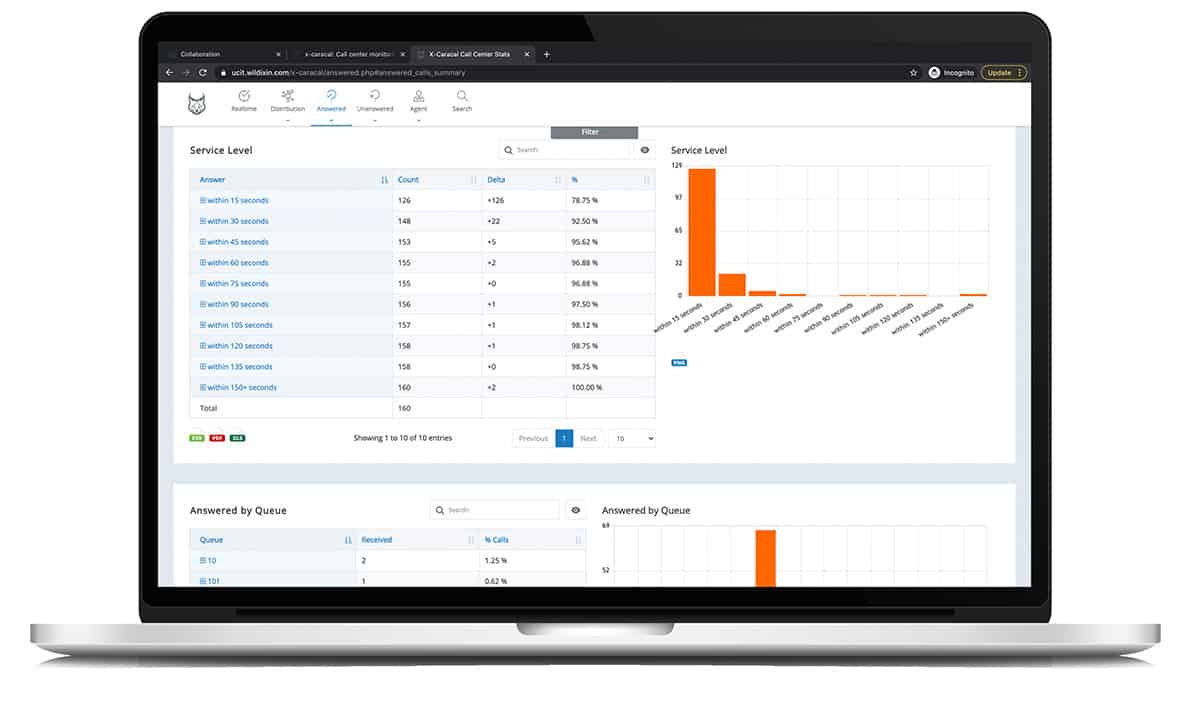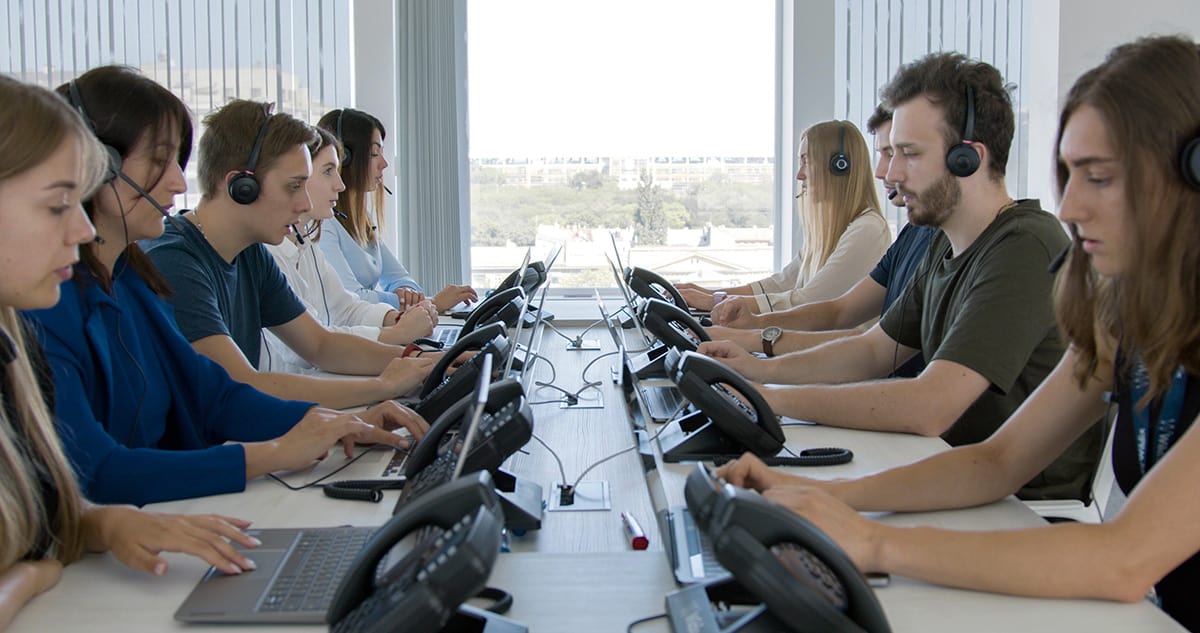 Instant actions within real-time call center analytics software
x-caracal functions as your all-in-one contact and
call center analytics
software
, working completely in the browser for maximum efficiency. Whether it's data on sales calls, customer service or beyond, x-caracal provides the details you need to maximize performances without additional installations.
Directly in the tool, view four varieties of pre-defined reports:
Distribution:

Data includes distribution summary, total calls, distribution by queue/month/week/day/hour/day of week and detailed distribution report

Answered calls:

Data includes answered calls summary, total answered calls, answered by queue/agent/disconnection cause/call length, transfers and answered calls detail

Unanswered calls:

Data includes unanswered calls summary, total unanswered calls, service level, disconnection cause, unanswered by queue and unanswered calls detail

Agent reports:

Data includes agent summary, agent totals, agent availability, pause detail, call disposition by agent and full agent report
Reports exported as CSV, PDF, XLS or PNGs
There's no need to limit your call center analytics solutions to just inside x-caracal. Using a simple, direct interface, instantly export any of your reports as a common spreadsheet file, including CSV and XLS. Or, simply save the results as a PDF for a ready-made report on your contact or call center's performance.

In case you need the data as part of a larger report or presentation, x-caracal can also export it as a PNG. No matter how you need your data analysis offloaded, x-caracal is up to the challenge.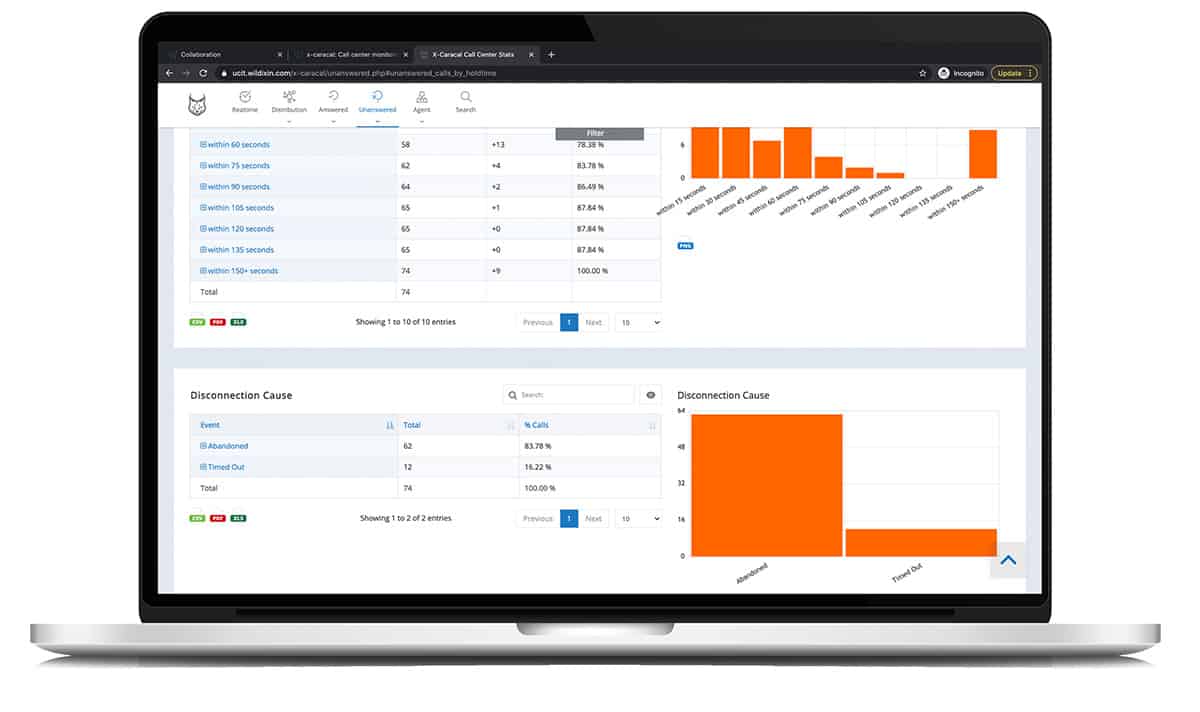 Analytics automatically delivered via email
You probably don't have time to watch data accumulate all day — which is exactly why x-caracal can fetch the most relevant data according to your schedule. Directly in the contact center tool, queue up preset or custom reports to be sent to you through email. On the dot, you'll receive regular updates on whichever analytics you most want to examine.

These reports can be set to send on a regular time frame (every day, every week, etc.) or when a given data set reaches a specified value. Plus, you can keep as many team members in the loop as needed with multiple recipients for each sent report. With x-caracal, you stay up-to-date in real time and on your own time.
Our customers talk about
x-caracal
Video case study: Northside Truck & Van increased customer retention & revenue growth thanks to x-caracal
Video case study: Nagarro Optimizes IT Service Desk Activities

Only x-caracal brings it all together,
all right in your browser
Have all your contact center tools always at the ready: x-caracal brings together the most relevant contact and call center analytics solutions into just one space, but with countless ways to view and use the generated data.

No more getting lost in the fine processes driving your sales funnel. Switch to x-caracal for a more intuitive, results-driven approach to real time call center analytics software.
Learn more by filling out this form