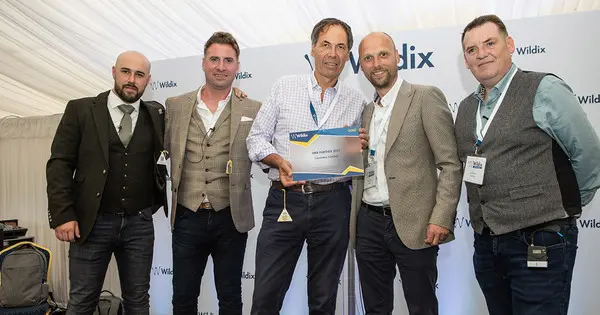 "The unrivalled technical side is a particular highlight of the system. The amount of flexibility we have in terms of customer requests enables us to provide a first-class service. With most cloud providers, it's usually that there's a set of features, and you can either turn them on, or not, and there's no scope for developing it in your own way. With Wildix, that barrier has been taken away. If a customer asks for a particular solution, we're confident we can deliver it, and I think that's more important than any feature, app or anything else."
"Wildix has given us the confidence to compete for any contract. It's helped us get out in front of new customers and we now know that with our product portfolio and expertise, we can provide businesses with cutting-edge technology that has everything they should want and need."
Based out of Telford in the West Midlands, Connexis supplies and installs business-grade communications solutions to UK-based SMBs.
They were already well-established in their market however to remain competitive Connexis saw the necessity to look for an alternative to their existing suppliers. On the one hand, the technology of that setup was not operating to the company's standards, especially in the wake of the channel's move to cloud-based systems. But just as importantly, the team also saw reason to branch out and offer more from a business perspective.
"The first thing was we weren't very keen on our previous supplier's business model," said William Rowland, Managing Director of Connexis. "We pride ourselves on our personalised service to our customers. With our old offering we found that we had limited control over our customer experience. Effectively, they wanted to turn us into agents as opposed to partners with our own customer base."
With Panasonic out of the marketplace and other brands presenting similarly thin margins, the next option was less known at that time vendor: Wildix, which William and his colleagues heard about through marketing messages over LinkedIn.
Fortunately, the proposition Wildix put forward proved far more hospitable to Connexis.
"In terms of having an alternative product, we wanted to find what I considered to be a niche player in the marketplace that offered leading innovation" said William. "One thing led to another, and Wildix, we felt, fit the bill for us."
He also explained: "What particularly impressed me was the fact that Wildix was WebRTC. That, to me, spoke volumes about how the solution really was completely new. It also seemed to me that Wildix are very good at putting an identity behind a product, whether it be Kite or x-bees."
After signing with Wildix, Connexis saw exciting business shifts — most importantly, picking up new customers, including ones that were previously unreachable.
"I've got an opportunity on my desk now from a firm of estate agents I was talking to six or seven years ago," explained William. "They've got about a dozen branches, and I was never getting very far. Now, they've come back in contact with us principally because they know us from before, but also because — completely independent of us — they were recommended Wildix. When their office manager went to look at our website and she saw Wildix in our portfolio, it meant we were able to deliver.
"Another example would be Tanners Wines. They're one of the longest-established and well-known businesses within our county. They're a business with traditional values; 'traditional' in the best sense of the word. They were therefore looking for a platform that offered quality and dependability as well as innovative technology. The fact they've chosen Wildix speaks volumes."
This installation for Tanners Wines totals, at time of writing, 60 users across six sites, with a mix of Workforce phones, Vision phones and Essential and Business licences. The number of installations is expected to continually increase as the business continues to grow.
The business opportunities haven't been limited to newly won contracts, either. With Wildix, Connexis has even begun winning back old contracts. "I have known the business owner for 20 plus years," William recounted. "He used to be a customer of ours, many years ago, and then he left us because he invested in a telecoms company. About six months ago, he contacted me out of the blue to say that they've been reviewing their comms and they were going to move to a cloud-based solution. One thing led to another, and suffice to say they've chosen Wildix"
"That is a good example," added Joe, "the company he invested in sells 8×8, 3CX and Gamma Horizon and they didn't get along with any of those. If we can sell a Wildix system to someone invested in a company that sells other products then that's got to be a good indication for the future." In broader terms, what that indicates is a greater competitive advantage in selling their services.
William emphasised, "This industry has been dominated by the larger corporates: the Avayas, the Ciscos, the Mitels of this world. As I say, Wildix feels to me like a niche, very innovative, le ading-edge type organisation that really has a great opportunity to take the market by storm. I hope we can benefit from that, too."