The Wildix Smart Working Solution
The Wildix professional and easy-to-use platform is right for you.
Fill out the form below to learn more
It's all too easy for unforeseen circumstances to shut down an office. Disease, weather conditions, or even construction can make a workplace inaccessible — taking you from making money to sitting helplessly.
We've already seen these disruptions can happen anytime, with no warning of when they'll come or when they'll let up. The best way around them is an easy-to-use, easy-to-deploy solution that gets you and your team back to work from home.
Suppose that when your office shuts down, instead of losing all your staff, you could keep 80% or even 100% of them working, even when your office closes down. Suppose, too, that on top of staying operational, your team increases their productivity by up to 20%.
That's exactly what happens when you embrace remote working. Operating from home, businesses with anywhere from 5 to 1000 employees also reduce their absence rate by 20%, see their work-life balance improve by 80%, and are on average more likely to be satisfied with their jobs.
With the Wildix work from home solution, you and your team can go back to communicating and collaborating over projects instantly, working from home with all the efficiency and presence of being in the office.
It's the Magic of the Wildix Videoconferencing.
Dive into the Wildix Smart Working world!
Wildix is the first web-based smart working solution dedicated to companies who want to increase their productivity with a 100% secure-by-design system. We make use of cutting-edge WebRTC technologies to develop Collaboration, our omnichannel, in-browser tool for Unified Communications.
Collaboration isn't just an app. It's a total communications solution that you can use from any browser window to chat, call, or even videoconference with internal colleagues and external clients.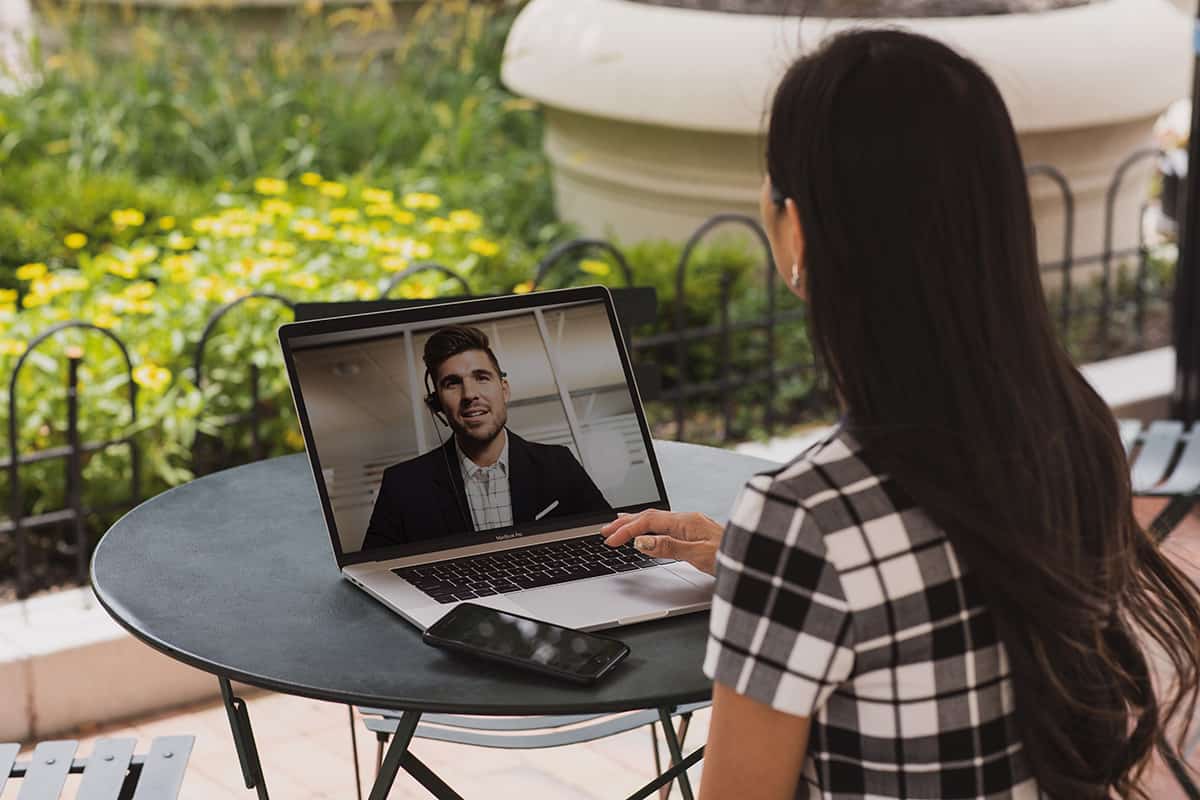 There is a turnkey videoconferencing system right at your desk.
No need to go to the conference room, no need to install any additional hardware or software components.
Videoconference from anywhere you are
WebRTC Technology
Chrome OS for the maximum security
Internal and External participants
Hardware devices available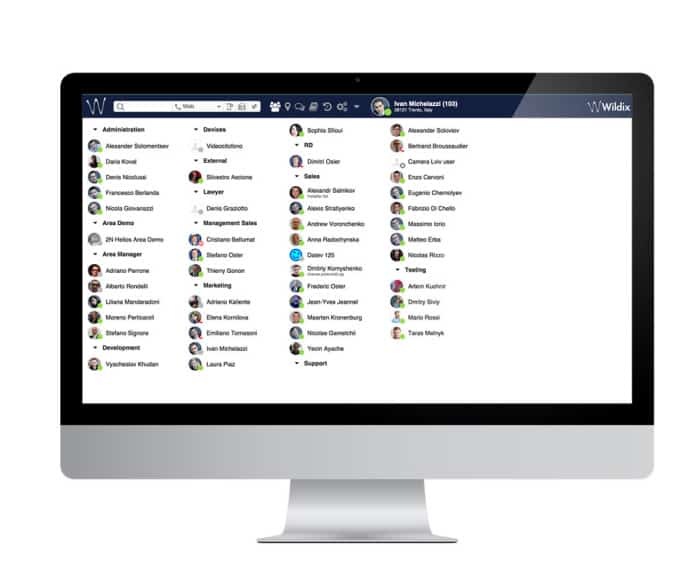 audio & video call
chat
presence & geolocation
conferencing
memo messages
fax & SMS to one or more users
access to corporate phonebooks
screen sharing & file transfer
audio & video calls / conferences with external users

Calls via VoIP or GSM to all contacts in the phonebook
Video calls to users
Mobility callback service
Chat
Post-It
Chat and call history
File exchange
Users' presence information and geolocation
Sync with Microsoft Exchange, Outlook, external databases, MySql, MS SQL, CRM
Mobile SIP Client on WiFi, 3G-UMTS, 4G-LTE networks, G.729 and H.264 codecs
Encrypted HTTPS connection to the PBX
Apple Watch notifications
The Wildix solution is designed to run professionally, but still be set up as quickly and easily as possible. To facilitate this process, we do not require any additional hardware. You can get going right from your existing personal devices!
But, if you want additional hardware for added support, Wildix also supplies a line of dedicated hardware like our Vision and Supervision phones, which connect to your VoIP server right through your home's WiFi.
We have other hardware options as well, including heads and more. Check out the full catalog here.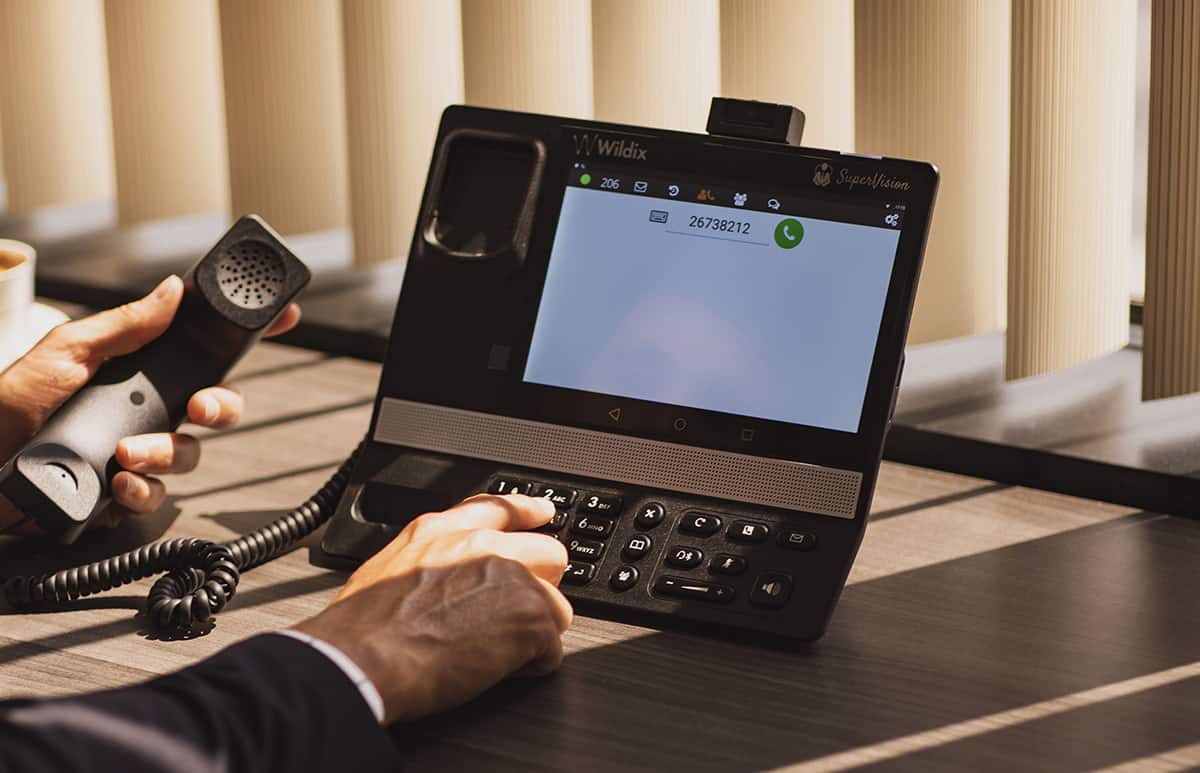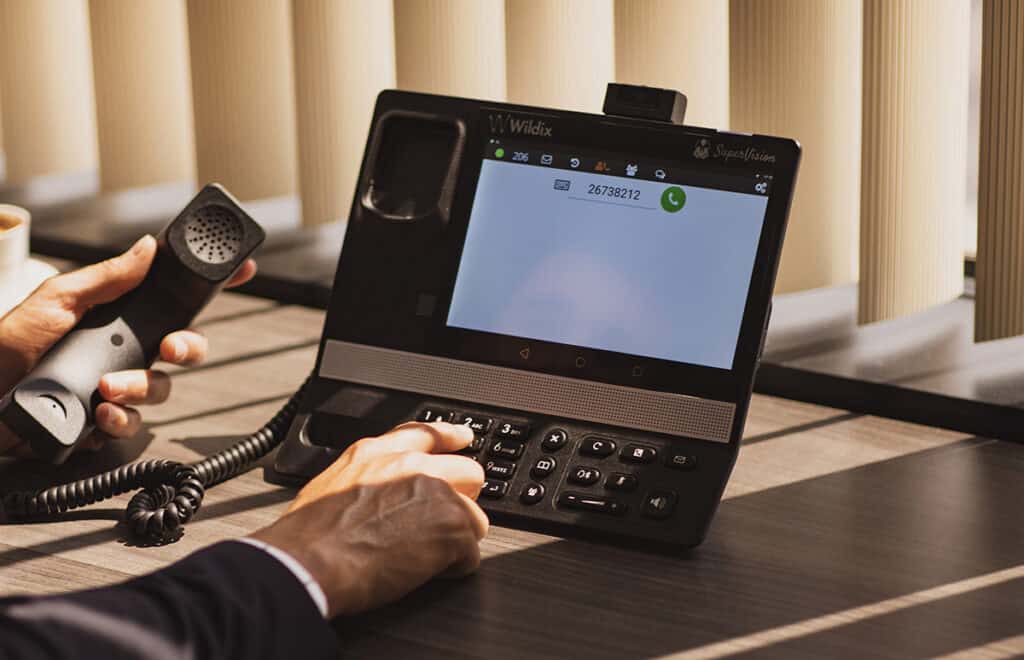 Because our solution works on a bring your own device basis, the Wildix platform is lightning fast to spin up. Forget about having to wait hours or even days to get into your VoIP service — with our platform, you'll be ready to go in a matter of minutes. The solution can even be configured remotely for an even quicker response (and no technicians coming into your home or office!).
Usually, it's next to impossible to get employees to learn how to use a platform, because the software is too difficult to use or its interface is unintuitive.
We designed the Wildix solution with exactly this problem in mind: Collaboration is simple, intuitive, and lets users do everything from chat to host videoconferences with just a click. That means training employees to use the platform takes no time at all — and that your team will want to use the system as soon as they become familiar with it.
To control and manage your system, you'll also get admin access to a separate in-browser interface, the Wildix Management System (WMS) Network. Here, you can adjust things like system settings, user management, device provisioning, and your dialplan.
Absolutely. Safety and security are crucial pillars to the Wildix design philosophy, and we develop every piece of hardware and software to be secure by design.
Some solutions make you waste time, money, and bandwidth on a VPN, a firewall, or some other external protection. At Wildix, we think that's too complicated to be of any real use.
Instead, we utilize the security inherent to WebRTC, which runs a securely encrypted user-to-user connection for all communications. This keeps every moment of collaboration completely hidden from hackers no matter what WiFi connection the end-user is connected to.
Find out more about our security policies here.
Wildix supports a wide range of software and hardware integrations. You can find the full list here.
Don't see your preferred solution on the list? Don't fret — we're adding more integrations all the time, because we believe in creating a single truly unified tool that's as easy to use as possible.
The Wildix solution is fully scalable to help you find the perfect fit for your business and financial needs. Our hardware can be purchased as a service, or skipped entirely if your team works fine on their personal devices. And since the system itself can easily accommodate anywhere from 5 to 1000 remote workers, our platform can be easily tailored to let you pay for only what you need to use.
To learn more, find a certified Wildix Partner in your area.
How can I work from home just like I do in the office if I cannot receive home phone calls from my office lines?
CLASSOUND trunks let workers place and receive calls using their office number even while at home. In fewer than 3 hours, you can migrate the system remotely, enabling the user to start working from home right away.
Fill out the form below to learn more