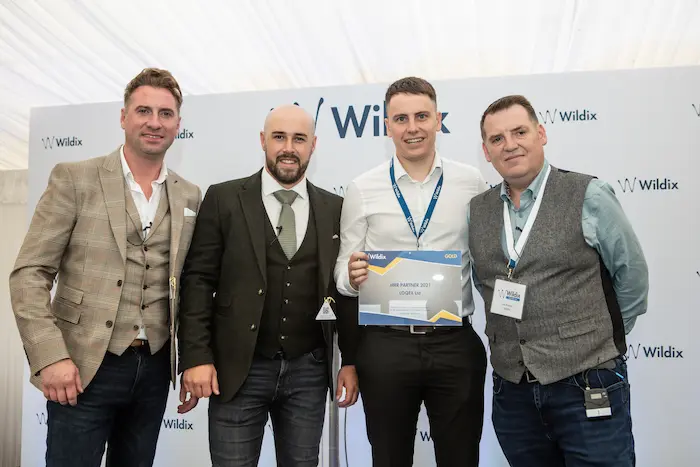 Wildix's support and business model align well with LOQEX, especially hardware as a service. In 2023, we've had a 77% increase in hardware as a service alone, resulting in a great source of stable recurrent revenue. And over the past 12 months, we've had a 49% increase in Wildix licensing and 100% growth year on year.
LOQEX is a Warwickshire-based telecommunications and voice services provider that offers businesses a wide variety of services including broadband, full contact centre solutions, and of course, Wildix's award-winning business communications system. We spoke to Ryan Birch, director at LOQEX, about what drove their fast-growing business to partner with Wildix.
"We were already aware of Wildix before we set up LOQEX as several of our team members had worked with Wildix solutions in previous roles," said Ryan. "It was a no-brainer as we all knew the quality of the solution, and we all knew how to work with it."
One of LOQEX's biggest strengths is its sizable portfolio of products, including ipSCAPE, RAMP, MyWallboards and carrier network, as well as the knowledge the staff has. Wildix makes life simple when integrating new technologies with the system. "It's really easy," explains Ryan.
"For example, we put Microsoft Dynamics into the iframe in Wildix using the Web CRM Feature, and it was a simple five-second integration."
But it made all the difference and kept the customer happy. Wildix makes it easy to integrate almost anything."
Ryan notes that other vendors simply don't have the same breadth and power that Wildix has: "We always come back to Wildix. Wildix lets us do so much with the solution — far more than other vendors do."
"Other vendors just can't compare to the almost instant support we get from Wildix," Ryan says. "You don't get left hanging, and if we don't respond, we get chased — which is nice."
Much of this is down to the partner-focused ethos of Wildix, which ensures partners have access to in-country teams, notably tech and sales support: "When it comes to the team members, we've always had really positive experiences with them — sales, support, presales. Over the years we've built great relationships with the Wildix UK team, and of course our Wildix account manager, Steve Clark."
Wildix's support and business model align well with LOQEX, especially hardware as a service. "In 2023, we've had a 77% increase in hardware as a service alone, resulting in a great source of stable recurrent revenue," Ryan notes. "And over the past 12 months, we've had a 49% increase in Wildix licensing and 100% growth year on year. Wildix isn't the only service we offer to customers, but it's a great way to pitch additional solutions that can leverage the power of the Wildix platform. We can grow organically and ensure sustainability."
When considering systems, he adds, "As a partner or an end-user, you need to consider the accreditation process required to install the system itself. If you can simply sling a system in regardless of who you are, that's going to cause issues — and ultra-low pricing means that they don't have money for essential facets of the system, security being a big one. There was a recent security issue with one vendor that we don't use, and that incident got us two additional sales."
Wildix is simple to install, regardless of the user's location. One of Ryan's memorable deployments took place around the world but started in India. "This was for one of our large international clients in the recruitment industry," he said. "It was a complete Wildix installation that started with the team in Bangalore. 8×8 and Vonage had promised them the world during the sales process, but they couldn't supply a local Bangalore number. We could through our local carrier network."
"They needed us to prove that we could supply all the numbers in all the countries, inbound and outbound, with good call quality and no delays. We did that with Wildix solutions."
One of the biggest advantages for Ryan was that the solution could be deployed remotely, especially for international installations. "Deploying solutions remotely is a huge cost saver," he states. "With our deployment in Bangalore, we could've caught flights over and deployed it manually, but that would've cost thousands, and it would've lost us opportunities — the time spent flying, staying in hotels, admin work, it all adds up for an engineer."
The conversation comes back to the flexibility of the Wildix solution and how it integrates with other products through its open APIs: "We can do a large back office with Wildix, whether it's 300 or 3,000, and then we can do the contact centre with ipSCAPE — we have the full toolkit. It means we can win the complete deal. Adding in additional items such as MyWallboards or RAMP and other solutions, we can build a complete system for that client. Everything being drop-in/out makes it easy to win these deals, and we rarely get tripped up."
Ultimately, Wildix is easy to install and sell, with its simple licence tiers. "You can show what you're selling, what the levels are and why they need that specific level for different sections of their business. It's very straightforward."
Overall, Ryan and LOQEX are very happy with the direction of Wildix and the opportunities the solution gives them. When asked why a partner should go with Wildix, Ryan said: "The sector is saturated with numerous service providers. You don't want a race to the bottom, and no one wants to really be involved in that. With all the features and flexibility of that, it was a no-brainer for us, and it should be a no-brainer for other partners as well."