The first magazine for System Integrators on Unified Communication & Collaboration
In a world in which information is always more digital and "fast," Wildix
has decided to go against the grain and make a publication on paper
available and, as such, make it "slow", slow in use, in order for it to give
our readers the time to reflect and assimilate its examination in the
most complete way, far from the frenzy of everyday activities.
We want this publication to be a source of constant inspiration for
your business, making it possible for you to always be one step ahead.
SUBSCRIBE TO RECEIVE A COPY OF THE WILDIX MAGAZINE EVERY 6 MONTHS FOR FREE!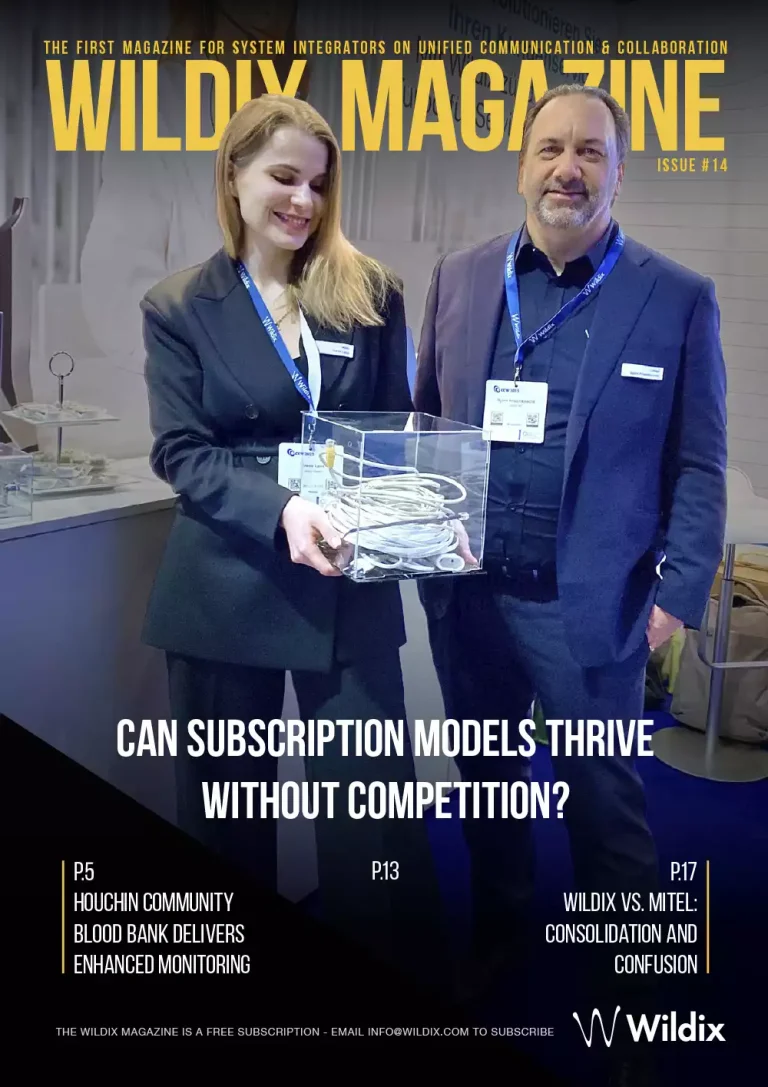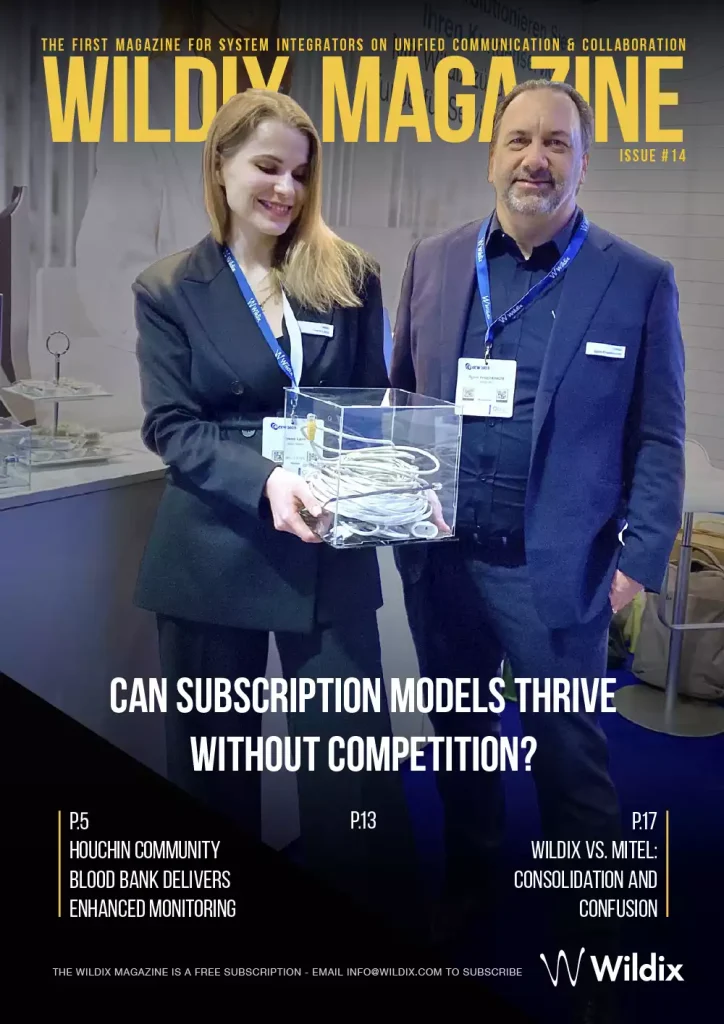 EDITORIAL – Is Breaking the Box So Hard?
END USER CASE STUDY – Houchin Community Blood Bank Delivers Enhanced Monitoring 
PARTNER STORY – Using Wildix, Connexis Moves to the Cloud With Confidence 
PARTNER STORY – Wildix Quality and Versatility Leads Cloud Comunicaciones to Success 
PARTNER STORY – Technoinside Rediscovers the Joy of Communication With Wildix 
COVER STORY – Can Subscription Models Thrive Without Competition? 
WILDIX VERSUS – Wildix vs. Mitel: Consolidation and Confusion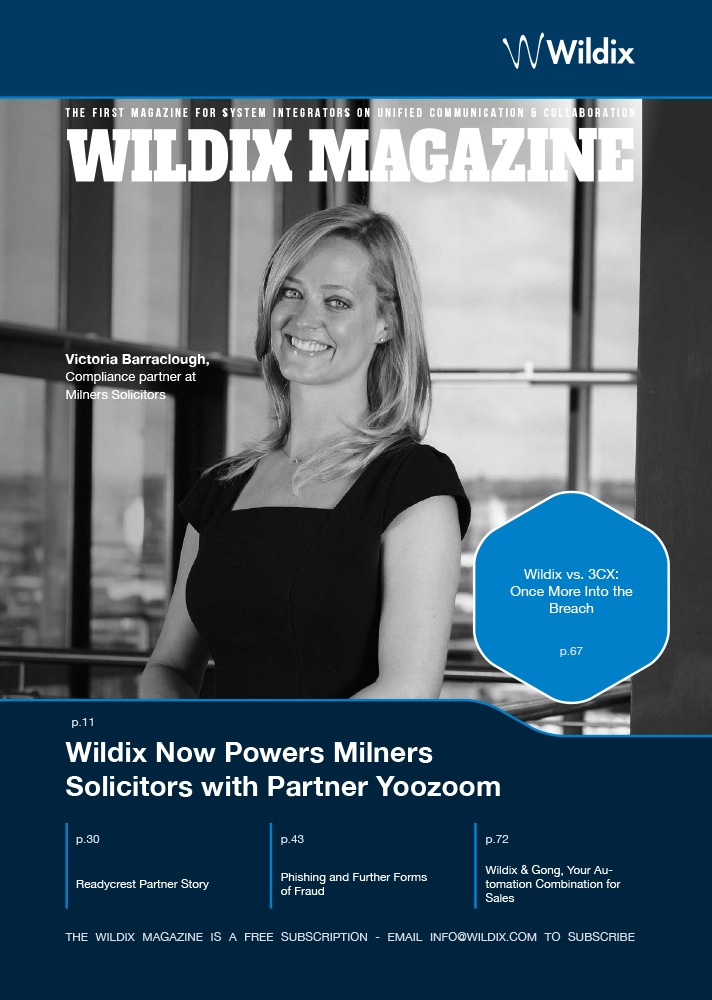 EDITORIAL – Warfare and People: Same Principles, Different Daye
END USER CASE STUDY – Forensics Engineers Work Remotely with Greater Efficiency
COVER STORY – Wildix Now Powers Milners Solicitors with Partner Yoozoom
END USER CASE STUDY – The Piedmont Region: Smart Working for 2,700 Employees
END USER CASE STUDY – Schools Achieve Engaging Remote Learning & Improved Collaboration with Wildix
END USER CASE STUDY – Live & Breathe discovers how Wildix tools help them thrive despite pandemic pressures
END USER CASE STUDY – Ophthalmologist Dr. Zink Interconnects Eye Care Practices, Improving Accessibility for Patients
END USER CASE STUDY – ABUS Optimizes its Customer Journey by Providing Close Collaboration Among the Sales Team
PARTNER STORY – Pulse Technologies Achieves Measurable MRR with Wildix
PARTNER STORY – Readycrest Partner Story
PARTNER STORY – Vola Global: History of a Wildix Partner
TECH – How to Automate Procedures, Step by Step
TECH – Securing Your PBX Against Cyberattacks
TECH – What to Expect When You're Protecting Data
TECH – Phishing and Further Forms of Fraud
SALES – Feature Requests & You: New Capabilities for More Sales
SALES – Dogs, Skunks & the Importance of Communication
SALES – Making the Cloud Less Nebulous with Real-World Value
MARKETING – 4 Tips for a Healthy Hybrid Work Model
MARKETING – 6 Communication Issues Holding Back Retail Shops
MARKETING – The Innovation of Automation: What Automating Tasks Can Do for You
ANALYSIS – The State of Russian Ties in UC&C
WILDIX VERSUS – Wildix vs. 3CX: Once More Into the Breach
INTEGRATION – Wildix & Gong, Your Automation Combination for Sales
WILDIX TECH WIZARDS – Meanwhile, in Wildix Tech Wizards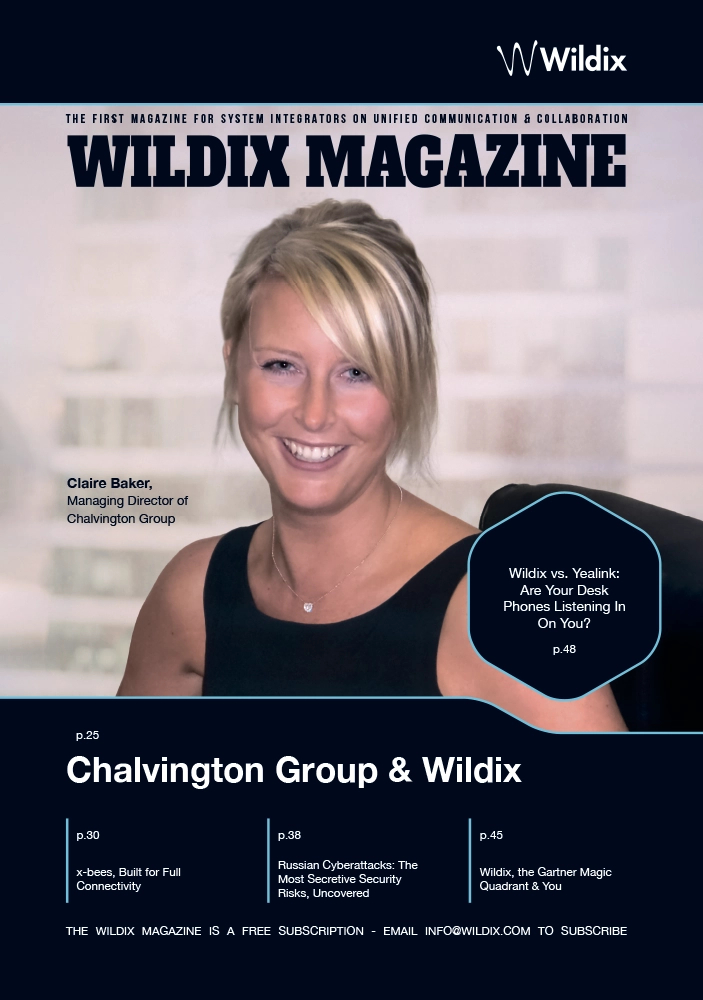 EDITORIAL – Wildix & the Channel, Modern Futurists
END USER CASE STUDY – Hearing & Deaf Community Gain a Greater Voice with On-Site Video Calls, Plus Mobile Capabilities
END USER CASE STUDY – The ADB Tax Firm Withstands the Pandemic with Wildix and Increases Efficiency
END USER CASE STUDY – Increased Customer Retention & Revenue Growth Thanks to x-caracal for Call Center Monitoring
END USER CASE STUDY – Communication Solutions Reduce Costs to a Minimum and Increase Flexibility
END USER CASE STUDY – Boosting Research via Collaboration and Videoconferencing
PARTNER STORY – Perspectives from the Wildix Partner Excellence Forum
COVER STORY – Chalvington Group & Wildix
WOMEN IN TECH – When Tech and Marketing Collide: Lisa Rohner
TECH – x-bees, Built for Full Connectivity
TECH – Your CRM is (Almost) Useless Without Integrated Communications
TECH – A Peek at WMS 5 (and WMS 6!)
TECH – Russian Cyberattacks: The Most Secretive Security Risks, Uncovered
SALES – Who is UCaaS Really For?
SALES – ValueSelling According to Wildix Partners
MARKETING – Wildix, the Gartner Magic Quadrant & You
WILDIX VERSUS – Wildix vs. Yealink: Are Your Desk Phones Listening In On You?
INTEGRATION – Wildix + Teams: A Winning Combination
WILDIX TECH WIZARDS – Meanwhile, in Wildix Tech Wizards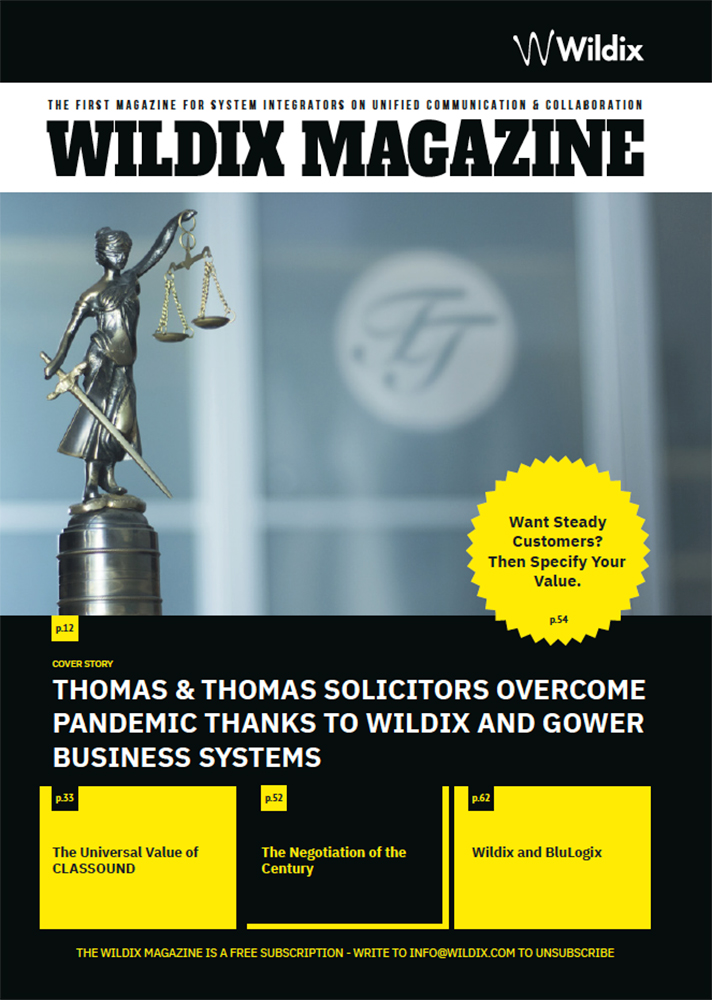 EDITORIAL – How to Present Your Business: Go Big, or Go Home
END USER CASE STUDY – Austrian Children's Cancer Care Aid Optimizes Communication Processes
COVER STORY – Thomas & Thomas Solicitors Overcome Pandemic Thanks to Wildix and Gower Business Systems
END USER CASE STUDY – Webtek Chooses Wildix for Their Corporate Communications
END USER CASE STUDY – The Pauliani Foundation Takes a New Turn in its Communications Management With Wildix
END USER CASE STUDY – Improved Customer Service & Ease of Call Transfers Boosts Efficiency & Satisfaction
END USER CASE STUDY – AutoSolar is Growing Thanks to Unified Communications Solutions from Wildix
PARTNER STORY – Telexperts Leverages the "Perfect" Wildix Sales Model for Success
PARTNER STORY – Marco Bosshard of fourNET informatik Leads the Adoption of Wildix
WOMEN IN TECH – Interview with Arianna Caiaffa, Sales & Partner Support for G&B Connect
TECH – The Universal Value of CLASSOUND
TECH – WebRTC, a Critical Component of VoIP and UCC
TECH – TLS 1.2 and You: Why You Need to Upgrade Your Security
TECH – Outlining Effective Videoconferencing Design
SALES – Attaining Customer Loyalty, Your Greatest Source of Value
SALES – Improve Your Customer Journey & Experience with x-caracal
SALES – The Negotiation of the Century
MARKETING – Want Steady Customers? Then Specify Your Value.
MARKETING – Direct Mail is Back in a Big Way
WILDIX VERSUS – Wildix vs. 8×8
INTEGRATIONS – Wildix and BluLogix
WILDIX TECH WIZARDS – Meanwhile, in Wildix Tech Wizards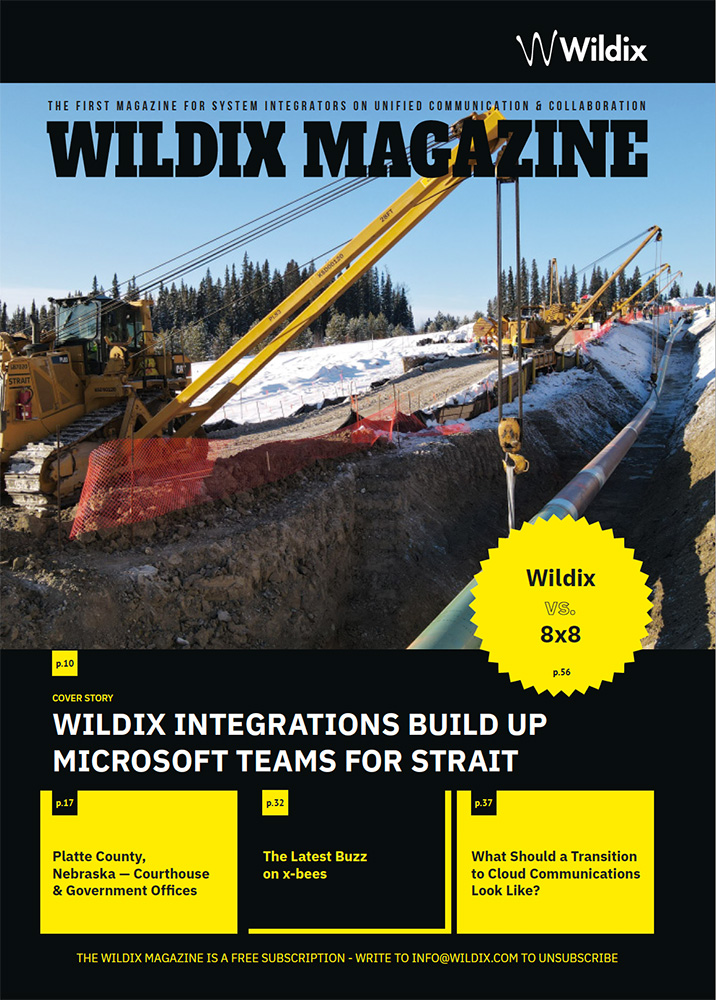 EDITORIAL – From Pandemic to Prosperity: Looking Back and Ahead
END USER CASE STUDY – The David Chiossone Institute & Wildix
END USER CASE STUDY – Wildix Integrations Build Up Microsoft Teams for STRAIT
END USER CASE STUDY – TLG Transitions to an Agile and Flexible Environment with Wildix by Everything Voice
END USER CASE STUDY – Even Parma Calcio 1913 Chooses Wildix
END USER CASE STUDY – Platte County, Nebraska — Courthouse & Government Offices
END USER CASE STUDY – Innovatel Adopts the Wildix Solution
END USER CASE STUDY – voit stefan gmbh – The Steel Manufacturer
PARTNER COVER STORY – Vincentz is paving the way in the Nordics
PARTNER STORY – Altitude Communications Reaches New Heights with Wildix
WOMEN IN TECH – The Women in Tech from Wildix's Odessa Branch
TECH – The Latest Buzz on x-bees
TECH – Are VPNs Necessary for the Modern Worker?
TECH – What Should a Transition to Cloud Communications Look Like?
TECH – 2021, Year 0 of WebRTC
SALES – The Wildix Product Lineup and the Customer Journey
SALES – 5 Tips for Better Webinars
SALES – Exceeding Customer Expectations with the Cloud
MARKETING – Be Set for Success through Positioning
MARKETING – The Power of the Customer's Voice in a Virtual World
MARKETING – How the Cloud Can Unify Marketing Efforts
WILDIX VERSUS – Wildix vs. 8×8
INTEGRATIONS – Wildix + Hansen Software, Now Available Worldwide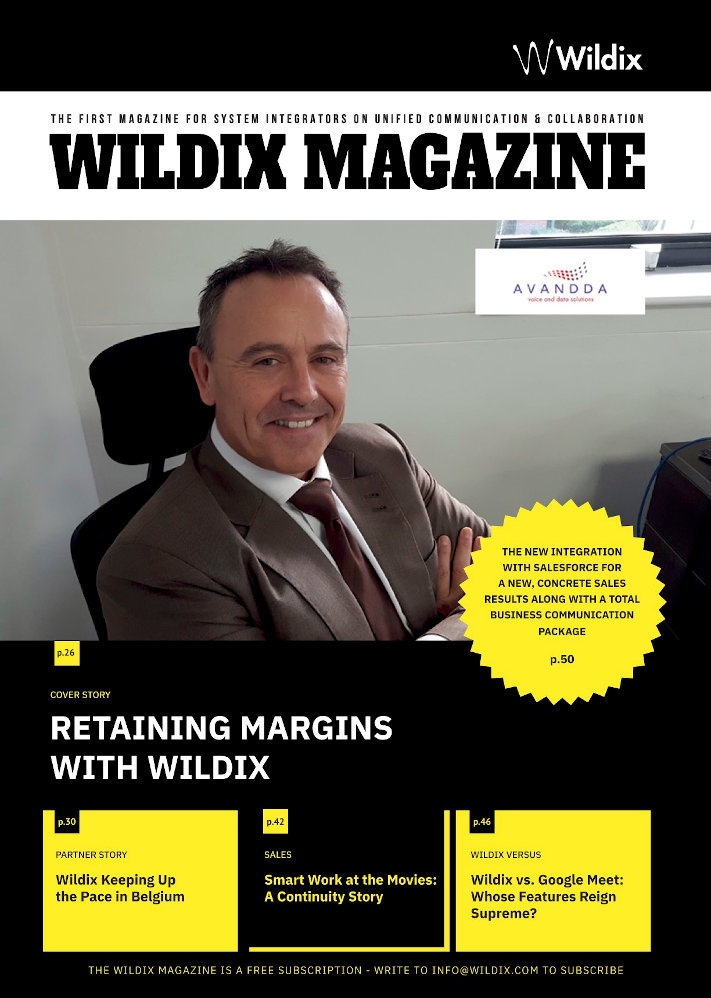 EDITORIAL – Going Greener and Working Smarter
NEWS FROM THE COMPANY – Transfer of Wildix's Registered Office to Odessa
END USER CASE STUDY – Using Wildix to Combat COVID at Peru's Institute of Tropical Medicine Alexander von Humboldt
END USER CASE STUDY – School ICT Services Ltd reduce their operational costs by 70% thanks to Wildix
END USER CASE STUDY – Unleashing the Communications Potential for Big Dog Satellite & Solar
END USER CASE STUDY – The LARNAY SAGESSE Organization Pursues Its Mission of Support with the Wildix Smart Working solution
END USER CASE STUDY – Armed Against Weak Bandwidth with Wildix
COVER STORY – Retaining Margins with Wildix
PARTNER STORY – Wildix and Keycoes
PARTNER STORY – Wildix Keeping Up the Pace in Belgium
PARTNER STORY – Nebula Voice Gains Astronomical Value with Wildix
WOMEN IN TECH – Kelly Hopp, Marketing Manager at Altitude Communications
TECH – An Intro to React and React Native
TECH – Devices for Home Working
TECH – Deploying a UC System: Start Simple, Add Later
SALES – Smart Work at the Movies: A Continuity Story
WILDIX VERSUS – Wildix vs. Google Meet
INTEGRATION – How to be 100% Sales Oriented?
MARKETING – I See My Staff at Their Desks, and I Can Sleep Peacefully…
SALES PAGE – Earning Trust:An Essential Start to Any Sale
MARKETING – Mining for Gold
ANALYSIS – Practical Tips for a Successful Transition to Telework
WILDIX TECH WIZARDS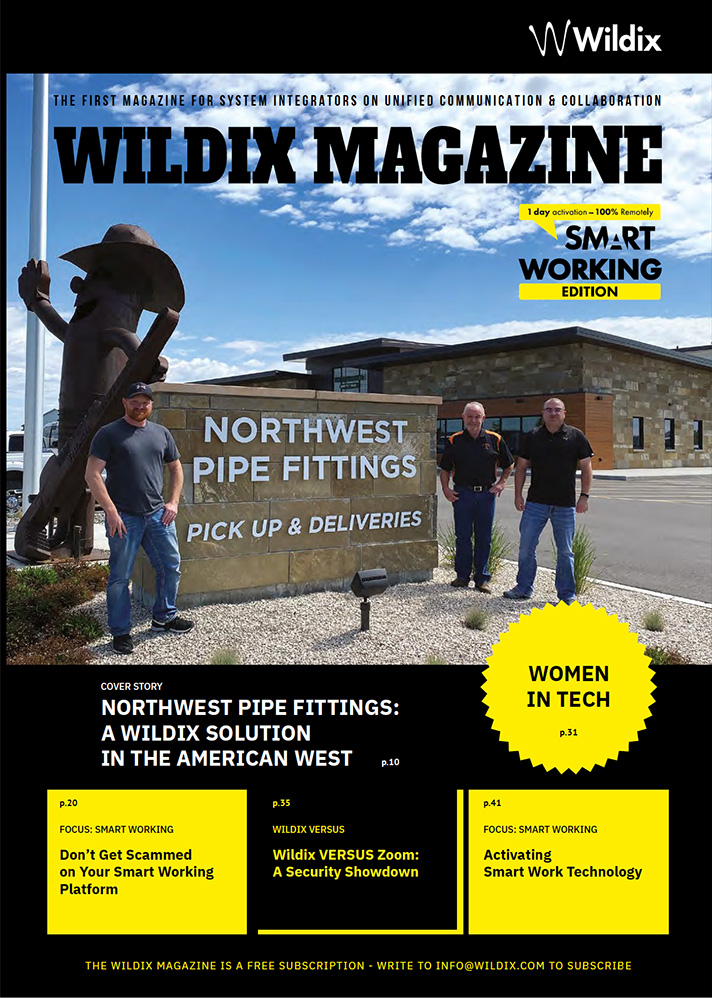 EDITORIAL – Smart Work: The New Way of Working
LETTERS FROM ESTONIA – Enter the Vampire Vendor
COVER STORY – Northwest Pipe Fittings: A Wildix Solution in the American West
PARTNER STORY – Wildix & Netmetix – A Winning Partnership
PARTNER STORY – Comtex Continues Their Growth with Wildix
PARTNER STORY – Converting 50% of Turnover Customers to OPEX Thanks to Wildix
WEBRTC – Wildix WebRTC Solutions Give Value-Adding Services to Channel Partners
FOCUS: SMART WORKING – Don't Get Scammed on Your Smart Working Platform
FOCUS: SMART WORKING – Staying on Track When You're Working from Home
ANALYSIS & TRENDS – The Concrete Value Found in the Cloud
END USER CASE STUDY – Ambrosoli Spa: Passion, Tradition and Innovation
END USER CASE STUDY – CAF Places Its Trust in Wildix Remote Communication Solutions to Remain Close to Its Beneficiaries
END USER CASE STUDY – Children's Hospice South West Connects Families with Wildix
WOMEN IN TECH – Equal Pay, Equal Respect and Equal Results
WILDIX TECH WIZARDS
WILDIX VERSUS – Wildix VERSUS Zoom: A Security Showdown
FOCUS: SMART WORKING – "Too Small for Smart Working"? Think Again!
FOCUS: SMART WORKING – Activating Smart Work Technology
FOCUS: SMART WORKING – Smart Working with Slow Internet
SALES – Appreciating Your Overlooked Assets
MARKETING – Make Chat Part of the e-Commerce Customer Journey
MARKETING – If You're Not on LinkedIn, You're Only Halfway There
FOCUS: SMART WORKING – Smart Working, Smart Loving, Smart Living
MARKETING – Do You Know Where Your Marketing Stands?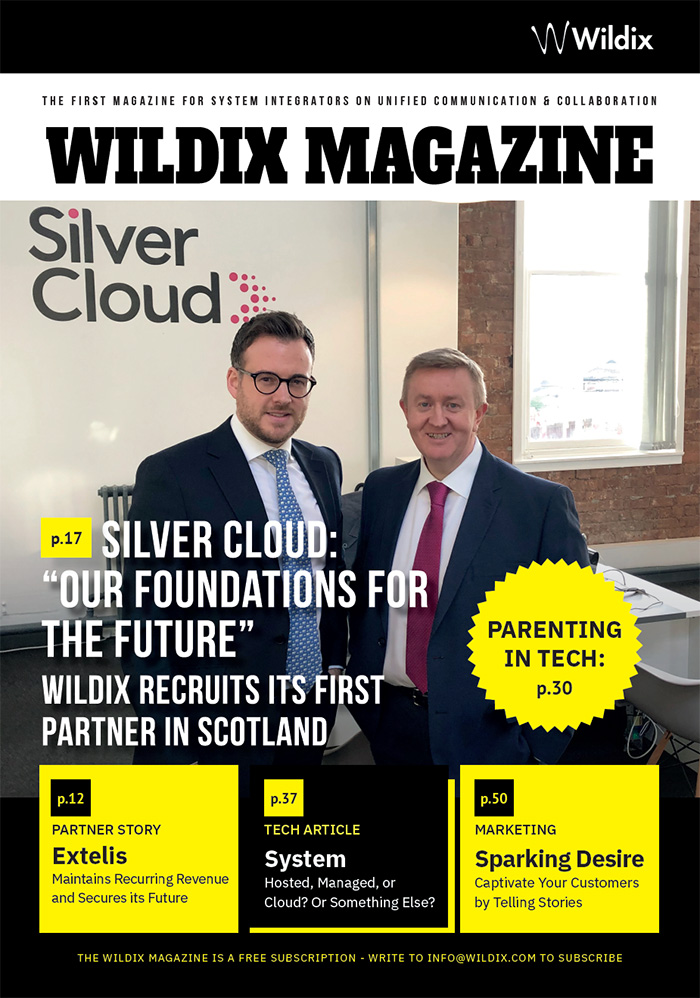 EDITORIAL – Are you being dragged along, or are you in control? And most importantly: do you know where you're headed?
LETTRES D'ESTONIE – That's globalization, honey!
TRENDS – Bye – Bye, System Integrator!
COVER STORY – Selling rental property without setting foot in the customer's building!
PARTNER STORY – "Going "live" in a couple of hours: it's possible!"
PARTNER STORY – Wildix recruits its first Partner in Scotland!
PARTNER STORY – The importance of making customers happy
PARTNER STORY – The most desirable ICT solution
END USER CASE STUDY – When the phone works, productivity increases
END USER CASE STUDY – "Everything is easier now!"
END USER CASE STUDY – With the right UCC solution, nothing's impossible
END USER CASE STUDY – More safety and control in industrial work
TECH & FAMIlY – UC&C: Helping with Newborns
WILDIX TECH WIZARDS
TECH – Free to move and communicate
TECH – Hosted, Managed, or Cloud? Or Something Else?
INTÉGRATIONS – How to compete against Microsoft Teams
IDEAS – Your business strategy has to evolve
IDEAS – The "Pomodoro Technique" and other tips to improve your business and wellness
MARKETING – Social Selling
MARKETING – 7 Tips for Customer Relationship Management
MARKETING – Sparking Desire!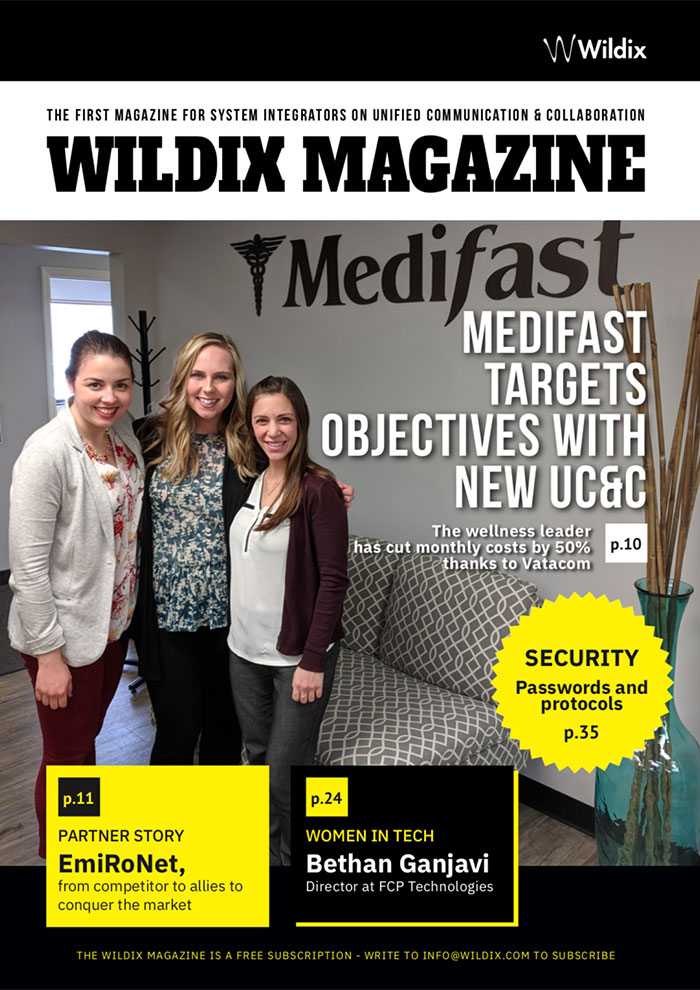 EDITORIAL – You've Got to Be Different to Make a Difference
LETTERS FROM ESTONIA – The Reality Is That No One Wants a PBX
COVER STORY – Vatacom+Medifast, UC&C makes light work
PARTNER STORY – EmiRoNet: Competitors Turned Allies Conquer the Market
PARTNER STORY – telconn GmbH: Installing Becomes Fun
PARTNER STORY – The Wildix Solution Gets a Pair of Eyes with These Connected Glasses
PARTNER STORY – Ampletech increased their Customers satisfaction by nearly 100%. Here's how
END USER CASE STUDY – How VPharma saved 20% of their ICT budget in 5 years
WOMEN IN TECH – Bethan Ganjavi
WILDIX TECH WIZARD – News from the Community
WILDIX TECH WIZARD – I'm loving installs!
FACE TO FACE WITH OUR COMPETITORS – Wildix against telephone operators
SCENARIOS – Artificial Intelligence – New Frontier for Unified Communications
TECH – Are Passwords and Authentication protocols REALLY safe? Not always, indeed.
TECH – The obstacles that prevent a company from achieving its business goals
TECH – The truth about WMS 4.0, once and for all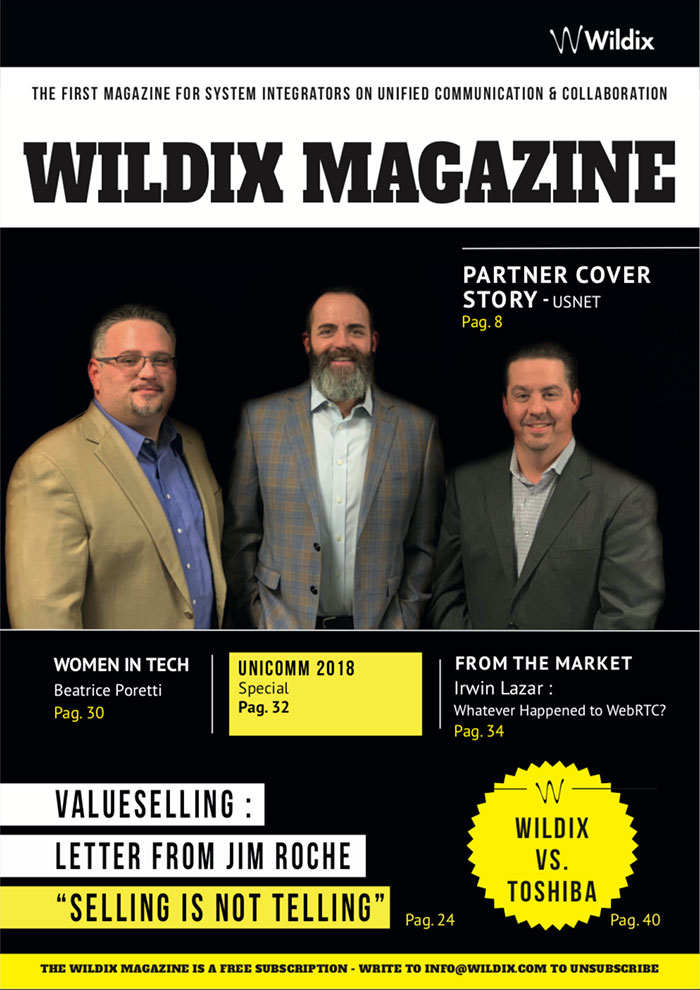 Editorial – There is one objective for 2019: have your clients chosen UCaaS
Letter From Estonia – GO MSP OR GO HOME: Why it is important to seize the challenge of the market
Cover Story – Best Partner 2018 : US NET – How one company transformed their business with Cloud
Wildix Testimonial – United Kingdom – ARROW COMMS LTD
Wildix Testimonial – Germany – IT2DAY
Wildix Testimonial – France – PRESTIGE TELEPHONY
Wildix Podium – The best partners 2018 in terms of revenues
Case Study – France – The accounting firm CTN France retakes control of its own telecom system with the Wildix solution
Case Study – Europe – Demand breeds supply: Introducing WMS Network with Failover
Case Study – Italy – OLBIA COSTA SMERALDA AIRPORT
Special – LETTER FROM JIM ROCHE
Sales Article – Gartner IT Forecast: Projection for 2019 for system integrators. Will it be a year for growth or will it bring defeat?
Wildix Tech Wizards – The best posts on the famous group Wildix Tech Wizards
Women In Tech – Beatrice Poretti
Special Unicomm 2018 – Unicomm: the method for system integrators and MSPs to close multiple negotiations
From The Market – Whatever Happened to WebRTC?
Product : Cloud – Principal characteristics of the Wildix Unified Communications & Collaboration solution offered on Cloud platform
Wildix Positioning – What is Positioning?
Wildix Versus – Wildix vs. Toshiba
Tech Article – Determining Integration Requirements
Tech Article – Increase Call Center Productivity Using the Right Technology
Marketing Article – Advising the gold digger to go look for gold in a bank!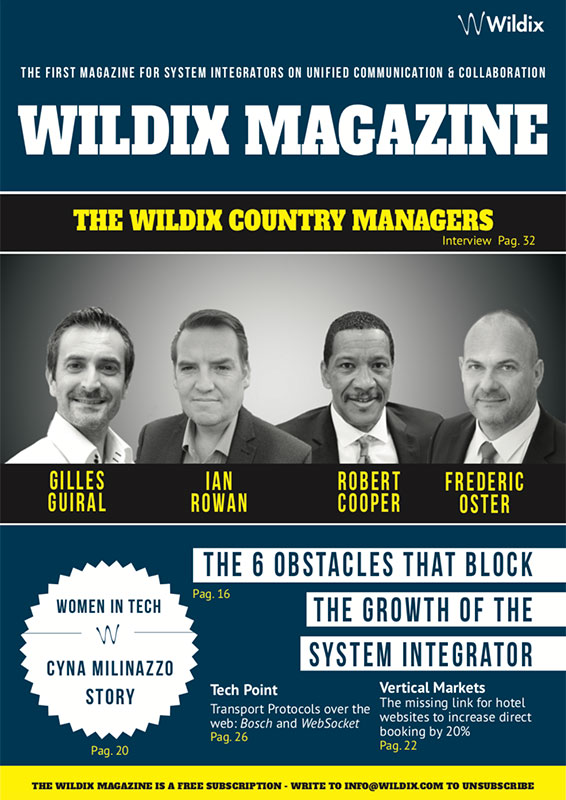 Editorial – The difference between integrators and providers is not minimal
Wildix Testimonial – How to use the bravado of the adversary to drag him by his jersey to score a goal in his own goal post
Wildix Testimonial – Tool IT
Wildix Testimonial – ElemenTel
Case History – Davines S.p.A.
Case History – Carpe Diem Nursing Home
Product Use Case – Not just airports, hospitals or supermarkets: discover how to use W-PA also in the smallest environments!
Sales Point – The 6 obstacles that block the growth of the system integrator
Women In Tech – Cyna Milinazzo – Liberty Communications
Vertical Markets: Hotels – The missing link for hotel websites to increase direct bookings by 20%
Wildix Tech Wizards
Tech Point – Transport Protocols over the web: Bosch and WebSocket
Tech Point – What is two-factor authentication (2FA)
Marketing – Your target is the dictator of your activities
Wildix Presents The Team – The Wildix Country Managers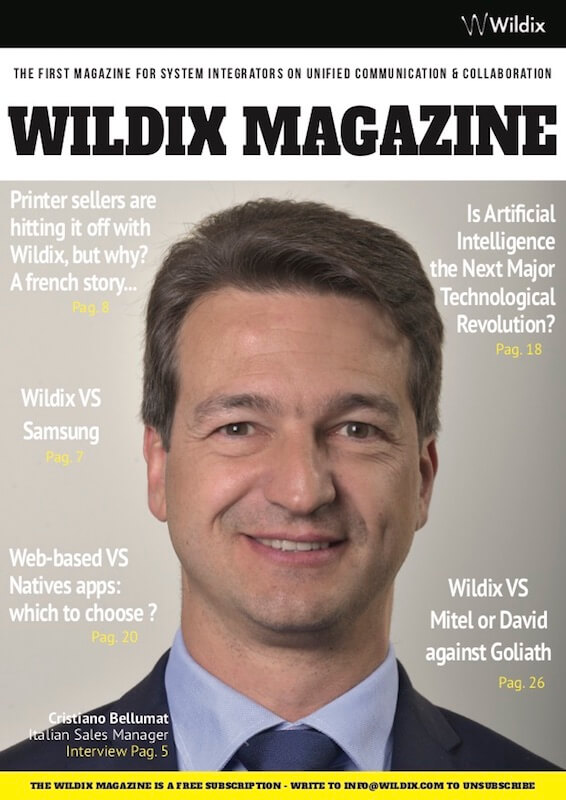 Editorial – Are you ready for a well- carried out conversational AI?
Interview – Who is Cristiano Bellumat
Wildix Testimonial – Wildix VS Samsung: a partner story
Wildix Testimonial – Printer sellers are hitting it off with Wildix, but why? A french story…
Case History – South Tyrol Museum of archeology
Wildix Tech Wizard – Why is the most important information for the Wildix partners published in a Facebook group?
Sales Point – The strategy stolen from the automative industry to stack up recurring revenues for high profit margins, even when the sales of switchboards and UC&C have stopped
Wildix News – Wildix presents the new Supervision phone at Cebit in Hannover
Tech Point – Is artificial intelligence the next major technological revolution?
Tech Point – Web-based VS native apps: which to choose?
Tech Point – Slow your roll: how to update your customers' software without annoying them
Marketing – How Wildix helps you deal with change
Marketing – 4 essential tips to build a Marketing Strategy
Wildix VS Competitors – Wildix Vs Mitel or David against Goliath.
Wildix award – Thaïland Trip – Platinum Days.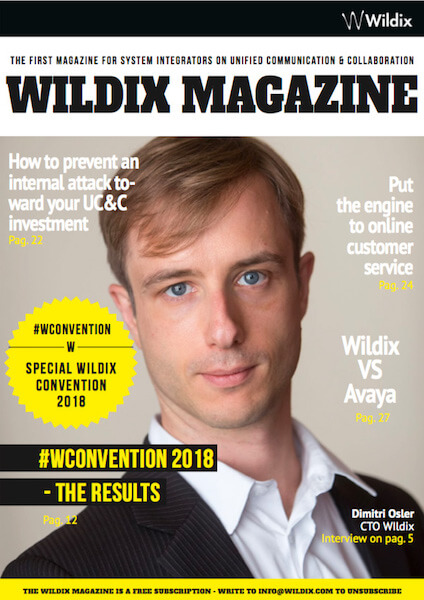 Editorial – WebRTC Praise: how much it has given us, and how much more it can give us
Interview – Who is Dimitri Osler?
Wildix Testimonial – EMIRONET
Wildix Testimonial – ASSUTECH
Case History – The official Nikon and iRobot distributor chooses Wildix for the customer care
#wconvention 2018  The Results – The Wildix Convention was held in Venice on January 12
Ascom Unite Messaging Suite – Business-critical information to the right person at the right time and place
Ellysse – Ellysse & Wildix strategic partners for Customer Service 4.0
SCHRACK SECONET – We protect values and people
Tech Point – Streamlined and effective communication: UC that works
Sales Point – How to prevent an internal attack toward your UC&C investment
Sales Point – Put the engine to on- line customer service and triumph in the Grand Prix of Sales
Marketing – The nine rules to be followed to prevent marketing from caus- ing disasters that the administration must then fix!
Wildix VS Avaya A battle won in advance!
Really? You're still selling desktop applications?
Communication via telephone: is it still classic or becoming obsolete?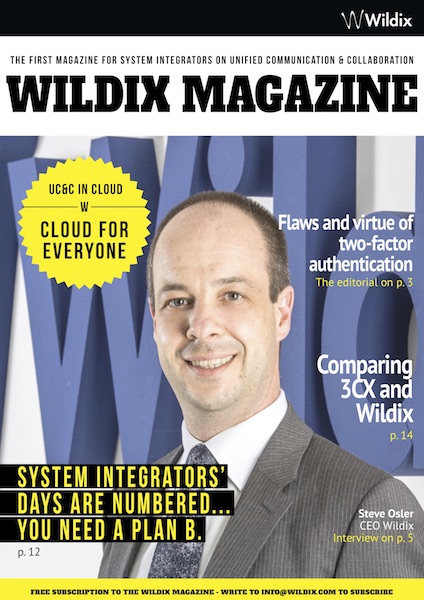 Editorial – Security in Unified Communication & Collaboration: flaws and virtue of two-factor authentication.
The cover – Who is Steve Osler?
Wildix Testimonial – D.T.E. Inc. – Mansfield, OHIO.
Wildix Testimonial – Floris S.R.L. – Roma.
Focus – How to offer your services and not to lose customers.
System integrators' days are numbered… You need a plan B. – The Unified Communication & Collaboration market will lose 30 to 35% over the next 24 months.
Tech Point – Comparing 3CX and Wildix and how PBXs have
changed over the last 30 years.
The Cloud is For Everyone – Cloud not only suitable for a specific category of com- panies or users.
Marketing – How to write an email and actually have it read by
your customer.
Tech News – WebRTC Kite Support on Apple Safari 11 for Mac OS X.
Problem solved – Telephone technician and multi-site systems.
Wildix World – 10 reasons to choose a Wildix phone and not another
IP terminal in a Wildix system.
This deadly security error in the telephone network can cost your company dearly! – What you need to do, is to adopt a system that guarantees the security of every single component.