The need: to communicate with employees worldwide

Soleil Digital is a web marketing agency with teams spread over several sites around the world. Employees who work remotely have developed the habit of working with non-integrated tools; Skype, landline, mobile phone… It was time to regain control.
The solution: Wildix Unified Communications
In order to restore consistency to their communication tools, Infologo set up a Wildix PBX that integrates all the communication tools previously used (voice, chat, video…) but in a single tool.
Benefits: a single tool, the web browser
A "new generation" of PBX, capable of delivering all services is good. Being able to provide modern tools to employees is better. What is the common tool for all our connected devices (laptops, smartphones, etc.)? The web browser of course.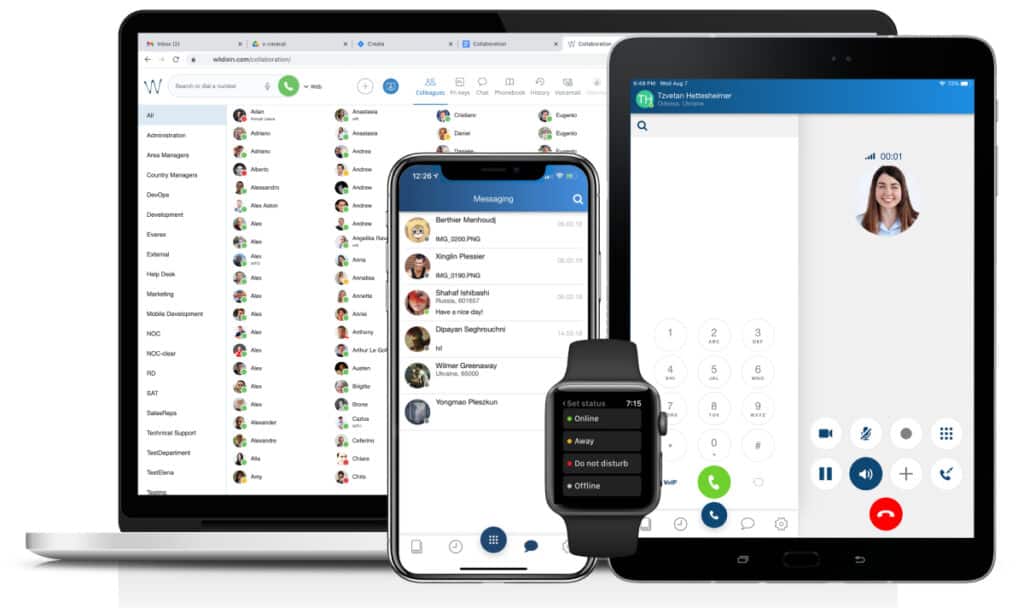 Thanks to the WebRTC technology integrated in recent browsers, it is possible to do all of this without a desktop phone. The browser offers the usual telephone services (incoming, outgoing, conference calls, etc.) but additional tools as well such as presence, chat, video, etc.
Soleil Digital is a full service digital marketing agency. The agency develops effective strategies for companies wishing to exploit the potential of the Web. It is a question of working as well on the technical optimization of media (Web, mobile) as on SEO, Content Marketing, traffic acquisition.
A few facts about Soleil Digital…
As the agency was only two years old at the time of Infologo's intervention, we (almost) started from scratch. Soleil Digital had not yet made any investment in its telephone infrastructure.
However, Infologo was not completely spared from the constraints of taking over an existing one. Indeed, with employees who have been immersed in the web for years, the main obstacle to change was the regular use of Skype.
The solution chosen had to be able to fight, in terms of ease of use and ergonomics, with a tool used daily by the agency's teams. What's more, Skype is free software. Nice challenge, isn't it? But nothing stops an Infologo account manager.
Wildix, with its strong browser-based VoIP unified communication approach, was a very credible alternative to meet its needs.
Shared directory, call, sms, videoconferencing, presence status, geolocation, faxing, are all a sample of the features offered by Wildix unified communication…And all this from a browser.
By giving the employee his freedom (no more fixed phones on his desk) why not go further by also "freeing up" the company's premises. Infologo recommended hosting the Wildix PBX in its data center.
In case of total mobility: IOS and Android mobile app
For employees on the move, the Essential license that includes Wildix Mobility was preferred. No matter where you are, the Wildix application ensures the continuity of business communications. Thanks to the advanced telephony functionalities (voice mail, call transfer, device management…) the user chooses to be reachable, where, when and with the connected equipment of their choice.
The user can be reached from the same number on his various connected devices, which ensures complete mobility.
Upcoming: customer integration (via the website)
With its Kite option, Wildix also makes it easy and accessible to communicate with the agency's clients. The website visitor will be able to interact with collaborators via chat, audio, video and/or desktop sharing with a single click. Wildix Kite, still based on WebRTC, does not require any installation for the Internet user who arrives on the site 
www.soleil-digital.ch
Prospects and customers will be able to access chat features, calls, video calls, video conferencing, screen sharing and more.
The solution was implemented by Wildix Partner