Increased Customer Retention & Revenue Growth Thanks to x-caracal for Call Center Monitoring
Northside Truck & Van Ltd drops the amount of missed calls from 25% to 8% within the first 12 months of using Wildix Unified Communications

The award-winning Mercedes-Benz dealer Northside Truck & Van significantly reduces the amount of missed calls within the first 12 months since using the Wildix Unified Communications System, ensuring the high volume of daily inquiries (between 400-500) is addressed in a timely and efficient manner.
"Ever since our Trade Center was founded in 2010, it was always very important for our team to be reliable and be able to efficiently answer all the inquiries coming from the business. When we deal with between 400 to 500 inquiries a day, the team has to be really slick with how we answer those calls. Over the past years we had some difficulties with how the systems had worked out for ourselves; we needed to look for something more technologically advanced, something far more suitable for the current days and requirements of the customers."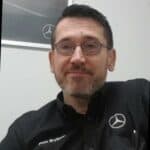 "Ever since the implementation of Wildix, we have been able to increase our volume of phone calls by about 10%. Over the last year the amount of missed calls dropped from 25% to 8% at the moment, and the fact how many inquiries we can deal through the Trade Center increased, obviously, the revenue to the bottom line; it increased customer retention and the capability of us growing into the future. I think that's actually a very key element which can show how big a part Wildix and CommsProvider played in the success of our trade operation.
Piotr Brylinski,
Trade Parts Center Manager at Northside Truck & Van Ltd
"At the moment we use Collaboration for general phoning inquiries and answering phone calls. It is also being used for chats in our user groups. We use a Wallboard for KPIs within our Trade Center — we actually got additional operations where the Wallboard is a very useful tool to see the KPIs, see the performance of the team. On top of that we use x-caracal. The full package makes it a very powerful system in our environment."
After using the Wildix system for 12 months, Northside Truck & Van experienced significant benefits, Piotr Brylinski also relates:
"When it comes to the two most significant benefits of implementation for Wildix, one of them will be future-proofing: the fact that it's Cloud-based, and how easy it is to upscale it through the business through any growing sites, or adding additional users — that is one of the key elements.
"With the very minimal training provided, it can be very simple to jump on the use of that system, and it allows us to take the most advantages and capabilities of that system — that's through chat, through answering the phone calls using the app on the mobile, even to the point that if we need to do any remote training we can use the screen share for Collaboration. So there's a lot of different functionalities that we, as a business, never thought about, and now going into the future, it gives us that ability to use Wildix and their functions within the business."
The solution was implemented by Wildix Partner

CommsProvider
The Continuum, Moderna Business Park, Mytholmroyd, HX7 5QQ, United Kingdom +44 (345) 855 0700
commsprovider.co.uk