The power of ease and clarity
Wildix has created a simple and clear licensing system for you.
You won't get lost in the jungle of different types of licenses like you're used to. And you won't find any labyrinths of constraints and clauses either.
Wildix offers four licenses to meet all the needs of small, medium and large enterprises.
HERE ARE THE ANSWERS THAT THE WILDIX SOLUTION OFFERS YOU:
Concurrent Calls per User
100+ Phone Services Mobility
Collaboration:
Chat – Share files – iPhone/Android apps
WebRTC Kite:
Collaborate with customers over the web
WebRTC Wizyconf:
Live conference meetings – Recording – Facebook & YouTube streaming
WebAPI – TAPI – Integration:
Connect online and offline CRM
CDR-View:
Data analysis for managers – Contact center manager
WBI Wildix Business Intelligence*:
Text to speech and dynamic IVR – Automatic speech transcription – Receive voicemail as text – Dial by name
LICENSING FEATURES DETAILS
For employees who simply need to make and receive calls.
Answering machine, fax functionality, call handling, call transfer.
The classic PBX but with more than just the stability and security of Wildix.
Ideal for:
those who work without a PC but only with a telephone, telephones for hotel rooms, fax workstations and telephone.
1 device for each user
Phonebook on phones (without presence)
Voicemail
Fax machine – FXS devices
Doorphones devices
LDAP/Active Directory/Google apps/Office 365 authentication
Unlimited trunks
Unlimited IVR
Unlimited ACD
Timetables
WMS network
For the company that wants to improve efficiency by enhancing its internal communication.
Here you will find the possibility to share documents, chat, call with a click and view the status of colleagues and geolocation. Wildix Collaboration is ideal for multi-location offices and teams working on shared projects.
Streamlining daily communication processes saves each employee an average of 2 hours a day on the time usually spent on routine activities such as telephoning and exchanging information.
Ideal for:
backoffice staff, work teams.
Web collaboration
10 devices for each user
Click to dial/call pop-up
iPhone/Android client
Live presence in phonebook
Activate fax server for all users
Chat and presence
Post-it
File transfer
Desktop sharing
WebRTC video calls peer to peer
SMS sending and receiving via Collaboration and Mail2SMS
Call recording
In addition to the features that allow you to streamline your daily processes (Collaboration and videoconferencing), your company can increase productivity by opening up your communication to the outside world.
The PBX will be perfectly integrated with your CRM.
In addition, WebRTC Kite opens up the flow of communication to the outside and connects your website to your offices: online visitors can contact the right person with a click and so can your employees, reducing the percentage of calls and contacts lost.
A strategic advantage that allows you to raise the lead conversion rate and thus increase your business up to 52% more sales.
Ideal for:
marketing, sales, sales and support, call center operator.
WebRTC Kite – chat – audio – video – desktop sharing from the company website
Wizyconf WebRTC video conference – 1 license per each user who needs to set up conferences
SMS sending and receiving via CLASSOUND
WebAPI
TAPI
Predictive dialer API
Attendant console
Outlook integration
Zoho integration
Agents call activity logging with x-caracal
All the advantages of a secure PBX, with streamlined internal and external communication that increases your productivity … plus the ability to control the performance and activity of your offices.
Wildix CDR-View and x-caracal provide you with all the data and statistics you need to measure your productivity and that of your employees. You'll be able to see trends, workloads, communication flows and results in real time. So you can work out the best strategies to manage your activities and achieve your goals.
Ideal for:
management, call flow monitoring and analysis, contact center activity reports.
CDRView
Contact center management interface
ASR (automatic speech recognition)*
TTS (text to speech)*

Voicemail transcription

Access to x-caracal dashboards
* 2h per month per license

x-caracal is the light, agile and effective ACD stats solution that provides you with all the data you need to stay in control of your business.
Wizywebinar is the first automated movie studio for your webinars.
The Wizywebinar platform is fully integrated into the Wildix communication system and  serves to engage leads, educate them, and increase conversion rates.
Click here for more details on Wizywebinar.
You need one UC-WIZYWEBINAR license for each user who needs to set up and manage webinars and to speak during the event.
Additionally, each user who needs to set up webinars should have a UC-BUSINESS or a UC-PREMIUM license.
Example: a company has two sales reps who need to run webinars. Each of those sales reps run events with a co-speaker. In this case you need four UC-Wizywebinar licenses: two for the sales reps and two for their co-speakers. 
Wizywebinar is supported starting from WMS 5.02.
Wizyconf Station is the first professional easy-to-use hardware solution for your conference rooms and your webinars.
This is a fully-equipped conference room that comes with a Chrome PC, two smart webcams, two studio-quality mics and a stand that supports up to three monitors.
Get a Wizyconf Station to increase the engagement level in the audience when you run webinars and participate in video conferences.
You need one UC-Wizyconf Room license for each Wizyconf station that you have in your offices.
Click here for more details on Wizyconf Conference Room.
This license can be assigned to Park Orbit users and any other virtual users who do not need SIP registration.
Wildix system is a software running on an HW or Virtual CPU. Like every software, Wildix software has to be regularly updated to guarantee the security of the system.
Wildix is committed to provide the state-of-the-art security and simplicity that exceeds the market standard.
PBX certificates and licenses are checked daily. The PBX TLS certificates are auto-generated and updated every two months if the PBX is reachable on the Internet via HTTPs. Should the PBX not be reachable via the Internet, the certificate must be uploaded manually and then updated before its expiration.
The daily check ensures that:
the system is running with valid certificates (to make sure all clients are communicating without the risk of their communications being intercepted)
the system has not been duplicated (this prevents a man-in-the-middle attack)
the software version running on the system is not known for security issues, otherwise an alert to upgrade the system is given to the system manager. Failing to do so could cause the system to disable certain features that could compromise the system.
the system is running within acceptable performance parameters (memory and CPU), otherwise an alert is given to the system manager to improve the performance of the underlying HW or Virtual environment.
Technical details:
The check is executed daily at a random time, this can be modified to run at a regular time or day of the week.
The connection is made to the server "api.wildix.com" optionally via an HTTP proxy (wmp.wildix.com – WMS version lower than 3.86)
The protocol used is based on HTTPs with high level encryption, no incoming connection is needed for the system check to work. The protocol can also work through a customer's web proxy
The average data size exchanged on the connection is 2 Kb daily
The system ignores a failed connection attempt for up to 14 days, thus it is safe to keep the system offline and permit the connection at least once every two weeks.
In case a connection attempt fails repeatedly during 14 days, the system limits available features to guarantee the customer safety. An alert is given to users of the system. To restore a full system operation it is sufficient to permit the outbound connection and select the option "Refresh via Internet" in the WMS Settings menu – Activation / Licenses.
Licenses are assigned to one end user and are not transferable between different end users.
Monthly and Yearly licenses numbers can be increased or decreased at any time.
Licenses are available with an expiry period of 1 month, 1 year, 5 years (recurrent licenses).
All licenses are renewed automatically at the end of the validity duration. Renewal can be stopped at any time and will become effective immediately.
All recurrent licenses include 24h / 7 emergency support and free upgrade to minor and major versions.
NEED AN EXAMPLE OF CONFIGURATION FOR YOUR LICENSES?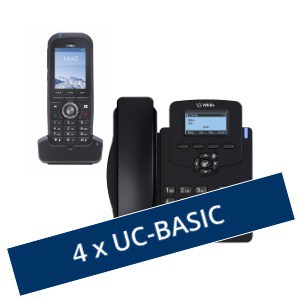 For 3 employees (production, warehouse…) and 1 fax line.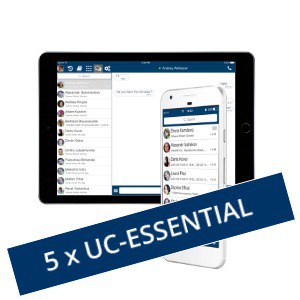 For an Administration team of 2 people and 3 staff units across multiple locations.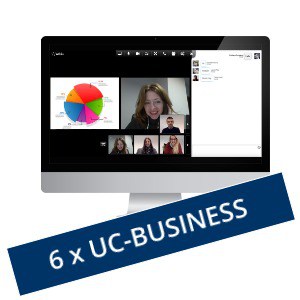 For 3 Sales and 3 Support members.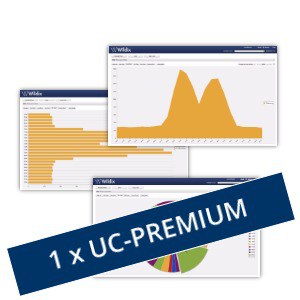 DO YOU HAVE ANY QUESTIONS OR CONCERNS?
Do not hesitate to contact your IT professional! You can always count on our Partners; they will provide you with the best solution to overcome the challenges of your business.