Comms Business – Wildix host inaugural UC&C Summit
"What is needed to adapt to the Industry changes? – radical rethinking of the business model and System Integrators transformation from simple "one time Suppliers" to real reoccurring model operators , who are able to understand and implement this market switch from on Premise sales of UC as a Service. In some countries this evolution is already taking place and we have been talking about it for a long time, however many parts of Europe are still pretty far from this shift", comments Steve Osler, CEO of Wildix.
To read the article, follow the link
Comms Dealer – Wildix sets stage for European UC&C Summit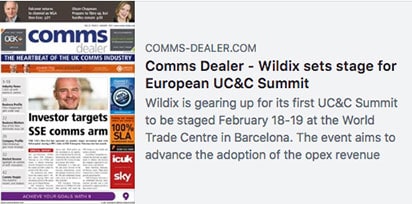 "Wildix is gearing up for its first UC&C Summit to be staged February 18-19 at the World Trade Centre in Barcelona.
The event aims to advance the adoption of the opex revenue models and hone the sales expertise of delegates via an educational programm delivered by influential keynote speakers including Jim Roche, a leading expert in value selling."
To read the article, follow the link