UCaaS Vendor Wildix has made a grand gesture this week after hearing of a skills shortage of Telecoms engineers within the channel, noting the shortcoming, Wildix is now offering to transfer skills and certification obtained on a selection of vendors directly to Wildix and also upskill people on government approved apprenticeship schemes.
Any trained engineer from an existing or new partner with a valid certification on Mitel, Avaya, Panasonic or Siemens can now participate in Wildix W-FE training scheme free of charge, W-FE is the core Wildix engineering certification and takes 2 days to complete. Once completed, Engineers have an option to complete the W-FEX advanced certification via the vendors online learning portal. Exactly the same offer of full certified training is available to apprentice engineers, showing Wildix support towards the government's move towards helping young people in employment obtaining the required on the job skills.
Speaking about this channel incentive, Ian Rowan, Senior Channel Manager at Wildix UK comments:
"We attended an event recently and heard similar feedback from many people in the channel about a dwelling skills base, old product skills becoming less relevant and even the fight companies have from outside London to retain staff given that the London based companies can out price them in the employment market with the WFH policies many have now adopted. This offer is about ensuring those vital skills that our channel needs are available now to our partners and also that in the future this skill base does not reduce as the traditional skill base of telecoms engineers ages, without these basic product skills our channel does not move forward and technical training cost are always an unwelcome overhead from partners, typically the cost of transitioning skills from one product to another runs in to thousands, not only is the direct cost of the training which we would normally charge at £1500 but also hotels and travel expenses along with the indirect cost of that engineer not being able to work for several days, this offer hopefully removes this as a roadblock."
Rowan continued "with our recent inclusion in the Gartner Magic Quadrant, Gartner highlighted that ​​Wildix utilizes a 100% indirect/channel-based go-to-market approach, eliminating potential direct/indirect conflict, this offer also shows how Wildix as an organisation is 100% committed to channel and helping ensure the success of our partners."
Ian Rowan,
Senior Channel Manager at Wildix UK
In summarising this message Rowan urged anyone who has issues with recruiting staff with the full required skill set to get in touch with Wildix by filling out the below provided form to learn more about this incentive.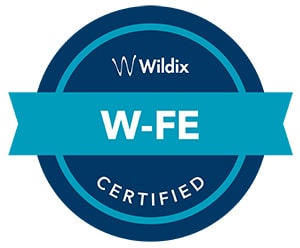 Apply for Wildix W-FE Training Scheme