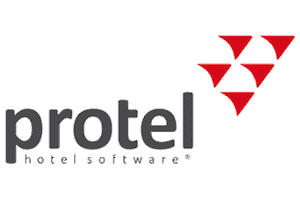 Protel hotelsoftware offers hotel management solutions for every type of hotel:
protel Air – Cloud hotel software

The perfect solution for hotels of all sizes that don't want to take on the burden of maintaining their own technical infrastructure. All you need is a device connected to the Internet.

protel On-Premise – Server based hotel software

An exclusive hotel management software for mid-market operators and large individual hotels, providing effortless process and fast, reliable access to all the information.
PROTEL INTEGRATION WITH WILDIX
Wildix communication system integrates with FIAS protocol (Fidelio Interface Application Specifications).
Thanks to this integration, Wildix PBX can interact with protel PMS (Property Management System) and exchange the information on the following events:
Check-ins / check-outs of guests
Additionally, hotel staff can block outgoing calls from vacant rooms upon guest checkout.
Set up wake-up calls
Guests can set wake-up calls for one or more days from desk phones installed in the rooms.

Minibar charging
Housekeepers can charge minibar from DECT phones or desk phones installed in the rooms.
Call billing
Real-time statistics of outgoing calls per room and call billing.
Room status
Hotel staff can change room status for occupied / vacant / clean / dirty.
Documentation: https://confluence.www.wildix.com/x/rAc8AQ
Wildix Hotel FIAS PMS integration matrix : Sheet1
Feature / PMS

Oracle / Fidelio

Hoist Group

Ericsoft

Technosoft/ Directholiday

Protel

Serenissima

Tepephony (PBX) interface

Departure/arrivale date/time

Departure/arrivale date/time

Room clear/dirty status for vacant room from PMS

Room clear/dirty status for occupied room to PMS

Room inspection status to PMS

Wake up clear for all items

Wake up clear for a particular date/time item

Call billing with total amount

Call billing with only dialed number and duration

Minibar charges with total amount

Minibar charges with minibar article and count

Automation (DLS) interface

Key request for duplicate keys

Key programming with common areas

Particular departure time in key request

Suite info key request (virtual rooms)
Protel hotelsoftware has been developing and selling solutions specifically for the hotel industry and related sectors since 1994. Today over 14,000 hotel customers and hotel management schools in 90+ countries are using the protel platform.