2N® HELIOS IP – A SERIES OF DOOR INTERCOMS FOR ANY WORKING ENVIRONMENT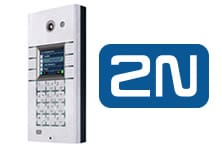 The use of IP technology and SIP protocol offers a broad range of features, such as sending of video from the door communicators to IP phones.
No additional components are needed – 2N® Helios IP fully integrates with Wildix communication system to allow controlled access to a building or an office.
Manufacturer Information
2N is a leading European company engaged in the development and manufacture of products in the field of ICT and physical security.
White Paper
Integration Vision – Door Phone: