Microsoft Teams
Increase your Microsoft Teams platform performance with additional communication features from The Wildix PBX.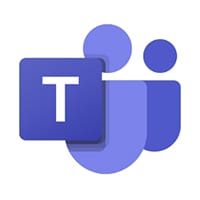 Type of Integration: Wildix Certified
Type of Connection: Add-On
Wildix Product Concerned: Collaborative Platform
Free / Extra charges: Free
Microsoft Teams
Wildix has developed an add-on that permits Wildix Cloud PBX and Microsoft Teams platform to improve companies' communication systems all over the globe.
This add-on has been developed because Microsoft Teams and Wildix communication solutions don't provide the same features. Starting from now Microsoft Teams users can enjoy Wildix basic phone features into Teams interface.
The Wildix integration allows customers to embed some call features directly into Microsoft Teams interface. It doesn't require a complex Microsoft Architecture and can be set up in minutes. The integration supports the following features.
About Microsoft
Wildix is the first Cloud Browser-Based Unified Communications and VoIP PBX that's fully integrated with the Microsoft Teams platform, letting companies connect their phone systems with Microsoft Professional Suite.
Requirements
WMS version: 4.01 or higher
Wildix License
Wildix UC-Business or UC-Premium License
Microsoft Teams and Wildix Integration Supported Features
They Already Installed This Integration
... Die Verwendung von Plantronics-Headsets, die in Wildix integriert wurden, zeigte sofortige positive Auswirkungen, da die Produktivität der Call-Center-Mitarbeiter, die im Open Space Büro arbeiten, stieg. Sie profitieren auch von einer wesentlich höheren Audioqualität als zuvor.

Valore BF - Business Development Manager

... Kommunikation ist jetzt viel einfacher auch dank der Smartphone-App. Wenn wir nicht am Telefon sprechen oder chatten, tauschen wir Post-it-Nachrichten aus. Wir haben uns ans neue Collaboration-Tool sehr schnell gewöhnt, da es schneller und zwangloser funktioniert als E-Mails und es uns so ermöglicht, immer in Kontakt zu bleiben. Zudem ist es komplett in die in unser Unternehmen verwendete Software integriert.

Roseo Hotels - General Manager