VoIP-Telefonanlagen: lokal, virtuell, Cloud
Die Wildix-Telefonanlage ist als Hardwareanlage, virtuelle Anwendung oder Cloud-Lösung verfügbar.
Die Wildix-Software ist vollumfänglich in die Hardware integriert, wodurch jegliche Probleme mit Drittanbieter-Produkten vermieden werden.
Mehrere Wildix-Systeme können zu einem einzelnen globalen Cluster verbunden werden.
Die VoIP-Telefonanlage von Wildix ist ein verlässliches Telefonsystem für kleine und große Unternehmen. Es ist flexibel skalierbar und somit perfekt an die Bedürfnisse des Unternehmens anpassbar.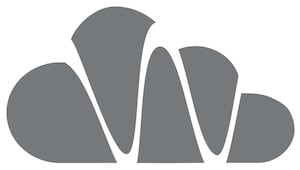 Alle Unified Communications Funktionen von Wildix sind auch in der Cloud verfügbar. Eine Cloud-basierte Telefonanlage kann mit nur einem Klick im Verwaltungsinterface aktiviert werden.
Bei Bedarf können Sie auch Hardware-Anlagen als Ausfallsicherung hinzufügen.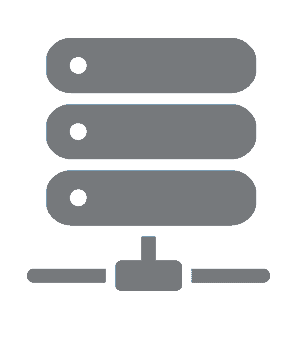 Die Wildix-Software ist in jeder virtuellen Umgebung lauffähig (z.B. VMware, jegliche Linux-Plattformen).
Virtuelle Umgebungen verleihen mehr Flexibilität bei der Serverinfrastruktur und gewährleisten eine ständige Verfügbarkeit der Dienste.

Standard 19"-Einschub
4 Netzwerkschnittstellen
SSD – Solid State Drive
Die Wildix-API ermöglicht es Ihnen, webbasierte Software und Hardware von Drittanbietern in die Unified Communications-Lösung von Wildix zu integrieren. Dank der API können Sie Anrufe von Ihrem Windows-PC und von externen Web-Anwendungen aus verwalten.
Das WMS-Netzwerk von Wildix überbrückt die Distanzen zwischen den verschiedenen Standorten des Unternehmens und ermöglicht es den über den Erdball verteilten Mitarbeitern, wie in einem gemeinsamen Büro miteinander zusammenzuarbeiten.
Komplett web-basiert: das WMS kann von jedem PC (Windows, Linux, Mac OS X) oder mobilen Endgerät aus über den Browser aufgerufen werden und ermöglicht Ihnen die Administration Ihrer lokalen, virtuellen oder Cloud-basierten Telefonanlage.
Auto-Provisionierung von Geräten: mehrere lokale und auch entfernte Wildix-Geräte können gleichzeitig automatisch konfiguriert und aktualisiert werden. Auch die Zuordnung von analogen Leitungen und Schreibtischtelefonen zu Benutzern erfolgt über das WMS.
Benutzerverwaltung: über das Web-Interface können Sie neue Nutzer anlegen und die Nutzereinstellungen / -rechte anpassen. Auch der Import von Benutzern und Kontakten aus Google, Active Directory, MSSQL, MySQL und Exchange Server ist problemlos möglich.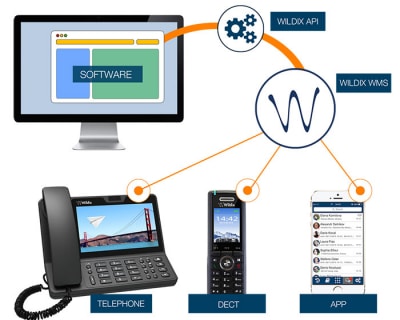 Sie können Ihre Telefonanlagen selbst über entfernte Städte und Länder hinweg zu einem firmeninternen und nahtlosen Kommunikationsnetzwerk verbinden und dadurch jegliche Kommunikationsbarrieren zwischen den Standorten überwinden.
In einem solchen Wildix-Netzwerk übernimmt eine Telefonanlage die Funktion des Masters. Jegliche an einer Slave-Anlage vorgenommene Aktualisierung wird zuerst an diese Master-Anlage übermittelt und von dort an alle anderen Slave-Anlagen weitergeleitet.
In der heutigen Zeit ist es durchaus üblich, dass Unternehmen Niederlassungen in verschiedenen Ländern der Welt haben. Mit dem WMS-Netzwerk können alle Nutzer des Systems (egal in welchen Land sie arbeiten) zentral verwaltet, betreut und aktualisiert werden. Alle Dienste des Systems sind an jedem Standort verfügbar.
Überwinden Sie die Entfernung zwischen den Nutzern: jegliche interne Kommunikation ist kostenlos. Sie zahlen nur für die Internetanbindung.
Jeder neu angelegte Nutzer ist augenblicklich für alle anderen Nutzer des Systems sichtbar und kann von diesen kontaktiert werden.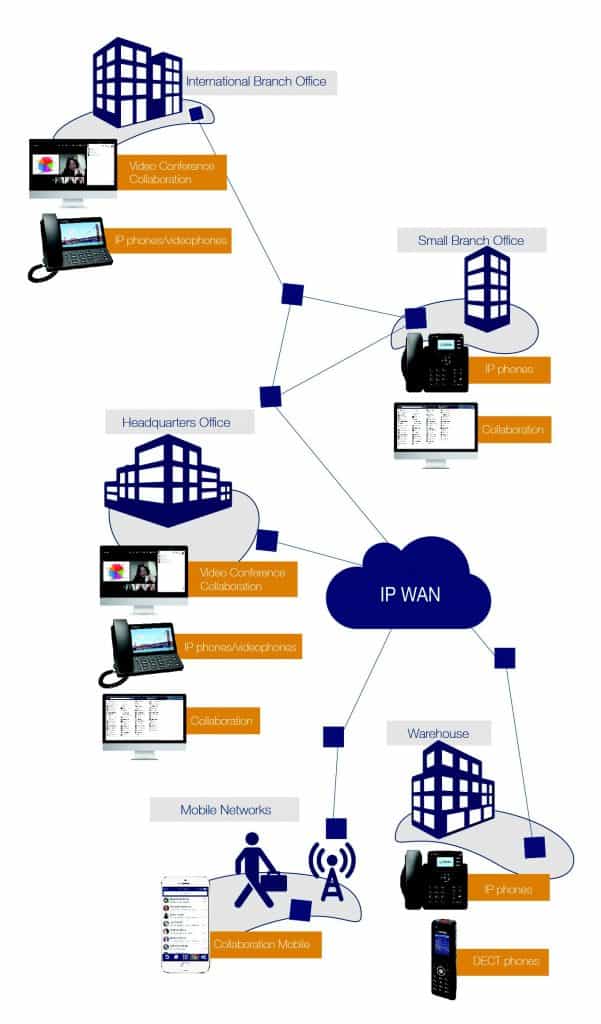 Mit Fax Server können Sie via Email oder Collaboration Fax- und SMS-Nachrichten senden und empfangen..
Jeder Nutzer kann seine eigene Fax-Nummer haben
Automatische Benachrichtigungen zum Versandstatus einer Fax-Nachricht
Speicherung von Fax-Nachrichten in digitaler Form
Fax2Mail und Mail2Fax
T.38-Standard zur IP-basierten Fax-Übertragung
Empfang und Versand von SMS
Umweltfreundliches Faxen
FAILOVER UND LASTVERTEILUNG
Jede Telefonanlage eines Wildix-Netzwerks kann als Backup-Anlage für eine andere Anlage des gleichen Netzwerks fungieren oder auch einen Teil der Last dieser Anlage auffangen.
Sobald die Synchronisation eingerichtet wurde, können alle Funktionen automatisch, ohne Unterbrechung und ohne manuelles Eingreifen an die Backup-Anlage übergeben werden. So stehen bei einem Netzwerk- oder Telefonanlagenausfall jederzeit redundante Kapazitäten bereit.
Eine Backup-Telefonanlage verfügt über die gleiche Konfiguration wie die Hauptanlage, wodurch eine durchgehende Serviceverfügbarkeitgewährleistet werden kann.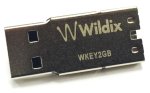 Der 2 GB USB-Stick von Wildix ist ein besonders hitzeresistenter USB-Datenträger. Betriebstemperauren von bis zu 85 °C, Aluminiumgehäuse, bis zu 100.000 Schreib-/Löschvorgänge, 22 MB/s Lesegeschwindigkeit und 18 MB/s Schreibgeschwindigkeit dank NAND Flash Technologie.
PROTOCOLS AND TECHNOLOGIES
Protocols and technologies
Support of ISDN and analog lines (FXO, BRI, PRI)
SIP protocol management
Support of analog devices (FXS)
Support of SIP devices
IP DECT System W-AIR
GSM media gateway (1-sim)
Support of VoIP and PSTN operators
Audio codecs: G.711a, G.711u, G.729A/B, G.722; HD codecs (opus)
WebRTC support
Fax T.38 support
CALL AND CONTACTS MANAGEMENT
Call and contacts management
Audio, Video call
Caller name visualization; CLI generation
CLIP recognition on analog line
DTMF tones
Blind/attended call transfer; return from transfer
Call forward busy, Call forward unavailable, Call forward unconditional
Call hold, Call park
DID (direct inward dialing), DISA service
Call completion; Callback; Mobility extension; Call waiting
Call pickup; group call pickup, call recording
Call intrusion: barge (conference intrusion), listen (silent intrusion), whisper (partial intrusion)
Do not disturb (DND) activation/ deactivation
Hotline
Distinctive Ringtones, Ringtones selection
Director/secretary
Graphical IVR; Audio file management
Call billing
Timetables and switches
Local and shared phonebooks
Import of contacts and users from MSSQL, MySQL,
LDAP, Google, Exchange Server, Outlook, CSV,
Active Directory, Office 365, Infusionsoft by Keap, Zoho CRM
Advanced CDR; Call stats; Call center functionality
SLA management
Call groups strategies, Call queues management;
Unlimited Voicemail
Dynamic LCR (least call routing)
Call block, Outgoing call barring
Paging
Intercom
Directory (Dial by name)
ACL groups
Active call switching from one device to another one
Conference (three-way calling; conference call)
Speed Dial (users / phonebook contacts)
Emergency numbers
Music on hold
Direct RTP support
Artificial Intelligence (AI): ASR (automatic speech recognition), TTS (text-to-speech), STT (speech-to-text); Personal assistant (user status reporting via TTS), Dial by name via ASR, Voicemail transcription via STT, speech recognition with voice control
ADMIN TOOLS / SYSTEM MANAGEMENT AND SECURITY
Admin tools / system management and security
Web-based administration interface WMS (Windows, Linux, Mac OS X)
Integrated Failover /redundancy/ Load share
LDAP Server; NTP Server; DHCP Server; SNMP Server
Manual / Scheduled Backup
Download and restore of configuration
TLS/SRTP security; SIP Trunks over TCP
Intelligent Bandwidth Management
Integrated SMTP client
Anti SIP-ALG technology
Multi user; Multisite (WMS Network of PBXs)
Auto configuration of Wildix devices (autoprovisioning);
phones configuration via HTTP/TFTP
Advanced Dialplan; Separate Dialplan for each PBX in the Network (WMS Network)
Sync of users, groups and ACLs over the WMS Network
System upgrades
Local and remote Survivability
Diagnosis and debug tools; trace generation
DoS attacks blocking
Serial port password
Storage on USB (Voicemail), Cifs/Windows Share/
Samba
Fax / SMS server; Fax2Mail, Fax2SMS services
STUN / NAT / Firewall traversal (RFC 3489)
System notifications to email with attachments
Startup diagnosis; Network link status diagnosis
LED: LAN, WAN, POWER
LAN and WAN access; SSH console
ACL for system administrators
Hardware appliance / Virtual / Cloud PBX
DHCP QoS
2FA (2 factor authentication)
Tools: mtr-tiny, tsql, iftop, dig, iperf, sngrep (installed); mysql-client, htop, mc (available)
SIP, in-band info and rfc2833
Fax over IP (ITU_T: T4, T30, T38, V17, V21, V27 ter, V29)
UC & COLLABORATION; INTEGRATIONS AND CEBP
UC & Collaboration; Integrations and CEBP
Instant Messaging/ chat
File Transfer
Desktop sharing and Remote control
CTI component accessible via browser (Collaboration)
WebRTC audio call, video call from the browser
Access to local and remote phonebooks
Contact center interactive queues, call center wallboard
WebRTC audio and video conference for PBX and external users
Attendant console
Windows TAPI Integration
Google single sign on (SSO), Office 365 Single sign-on
Active directory Single sign-on
Push notifications
Web CRM integration
APP for iOS and Android
Presence status sync on all devices
Geolocation
Integration with web apps (CRM, ERP, Fias/Fidelio, hotel PMS, ESPA monitor)
Popup URL/ Popup APP; Callback URLs
Click to dial, call popup
PBX API library; WebAPI
Support of URI for click to call
Up to 5000 users on one PBX
Up to 500 concurrent calls
Up to 100.000 users in WMS network
Up to 1000 nodes in WMS network
HARDWARE PBX SPECIFICATIONS
Hardware PBX Specifications
4 x Rj45 Ethernet ports 10/100/1000 Base T
2 USB 2.0
1 x Console interface RS-232 19200 bits/s
Environmental Conditions and Physical Dimension
(5°C – 40°C) operating; (5°C – 60°C) storage
5% – 90% Relative humidity, non-condensing
430 x 250 x 46,2 mm, 1U; weight: 3,2 kg
CPU: from J1800 to J1900
Memory: from 4GB SLC SSD to 8 GB SLC SSD
Safety regulations: UL 60950
CSA 22
Certificates CE and RoHS
Power Supply and Consumption
Internal power adapter 220V
Consumption: Idle 10W; Full power 25W
Sie möchten mehr erfahren?