Microsoft Teams
Increase your Microsoft Teams platform performance with additional communication features from The Wildix PBX.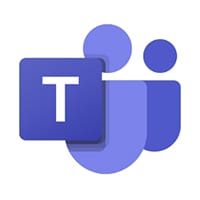 Type of Integration: Wildix Certified
Type of Connection: Add-On
Wildix Product Concerned: Collaborative Platform
Free / Extra charges: Free
Microsoft Teams
Wildix has developed an add-on that permits Wildix Cloud PBX and Microsoft Teams platform to improve companies' communication systems all over the globe.
This add-on has been developed because Microsoft Teams and Wildix communication solutions don't provide the same features. Starting from now Microsoft Teams users can enjoy Wildix basic phone features into Teams interface.
The Wildix integration allows customers to embed some call features directly into Microsoft Teams interface. It doesn't require a complex Microsoft Architecture and can be set up in minutes. The integration supports the following features.
About Microsoft
Wildix is the first Cloud Browser-Based Unified Communications and VoIP PBX that's fully integrated with the Microsoft Teams platform, letting companies connect their phone systems with Microsoft Professional Suite.
Requirements
WMS version: 4.01 or higher
Wildix License
Wildix UC-Business or UC-Premium License
Microsoft Teams and Wildix Integration Supported Features
They Already Installed This Integration
…The introduction of the Plantronics headsets integrated with Wildix, had – as an immediate positive effect – an increase in productivity, above all, for the operators of the call center.

Valore BF - Business Development Manager

…In addition, Wildix mobility service has changed the way we work. We are often on the move, on different floors of the hotel or in the conference center, but now we have more mobility and freedom in our movements. Wildix mobility allows us to increase our availability and reachability, which is essential in our work, since we must provide the information or to make reservations on the phone, and thus, stay in touch at any time of the day.

Roseo Hotels - Vd
The solution has been provided by the Wildix partners

Our expert partner, Taurus combined with Call2Teams solution are proposing an advanced integration that cover several features like : Call Transfer, Call reporting and others.
Discover the webinar presented by Ben Pinder member of Taurus Clearer Communication and Mark Herbert CEO of Call2Teams on Microsoft Teams & Wildix integration topic here.
Contact them directly here

Our Swiss expert partner fourNET together with VOIPCloud are proposing an advanced integration that enable advanced calling feature in Teams without needing any hardware or software.
Contact them directly here