Il potere della semplicità e della trasparenza
Wildix ha creato per te un sistema di licenze semplice e chiaro.
Non ti perderai nella giungla delle diverse tipologie di licenze a cui sei abituato. E non troverai nemmeno labirinti di vincoli e clausole.
Wildix ti offre 4 soluzioni in grado di andare incontro a tutti i bisogni di un'azienda piccola, media e grande.
Ecco le risposte che la soluzione Wildix ti offre:
Chiamate contemporanee per utente
100+ Servizi telefonici, Mobility
Collaboration:
Chat – Condivisione File – APP iPhone/Android
WebRTC Kite:
Collabora con i clienti sul Web
WebRTC Wizyconf:
Live Conference Meetings – Recording – Facebook & Youtube streaming
WebAPI – TAPI – Integration:
Integra CRM online e offline
CDR-View:
Tool analisi dati per manager – Contact Center Manager
WBI Wildix Business Intelligence*:
Text to speech and Dynamic IVR – Automatic speech Transcription – Receive Voicemail as text – Dial by name
Ecco le risposte che la soluzione Wildix ti offre:
Per i collaboratori che hanno semplicemente bisogno di effettuare e ricevere telefonate. Segreteria telefonica, funzionalità fax, gestione chiamate, trasferimento di chiamata.
Il classico centralino ma con qualcosa in più oltre alla stabilità e sicurezza di Wildix.
Ideale per:
chi lavora senza pc ma solo con telefono, telefoni per camere di hotel, postazioni fax e telefono.
1 Device for each user
Phonebook on phones (without presence)
Voicemail
FAX machine – FXS devices
Doorphones devices
LDAP / Active Directory / Google apps / Office 365 authentication
Unlimited trunks
Unlimited IVR
Unlimited ACD
Timetables
WMSNetwork
Per l'azienda che vuole migliorare l'efficienza potenziando la propria comunicazione interna. Qui trovi la possibilità di condividere documenti, chattare, chiamare con un click e visualizzare lo status dei colleghi e la geolocalizzazione. Collaboration di Wildix è ideale per uffici multisede e per i team che lavorano su progetti condivisi.
Snellire i processi di comunicazione quotidiani fa risparmiare ad ogni dipendente in media 2 ore al giorno sul tempo abitualmente destinato ad attività di routine come telefonare e scambiare informazioni.
Ideale per:
personale di backoffice, team di lavoro.
Oltre alle funzionalità che permettono di snellire i processi quotidiani (Collaboration e videoconferenze) la tua azienda potrà potenziare la produttività aprendo la tua comunicazione verso l'esterno. Il centralino sarà perfettamente integrato con il tuo CRM.
Inoltre, WebRTC KITE apre i flussi di comunicazione verso l'esterno e collega il tuo sito internet ai tuoi uffici: i visitatori online possono contattare la persona giusta con un click e lo stesso possono fare i tuoi collaboratori, riducendo la percentuale di chiamate e contatti persi.
Un vantaggio strategico che ti permette di alzare il tasso di conversioni dei lead e quindi incrementare il tuo business fino al 52% di vendite in più.
Ideale per:
reparto marketing, vendite, sales e supporto, call center operatore.
Kite WebRTC – Chat – Audio – Video – Desktop sharing from the company Website
Wizyconf WebRTC video conference – 1 license per each user who needs to set up conferences
WebAPI
TAPI
Predictive dialer API
Attendant Console
Outlook integration
Zoho integration
Agents call activity logging with x-caracal
Tutti i vantaggi di un centralino sicuro, una comunicazione interna finalmente snella e l'apertura verso l'esterno che aumenta la tua produttività…più la possibilità di controllare le perfomance e l'attività dei tuoi uffici. Wildix CDR-View ti mette a disposizione tutti i dati e le statistiche per misurare la tua produttività e quella dei collaboratori. Potrai conoscere in tempo reale le tendenze, i carichi di lavoro, i flussi di comunicazione e i risultati. E così elaborare le strategie migliori per gestire le attività e raggiungere i tuoi obiettivi.
Ideale per:
management, monitoraggio e analisi flussi di chiamate, report attività del contact center.
CDRView
"Contact Center" – Management interface
ASR (automatic speech recognition)*
TTS (text to speech)*
Worldwide Phonebook**
Voicemail Transcription
Access to x-caracal dashboards
* 2h per Month per License
** System wide features. One license activate the feature for the full system
x-caracal è l'unica soluzione di statistica ACD semplice, agile ed efficiente che ti fornisce tutti i dati necessari per mantenere il controllo della tua attività.
È necessaria una licenza x-caracal per sistema. Inoltre, almeno una licenza UC-Premium assegnata al supervisore del Contact Center e almeno dieci UC-Business / UC-Premium assegnate agli agenti del Contact Center.
x-caracal supporta PBX virtuali e cloud, a partire da WMS 5.03.
Wizywebinar è il primo studio cinematografico automatizzato per i tuoi webinar.
La piattaforma Wizywebinar è completamente integrata nel sistema di comunicazione Wildix, che serve ad attirare i lead, educarli e aumentare il tasso di conversione.
Clicca qui per saperne di più su Wizywebinar.
È necessaria una licenza UC-Wizywebinar per ogni utente che deve impostare e gestire i webinar e parlare durante l'evento.
Inoltre, ogni utente che ha bisogno di impostare i webinar, dovrebbe avere una licenza UC-Business o UC-Premium.
Esempio: un'azienda ha due sales rep che devono organizzare un webinar. Ognuno di questi sales rep gestisce gli eventi con un co-relatore. In questo caso sono necessarie quattro licenze UC-Wizywebinar: due per i rappresentanti e due per i loro co-relatori.
Wizywebinar è supportato a partire da WMS 5.02.
Wizyconf Station è la prima soluzione hardware professionale e facile da usare per le tue conference room e i tuoi webinar.
Si tratta di una sala conferenze completamente attrezzata, dotata di un PC Chrome, due webcam intelligenti, due microfoni di qualità da studio e uno stand che supporta fino a tre monitor.
Ottieni una Wizyconf Station per aumentare il livello di coinvolgimento del pubblico quando organizzi webinar e partecipi a videoconferenze.
Questa licenza può essere assegnata a Park Orbit o a qualsiasi altro utente che non richieda una SIP registration.
Il sistema Wildix è un software che funziona su una CPU HW o virtuale. Come ogni software, il software Wildix deve essere aggiornato regolarmente per garantire la sicurezza del sistema.
Wildix si impegna a fornire la sicurezza di ultima generazione e la semplicità che superano gli standard di mercato.
I certificati e le licenze PBX vengono controllati quotidianamente. I certificati TLS PBX vengono generati automaticamente e aggiornati ogni due mesi se il PBX è raggiungibile su Internet tramite HTTP. Se il PBX non è raggiungibile via Internet, il certificato deve essere caricato manualmente e quindi aggiornato prima della sua scadenza.
Il check quotidiano assicura che:
il sistema funziona con certificati validi (per assicurarsi che tutti i client comunichino senza il rischio che le loro comunicazioni vengano intercettate)
il sistema non è stato duplicato (questo impedisce un attacco man-in-the-middle)
la versione del software in esecuzione sul sistema non è nota per problemi di sicurezza, altrimenti viene inviato un avviso al gestore del sistema. In caso contrario, il sistema potrebbe disabilitare alcune funzionalità che potrebbero comprometterlo.
il sistema funziona con parametri di prestazione accettabili (memoria e CPU), altrimenti viene inviato un avviso al gestore del sistema per migliorare le prestazioni dell'ambiente hardware o virtuale sottostante.
Dettagli tecnici:
Il controllo viene eseguito quotidianamente a un'ora casuale, questo può essere modificato per essere eseguito a un'ora o un giorno regolari della settimana
La connessione viene stabilita al server "api.www.wildix.com" facoltativamente tramite un proxy HTTP (wmp.www.wildix.com – versione WMS precedente alla 3.86)
Il protocollo utilizzato si basa su HTTP con crittografia di alto livello, non è necessaria alcuna connessione in entrata per il funzionamento del controllo del sistema. Il protocollo può anche funzionare tramite il proxy Web di un cliente
La dimensione media dei dati scambiati sulla connessione è di 2 Kb al giorno
Il sistema ignora un tentativo di connessione fallito per un massimo di 14 giorni, quindi è sicuro mantenere offline il sistema e consentire la connessione almeno una volta ogni due settimane.
Nel caso in cui un tentativo di connessione fallisca ripetutamente per 14 giorni, il sistema limita le funzionalità disponibili per garantire la sicurezza del cliente. Viene fornito un avviso agli utenti del sistema. Per ripristinare un'operazione di sistema completa è sufficiente consentire la connessione in uscita e selezionare l'opzione "Aggiorna via Internet" nel menu Impostazioni WMS – Attivazione / Licenze.
Le licenze sono assegnate a un utente finale e non sono trasferibili tra diversi utenti finali.
I numeri delle licenze mensili e annuali possono essere aumentati o diminuiti in qualsiasi momento.
Le licenze sono disponibili con un periodo di scadenza di 1 mese, 1 anno, 5 anni (licenze ricorrenti).
Tutte le licenze vengono rinnovate automaticamente al termine della durata di validità. Il rinnovo può essere interrotto in qualsiasi momento e diventerà immediatamente effettivo.
Tutte le licenze ricorrenti includono supporto di emergenza 24 ore su 24, 7 giorni su 7 e aggiornamento gratuito alle versioni minori e principali.
Un esempio di configurazione per le tue licenze?
Wildix è la prima soluzione di UC&C basata sul browser e centralini VoIP secure-by-design. Qualsiasi sia la tua esigenza di comunicazione, ricorda che con Wildix comunichi in modo 100% sicuro, senza bisogno di installare firewall o SBC e VPN di terze parti.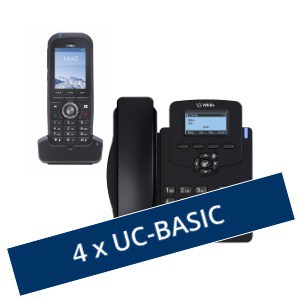 Per 3 collaboratori (produzione, magazzino…) e 1 linea fax.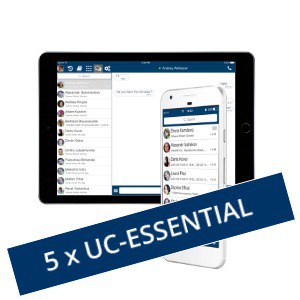 Per un team Amministrazione di 2 persone e 3 unità di personale su più sedi.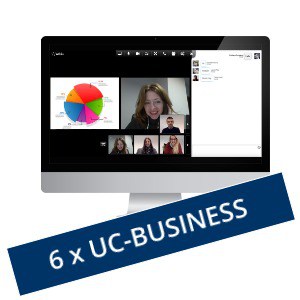 Per 3 Sales e 3 membri del Supporto.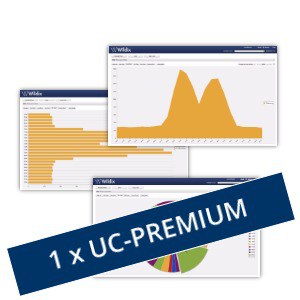 Hai qualche dubbio o domanda?
Non esitare a contattare il tuo professionista IT di riferimento! Puoi sempre contare sui nostri Partner, loro sapranno fornirti la soluzione migliore per vincere le sfide del tuo business!