Centralino telefonico in Cloud
Il PBX VoIP Wildix è disponibile in Hardware, Virtuale e in Cloud.
Il PBX VoIP Wildix è disponibile in 3 diverse piattaforme tecnologiche: Hardware, Virtuale e in Cloud.

Grazie al software di gestione WMS si possono gestire i centralini e tutte le periferiche Wildix su tutte e 3 le piattaforme.
La rete di intercomunicazione tra PBX, WMS Network, è stata ideata per le esigenze di installazioni Multisede.
Tutte le funzionalità telefoniche sono incluse nel PBX Wildix, senza bisogno di acquistare licenze supplementari.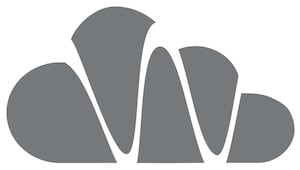 Tutte le funzioni di Unified Communications Wildix sono disponibili in Cloud, attivabili dall'interfaccia gestionale.
E' possibile utilizzare anche una macchina fisica in sede per garantire il failover.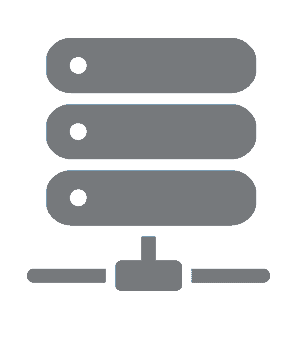 È possibile gestire le soluzioni di comunicazione Wildix installando un sistema Wildix su macchine virtuali che possono essere ospitate da server remoti. Questo conferisce più flessibilità di configurazione nella server farm.

Standard rack 19"
4 porte di rete
SSD – disco a stato solido
Thanks to WebAPI & TAPI, Wildix Unified Communications capabilities can be integrated with third-party applications and web-based software, allowing you, for example, to manage calls from your Windows PC or from external web applications.
WMS (Wildix Management System) è il cuore del sistema di comunicazione Wildix.
E' l'interfaccia di amministrazione del centralino telefonico e dei servizi di Unified Communications.
E' interamente web-based ed è accessibile da browser, senza bisogno di alcuna installazione, da un qualsiasi computer (Windows, Linux, Mac OS X) o dispositivo mobile.
Risparmio di tempo nella configurazione dei dispositivi. Con il sistema di autoprovisioning di Wildix è possibile configurare uno o più dispositivi alla volta, con un click. Attraverso l'interfaccia di amministrazione si possono aggiungere, gestire e aggiornare dispositivi on site e remoti dei sistemi Wildix.
Importazione dei contatti e utenti da LDAP, Active Directory, Exchange Server, MSSQL, MySQL, Google, Office 365.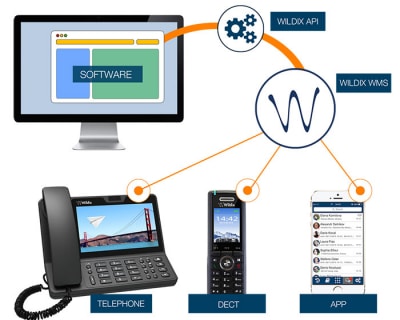 WMS Network è una rete di intercomunicazione che permette agli utenti di differenti sedi di interagire tra loro, annullando la distanzache li divide, proprio come se lavorassero nello stesso ufficio.
In un mercato in fase di globalizzazione, è sempre più frequente avere sedi o uffici in diversi Paesi del mondo. Con WMS Network la gestione, manutenzione e aggiornamento di tutti gli utenti del sistema (in qualsiasi sede si trovino) sono centralizzati.
Tutti gli utenti comunicano tra loro gratuitamente, come se fossero nello stesso ufficio e possono effettuare il login su qualsiasi centrale poiché le loro impostazioni personali sono disponibili in ogni sede.
Il Database utenti dei sistema Wildix risiede su un database LDAP distribuito e questo consente di costruire un sicuro e efficiente Network in cui un PBX assume la funzione di "SERVER" con la prerogativa di sincronizzare gli aggiornamenti tra le altre centrali ("CLIENT"); ogni modifica apportata ad un database locale viene propagata prima al Server e poi, da questo, a tutti i Client.
Un utente aggiunto in una sede è immediatamente visibile a tutti gli altri utenti del sistema.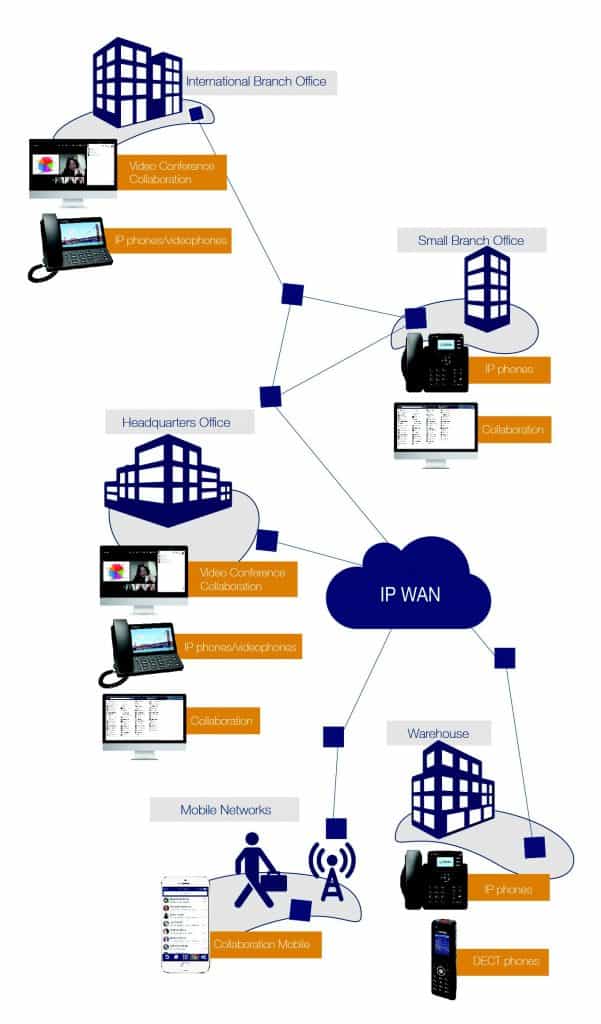 Con Wildix Server FAX gli utenti possono inviare e ricevere FAX e inviare SMS utilizzando i loro client email o Collaboration..
Ogni utente può avere un numero di FAX personale
Notifiche email automatiche sullo stato di invio e ricezione dei FAX
L'archiviazione e la consultazione sono facilitate dalla digitalizzazione del documento
Servizi Fax2Mail e Mail2Fax
L'applicazione Wildix Server FAX consente la comunicazione tramite invio di SMS
Il fax viene recapitato per email, senza l'utilizzo della carta, una nota di risparmio per l'azienda e di rispetto per l'ambiente
Grazie alla WMS network è possibile gestire le funzionalità di Failover e di Load Sharing tra i centralini.
Failover è la capacità di trasferire, in caso di anomalia, le funzionalità di una centrale a un'altra centrale di backup, identica per prestazioni e configurazione, con lo scopo di minimizzare eventuali tempi di disservizio, proteggendo così il lavoro e le comunicazioni in transito nella rete.
Il servizio di FAILOVER di Wildix garantisce l'affidabilità dei sistemi, per far fronte a casi di guasto della macchina o del networking.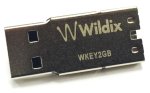 La USB Key di Wildix è l'unità flash che resiste a temperature fino a 85° C e permette fino a 100.000 cicli di scrittura, grazie alla tecnologia NAND. Sull'unità USB la centrale Wildix salva tutti i dati di funzionamento per garantire il Fast replacement.
PROTOCOLS AND TECHNOLOGIES
Protocols and technologies
Support of ISDN and analog lines (FXO, BRI, PRI)
SIP protocol management
Support of analog devices (FXS)
Support of SIP devices
IP DECT System W-AIR
GSM media gateway (1-sim)
Support of VoIP and PSTN operators
Audio codecs: G.711a, G.711u, G.729A/B, G.722; HD codecs (opus)
WebRTC support
Fax T.38 support
CALL AND CONTACTS MANAGEMENT
Call and contacts management
Audio, Video call
Caller name visualization; CLI generation
CLIP recognition on analog line
DTMF tones
Blind/attended call transfer; return from transfer
Call forward busy, Call forward unavailable, Call forward unconditional
Call hold, Call park
DID (direct inward dialing), DISA service
Call completion; Callback; Mobility extension; Call waiting
Call pickup; group call pickup, call recording
Call intrusion: barge (conference intrusion), listen (silent intrusion), whisper (partial intrusion)
Do not disturb (DND) activation/ deactivation
Hotline
Distinctive Ringtones, Ringtones selection
Director/secretary
Graphical IVR; Audio file management
Call billing
Timetables and switches
Local and shared phonebooks
Import of contacts and users from MSSQL, MySQL,
LDAP, Google, Exchange Server, Outlook, CSV,
Active Directory, Office 365, Infusionsoft by Keap, Zoho CRM
Advanced CDR; Call stats; Call center functionality
SLA management
Call groups strategies, Call queues management;
Unlimited Voicemail
Dynamic LCR (least call routing)
Call block, Outgoing call barring
Paging
Intercom
Directory (Dial by name)
ACL groups
Active call switching from one device to another one
Conference (three-way calling; conference call)
Speed Dial (users / phonebook contacts)
Emergency numbers
Music on hold
Direct RTP support
Artificial Intelligence (AI): ASR (automatic speech recognition), TTS (text-to-speech), STT (speech-to-text); Personal assistant (user status reporting via TTS), Dial by name via ASR, Voicemail transcription via STT, speech recognition with voice control
ADMIN TOOLS / SYSTEM MANAGEMENT AND SECURITY
Admin tools / system management and security
Web-based administration interface WMS (Windows, Linux, Mac OS X)
Integrated Failover /redundancy/ Load share
LDAP Server; NTP Server; DHCP Server; SNMP Server
Manual / Scheduled Backup
Download and restore of configuration
TLS/SRTP security; SIP Trunks over TCP
Intelligent Bandwidth Management
Integrated SMTP client
Anti SIP-ALG technology
Multi user; Multisite (WMS Network of PBXs)
Auto configuration of Wildix devices (autoprovisioning);
phones configuration via HTTP/TFTP
Advanced Dialplan; Separate Dialplan for each PBX in the Network (WMS Network)
Sync of users, groups and ACLs over the WMS Network
System upgrades
Local and remote Survivability
Diagnosis and debug tools; trace generation
DoS attacks blocking
Serial port password
Storage on USB (Voicemail), Cifs/Windows Share/
Samba
Fax / SMS server; Fax2Mail, Fax2SMS services
STUN / NAT / Firewall traversal (RFC 3489)
System notifications to email with attachments
Startup diagnosis; Network link status diagnosis
LED: LAN, WAN, POWER
LAN and WAN access; SSH console
ACL for system administrators
Hardware appliance / Virtual / Cloud PBX
DHCP QoS
2FA (2 factor authentication)
Tools: mtr-tiny, tsql, iftop, dig, iperf, sngrep (installed); mysql-client, htop, mc (available)
SIP, in-band info and rfc2833
Fax over IP (ITU_T: T4, T30, T38, V17, V21, V27 ter, V29)
UC & COLLABORATION; INTEGRATIONS AND CEBP
UC & Collaboration; Integrations and CEBP
Instant Messaging/ chat
File Transfer
Desktop sharing and Remote control
CTI component accessible via browser (Collaboration)
WebRTC audio call, video call from the browser
Access to local and remote phonebooks
Contact center interactive queues, call center wallboard
WebRTC audio and video conference for PBX and external users
Attendant console
Windows TAPI Integration
Google single sign on (SSO), Office 365 Single sign-on
Active directory Single sign-on
Push notifications
Web CRM integration
APP for iOS and Android
Presence status sync on all devices
Geolocation
Integration with web apps (CRM, ERP, Fias/Fidelio, hotel PMS, ESPA monitor)
Popup URL/ Popup APP; Callback URLs
Click to dial, call popup
PBX API library; WebAPI
Support of URI for click to call
Up to 5000 users on one PBX
Up to 500 concurrent calls
Up to 100.000 users in WMS network
Up to 1000 nodes in WMS network
HARDWARE PBX SPECIFICATIONS
Hardware PBX Specifications
4 x Rj45 Ethernet ports 10/100/1000 Base T
2 USB 2.0
1 x Console interface RS-232 19200 bits/s
Environmental Conditions and Physical Dimension
(5°C – 40°C) operating; (5°C – 60°C) storage
5% – 90% Relative humidity, non-condensing
430 x 250 x 46,2 mm, 1U; weight: 3,2 kg
CPU: from J1800 to J1900
Memory: from 4GB SLC SSD to 8 GB SLC SSD
Safety regulations: UL 60950
CSA 22
Certificates CE and RoHS
Power Supply and Consumption
Internal power adapter 220V
Consumption: Idle 10W; Full power 25W
Scopri di più compilando il form: