WMS STABLE RELEASE 4 | FEBRUARY 2019
WMS 4.0 is the first 64 bit architecture release. Switching to 64 bits brings incredible benefits:
Support for up to 250.000 users (while on WMS 3.88 we could support up to 10.000 users). These are typical carrier numbers, but with all the intelligence of Wildix. Along with the standard support for chat, presence and video calling.
The best HD audio quality ever, thanks to:

Adaptive bitrate that changes real time according to the available bandwidth
Better wideband audio quality while using slightly more bandwidth than g729
Better resistance to packet loss and jitter

Stability is assured by its 4th generation extended filesystem. This means that we expect to reduce file system errors on HW PBXs to near zero.
WMS 4.0 has already passed the test of a wide application, as it has been used by INPS–the largest social security and welfare institute in Italy and one of the most important on a European level. Every INPS office uses Wildix system running WMS 4.0, which makes a total of 35k users as of today.
Moreover, WMS 4.0 brings many new features and integrations, that are available out of the box for the first time in the world history of the UC&C. In this post we have chosen to talk about the top ten of them.
Check whether your system is eligible for the upgrade and get the upgrade instructions: https://confluence.wildix.com/x/jgKIAQ 
BLF key contact center speeds up responsiveness to the customer and improves customer service.
Last year we added a possibility to easily log-in / log-out from call groups directly from Collaboration with a click of a mouse. But… we know that the primary tool used by a call agent has always been and still remains the desk phone.
What about a simple BLF key allowing call agents to easily log-in and log-out from all of the selected call groups directly from their WP?
Related changelog ticket: WMS-4946
IVR WITH VOICE CONTROL VIA ASR
Artificial Intelligence helps you offer a human-life customer self-service, provide a quicker response to more customers at a time, and increase the number of interactions. AI augments human capabilities so that the call agents can spend less time on routine operations and call activities.
With WMS 3.88 we added Dial by name feature with Automatic Speech Recognition. WMS 4.0 adds a possibility to build IVR trees in Dialplan, allowing you to fully customize the audio prompts and the call destinations. You can program the system to invite the caller to say the department name and be routed to the correct call group. Callers can interact with the system using just their voice.
But not only, the good old Dial by name is now available not only in English, but also in the Italian, French and German languages, with audio prompts being fully customizable, as many of you requested, via Global Dialplan variables.
IVR VIA ASR WITH VOICE CONTROL
OUTGOING CALLS TO KITE USERS
State of the art customer service is the number one priority for many businesses.
Have any of your customers experienced the following: someone gets in touch with them via Kite, and they have to explain how to place a call via Kite service? This slowed down and complicated the communication and frustrated both the customer and the customer service agent.
WMS 4.0 adds a magic "call" button allowing the PBX user to call an external kite user who got in touch with them via chat. As a result, more happy customers.
Related changelog ticket: WMS-2633
AUTOMATIC CALL DISTRIBUTION BASED ON CALL AGENT STATUS
"All our operators are busy at the moment, please hold the line…" Is it familiar to you?
WMS 4.0 introduces an intelligent way to distribute queue calls helping companies provide a better customer service.
WMS 4.0 introduces an intelligent way to distribute queue calls: companies are no longer running the risk to lose customers due to making them stuck forever in a call queue. If all of the agents in the given call group are busy / paused / or have an incoming call, calls to the call group can be handled according to the next step in the Dialplan procedure
Related changelog ticket: WMS-3309
Documentation: https://confluence.wildix.com/x/BAA8AQ
NEW CALL GROUP OPTIONS IN WMS: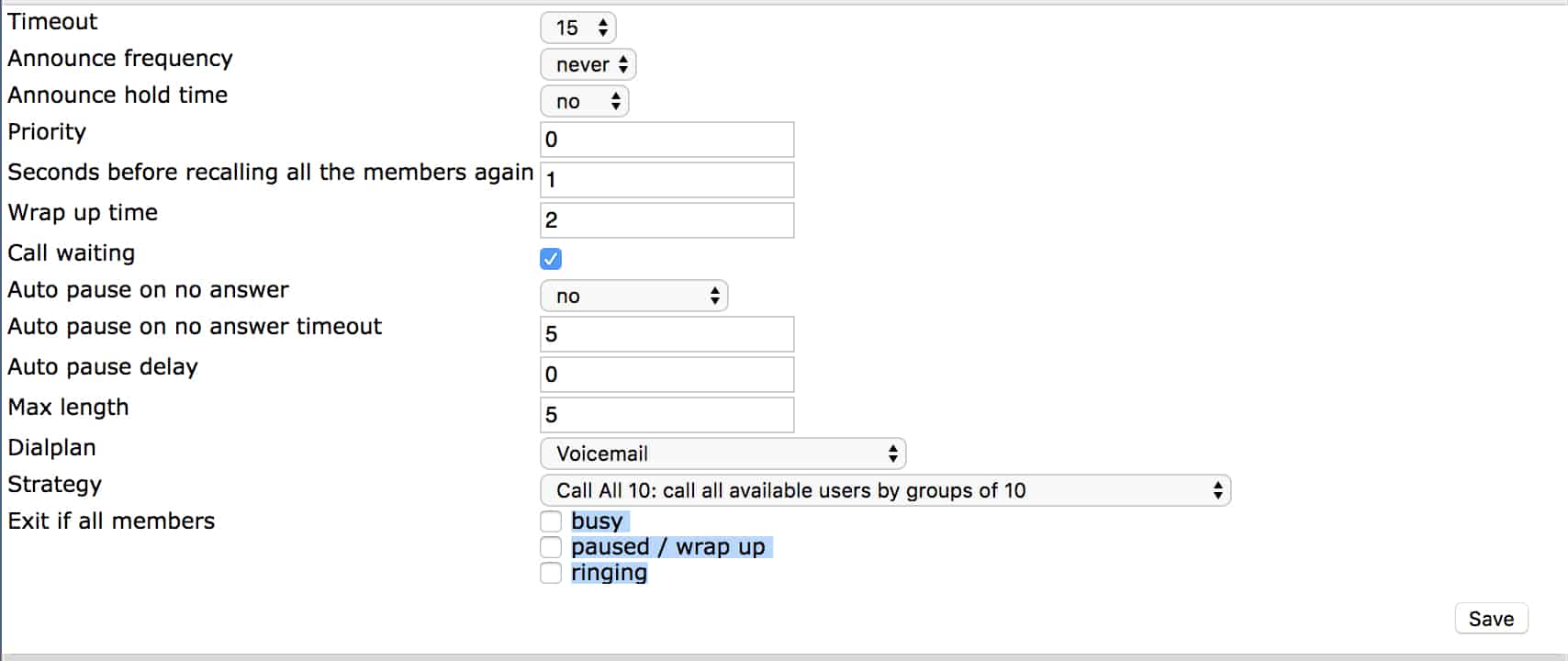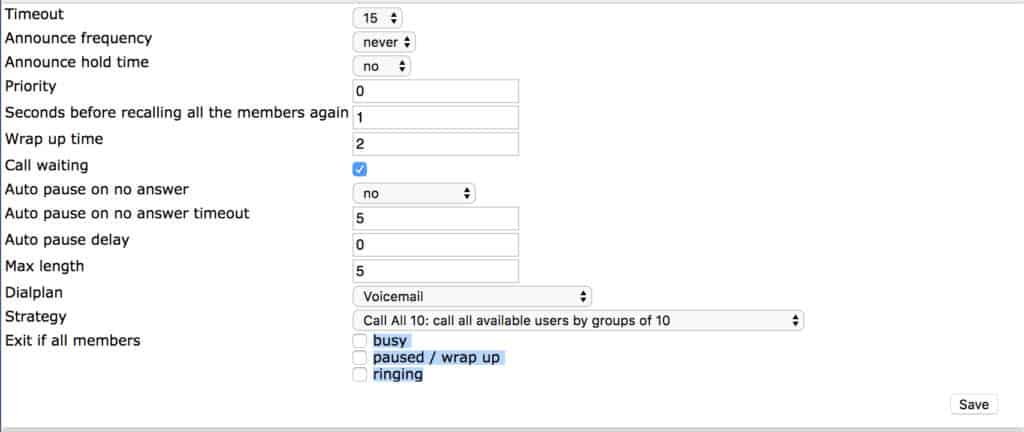 ASSIGN CONTACTS TO ACCOUNT MANAGERS
Imagine that you have to call your account manager and you don't know the DID number. You call the general phone number, and then–what a waste of time–you take rounds repeating the same thing to different people before they finally route you to your destination.
The times of switchboard operators have long gone. There is no need for the employees to spend time on routine and repetitive call activities, and–even more importantly–there is a way to provide a more professional customer service.
Each contact in the shared phonebook can now be assigned to its account manager ("contact owner"). As simple as it is–the system automatically connects a call arriving from a known contact to the right account manager.
As a result–improved customer satisfaction and customer experience and decreased customer wait time.
Documentation: https://confluence.wildix.com/x/ZQHwAQ
Related changelog ticket: WMS-5197
ASSIGN CONTACTS TO ACCOUNT MANAGERS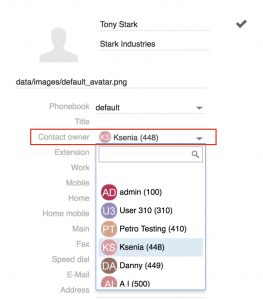 AUTOMATIC ACTIVE DIRECTORY SINGLE SIGN-ON AUTHENTICATION
The employees of these companies have to remember both their AD credentials and the ones to access Wildix Collaboration. How much time do they spend on resetting the passwords of users who forgot their Wildix credentials? Or, even worse, some employees may write down their credentials on a paper running the risk of compromising their passwords and the system in general.
What if you could give a simple link that enables direct access to Wildix Collaboration? Like this they would not even need to know their Wildix credentials at all.
Can you imagine to which extend it would simplify the life of these companies, and especially that of their system administrators, and streamline their daily operations?
A brand new Active Directory integration is the fastest and the simplest one available in the market today. It works like a charm–the user just clicks on a link from their PC connected to the Windows domain and accesses Wildix Collaboration. This magic is possible thanks to Kerberos network authentication protocol, designed to provide strong authentication by using secret-key cryptography.
Documentation: https://confluence.wildix.com/x/rABOAg
Related changelog ticket: WMS-4845
TRANSFER FORWARDED CALLS BACK TO RECEPTIONIST
They say, you never have a second chance to make a first impression. Imagine the following situation: you call a company's central phone number. Perhaps this is the first time you are contacting this company. Your call is transferred to the correct department or call agent… who is busy or does not answer. What an unpleasant surprise, but what could make it even worse? The call gets disconnected. How do you feel now?
This can happen to your customer as well, in case the call returns to the person who turns out to be busy or unavailable at the moment.
Luckily, from now on there's a zero chance for a transferred call to end up in this way. All the external calls, in case of unsuccessful return from transfer, are forwarded to the "backup" destination, indicated by you in the specific Dialplan procedure "receptionist".
Note: "return from transfer" is by default disabled for PBXs with "USA" country code, and can be enabled via Global Dialplan variables.
Documentation: https://confluence.wildix.com/x/0wiIAQ
Related changelog ticket: WMS-5070
EXAMPLE OF THE "RECEPTIONIST" PROCEDURE

VOICEMAIL FORWARDING TO MULTIPLE USERS
It happens sometimes that we need to forward a voicemail to another user. Previously you could do it via a feature code 81, but it was a lengthy and complicated procedure. Moreover, you had to repeat it once again, if you had to forward the same voicemail to another user.
Finally, you can offer an easily and quickly way to forward voice messages to your customers from their Wildix phone to one or multiple users, which helps improve and streamline information exchange within their teams. This feature helps businesses be more productive and efficient–the message won't sit in your mailbox for long and can be immediately shared with the right people in the team.
Note: Voicemail forwarding is possible from WP4X0 and WelcomeConsole, to the users of the same PBX.
Related changelog ticket: WMS-5969
Documentation: https://confluence.wildix.com/x/LAAJAg
FORWARD A VOICEMAIL FROM YOUR WILDIX PHONE:
For companies who would like to grow and win more customers, it is essential to have their UC&C system integrated with the CRM platform used in the company.
Here are the top three problems resolved thanks to such integration:
Centralized contact base: no waste of time adding contacts manually both to the PBX phonebook and the CRM.
Pop-ups for incoming calls and click-to call option: call agents can manage calls, add notes during or right after the call without distractions, as a result–increased productivity.
Calls from customers are automatically forwarded to their account managers: decreased customer wait time.
Wildix has carried out the integration with Infusionsoft by Keap–the #1 all-in-one CRM and advanced marketing automation platform for small business that helps capture and convert leads and create a loyal client base.
INFUSIONSOFT INTEGRATION WITH WILDIX
Wildix integration for Zoho CRM simplifies your business processes, reduces the human latency and automates your daily tasks, enabling the employees to place and receive calls directly within their Zoho CRM accounts. Zoho offers a unified experience of 40 integrated business software applications for back office, productivity and collaboration, front office.
Once the setup is done you can start managing your call activities within your CRM account:
Screen pop-ups for incoming calls with caller information and call details
Easy one-click calls with click-to-call feature
Possibility to schedule follow-up activities once the call is ended
Automatic call logging