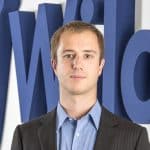 Dimitri Osler, CTO Wildix
Nel mese di Aprile Dimitri Osler ha tenuto una lezione ad Harvard sul tema webRTC dal titolo "Moving the Enterprise to Mobile". Durante l'intervento sono state trattate tematiche come webRTC, implementazioni, standard e infrastrutture. La presentazione è stata ospitata dalla piattaforma ThoughtLight con la moderatrice Christina Inge, consulente di Wildix per il mercato americano.
Christina ha aperto l'intervento sottolineando l'importanza della diffusione di video mobile nel mondo del marketing. Nel 2018, secondo alcuni ricercatori, i video mobile corrisponderanno alla metà dei soldi investiti in pubblicità video online. La crescita esponenziale dei video mobile è dovuta alla diffusione della copertura di rete 4G e all'ingrandimento degli schermi dei dispositivi mobili.
Esistono diversi motivi per cui il webRTC sta diventando una tecnologia così importante per le aziende: Google fornisce la base per il codice da una delle migliori società del mercato, che ha acquisito. E' molto facile sviluppare il webRTC su mobile, caratteristica che rende questo protocollo molto apprezzato da aziende che stanno entrando nel mercato delle applicazioni mobili.
Insieme agli studenti Dimitri ha analizzato in che cosa consiste il webRTC, che standard e che protocolli utilizza, e come sia facile accedere a streaming multimediali come real time video e audio grazie all'utilizzo della API getUserMedia
Il CTO di Wildix ha anche parlato dei pionieri del webRTC come ad esempio Google, Mozilla e Firefox,  e anche dei noti ritardatari come Microsoft e Apple.
"Lavorare con questi studenti, così interessati al tema, è stata davvero un'esperienza gratificante." racconta Dimitri.
ThoughtLight website: www.thoughtlight.net