Integrate your PBX Wildix with Odoo4Wisp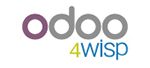 Vayu is a partner based in Rome. It creates smart solutions for business communications using an agile approach. Through simple, flexible solutions and its team of dedicated professionals, Vayu delivers tailored services and ensures companies have the right software to solve WISP and ISP problems.
Odoo4Wisp delivers a complete software platform, allowing you to manage customers through a huge range of possible features. With a Wildix integration, you can access full ERP functionality and generate data from your PBX while optimizing time and activities. It's this full functionality that makes it so appealing to ISPs and WISPs, particularly those needing a more customized configuration.
Type of Integration: Partner Certified
Type of Connection: API
Wildix Product Concerned: Wildix PBX and Wildix Collaboration
Supported Features through Odoo4Wisp and Wildix Integrations
No need to open Wildix or the Odoo database to update information
Ability to change credentials directly from the portal
Simple configuration
Compliance with OAuth 2.0 security protocols
Ability to monitor all incoming calls with statistics
Better communication thanks to the ability to redirect calls to the desired extension