VoIP-telefoner och hörlurar
De enda VoIP-telefonerna som visar närvarostatus för kollegor på alla platser

Den exklusiva bordstelefonen designad för chefer som vill ha koll.
SuperVision kör ett Andriodbaserat operativsystem och är utrustad med en 8"-skärm samt en avtagbar webbkamera. SuperVision gör det möjligt för chefer att övervaka sitt företags telefonaktiviteter (Call Center Wallboard).
Android 5.1 OS
Pekskärm
Närvaro och chatt
2 x Gigabit Port 10/100/1000
WebRTC videokonferens
802.3az Green Ethernet
Audio HD wideband
USB 2.0
120 BLF-knappar
8" färgdisplay 1280×800
5 MP flyttbar webbkamera
Stöd för USB Headset
Integration URL (Wallboard)
Bluetooth 4.1
Dual band WiFi 2.4Ghz / 5Ghz, 802.11b/g/n
LED-knappar (Röstbrevlåda, tyst, ljudutgång)
PoE IEEE 802.3af
PBX telefonböcker
Online samtalshistorik
WelcomeConsole är perfekt för att kunna ha koll på ett stort antal kollegor och för att hantera stora mängder samtal
4.3'' färgdisplay 480*272
Max 60 BLF-knappar (telefon + ext. modul)
1 Extension module WP490EXT inkluderad
Upp till 3 ext. moduler stödda
Stöd för USB Headset
Närvaroövervakning i telefonbok
Uppringares bild
2 x Gigabit Port 10/100/1000
802.3az Green Ethernet
Stöd för WPEHS
Övervakning av närvarostatus via BLF-nycklar
Los teléfonos Wildix Line Up
De första telefonerna designade för företag, secure-by-design™ och med förmågan att öka er produktivitet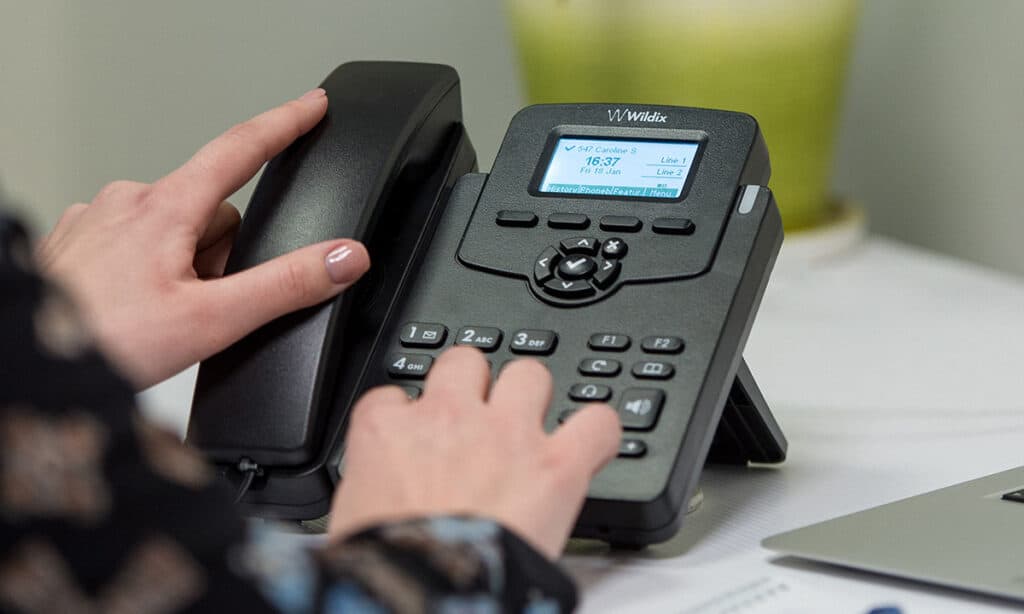 Wildix Start VoIP-telefoner har ett enkelt och intuitivt användarvänligt gränssnitt.
Display: 132*64 LCD
2 x Port 10/100
PBX-telefonböcker
Max 4 BLF-knappar
PoE IEEE 802.3af
Online samtalshistorik
Snabb stör ej-knapp
Visuell / Audio BLF
Notis för röstbrevlåda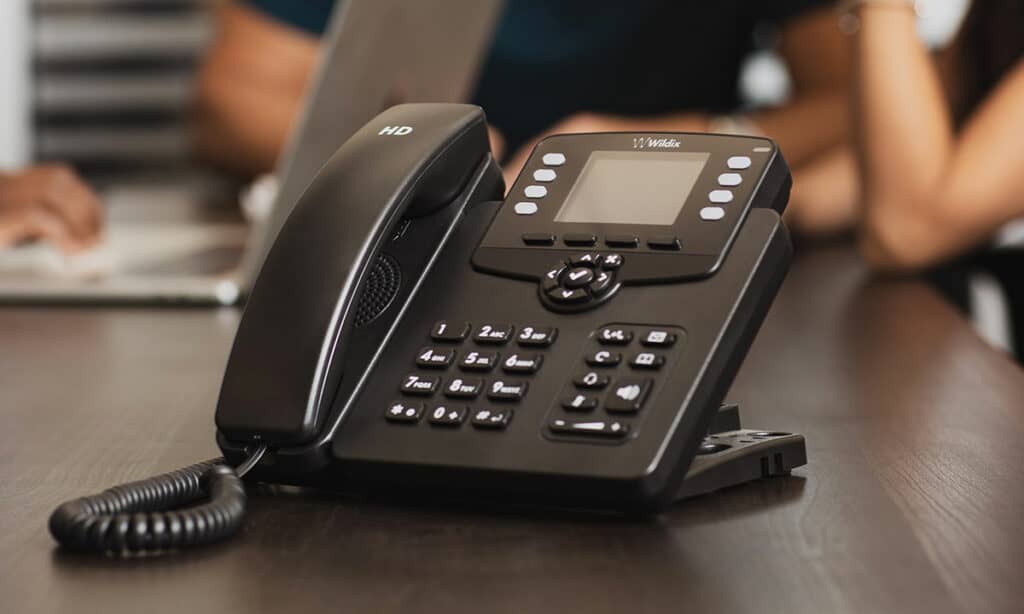 Öka din effiktivitet och ha koll på dina kollegors tillgänglighet tack vare de integrerade funktionerna i Collaborations.
WorkForce comes with a USB Type-C plug for headsets. This new version of the USB port guarantees improved audio quality and many more convenient features.
WorkForce also features such incredible advantages as a new, faster chipset, Opus integration, and full compatibility with USB Bluetooth, 5G and WiFi dongles.
Using WorkForce's BLF keys and its generously sized screen, you can simply glance at the phone to check whether your coworkers are available, busy, or in do not disturb mode. These statuses are synced with Collaboration for unified implementation and personal convenience.
Funktioner hos WorkForce 
USB-Type C input
USB Headset-kompatibel
USB Bluetooth dongle connectivity (*Finns under Q3 2020)
Nytt och snabbarer chipset
Opus kompatibilitet
5G / WiFi dongle-redo
ökade möjligheter att ha koll på kollegors status via BLF-nyckeln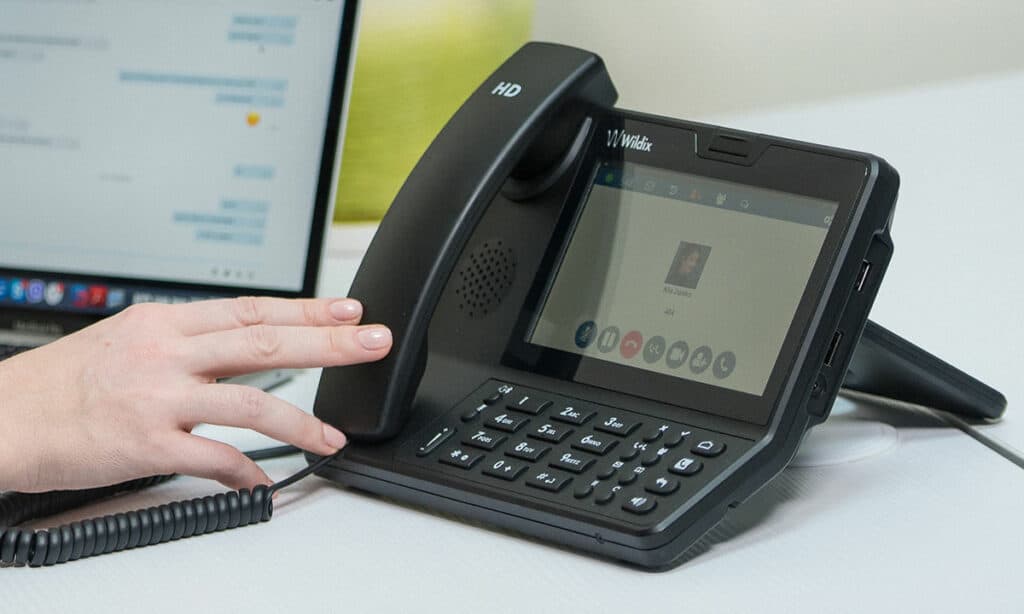 Bordstelefonen med närvaro och video designad för chefer.
Vision är en Androidenhet, redo för WebRTC, utrustad med en 7"-skärm och en 2 MP-webbkamera, vilket gör den perfekt för videosamtal och videokonferenser.
Du kan ta emot samtal från en annan Vision, från en PC, från en porttelefon eller från en annan Androidenhet.
Vision är telefonen för dina WebRTC-videokonferenser.
All the features of WorkForce +

Android 5.1 OS
7" färgdisplay 1024*600
Pekskärm
Närvaro och chatt
2MP webbkamera
WebRTC videokonferens
WiFi 802.11b/g/n
Bluetooth 2.0
USB 2.0
120 BLF-knappar
DUOLED OCH MONOLED HEADSET
Visa när du är tillgänglig, grönt ljus för att visa att du är tillgänglig!
Ofta kan kollegor inte avgöra om du är upptagen med ett samtal eller inte.
DuoLED- och MonoLED-headseten löser detta problem och sparar allas tid genom att visa dina kollegor när du är tillgänglig.
Dessa innovativa headset visar din nuvarande status för dina kollegor med en inbyggd LED-indikator. Detta görs genom ett enkelt färgkodningssystem: grönt betyder "tillgänglig", violett betyder "stör ej", rött betyder "upptagen i telefonen".
DuoLED-headset har bi-auralt ljud, perfekt för en optimal upplevelse under samtal. MonoLED-headset är mono, och med sin ena lyxigt vadderade öronsnäcka är det t ex idealiskt för användare med en stor mängd samtal, t ex om man är en del av ett call Center..
Både DuoLED- och Mono LED-enheterna finns som en Bluetooth-version med en exceptionellt lång batteritid på upp till 15 timmar.
Bluetooth eller trådbundet, detta headset är perfekt både för kontoret och för att arbeta hemma, så att du slipper oönskade avbrott från kollegor eller andra i din närhet.
DuoLED- och MonoLED-headsetet är en perfekt lösning för proffs som använder sin bärbara dator med Wildix Collaboration för samtal. Dessutom är dessa headset helt kompatibla med Wildix senaste bordstelefoner.
Dessa headset har exceptionell ljudkvalitet tack vare stödet för Opus-codec och den långa mikrofonen, vilket minskar omgivande brus.
Headsetet kommer med ett elegant stödfäste som visar dina kollegor din status när du inte sitter vid ditt skrivbord – och spar därmed också plats samt att du kan fortsätta ditt samtal utan att bli störd i onödan.
DuoLED
trådbundna headset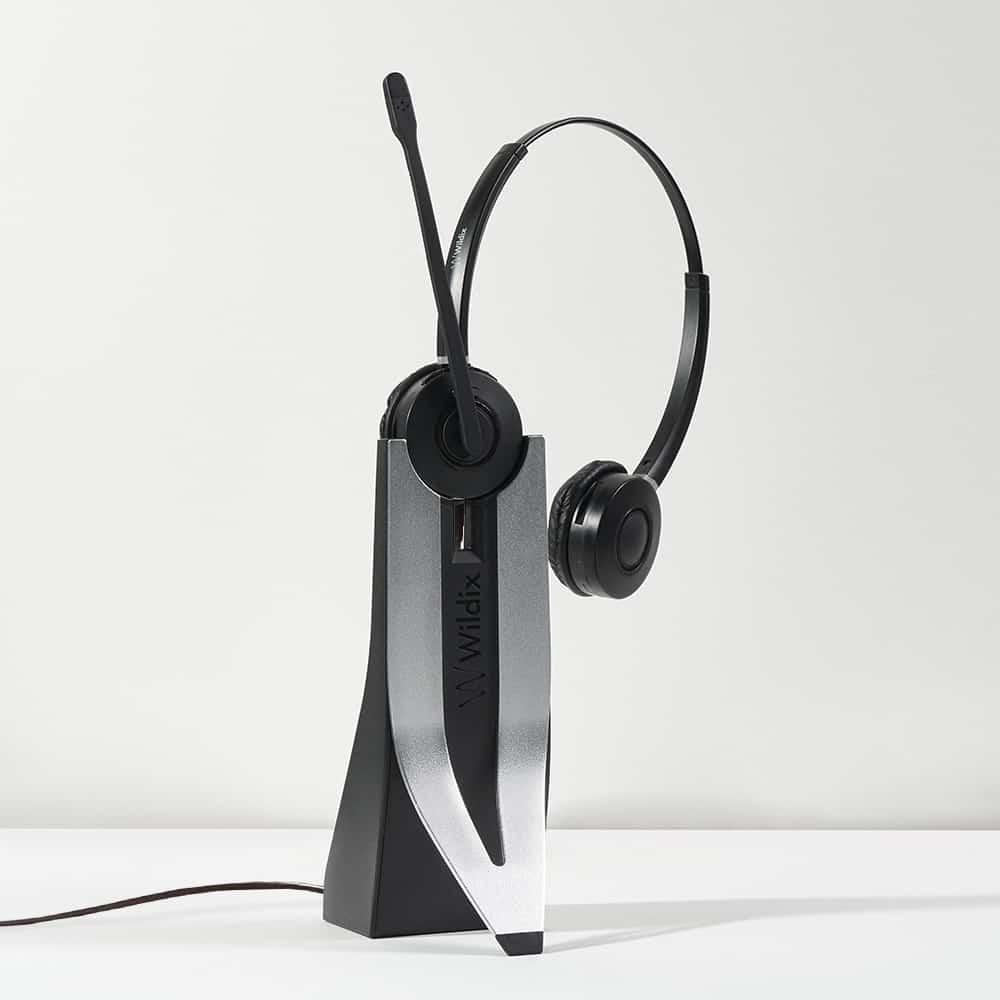 USB typ-C-kontakt
USB Type-A-adapter ingår
Brusreducerande mikrofon
Svara/lägg på/stäng av/volymkontroll knappar
Status Lysdioder: online, borta, DND/i konferens, i samtal, ringer, samtal parkerat, missat samtal
Bordsstativ ingår
LED-användarstatus stöds på Wildix Collaboration, WorkForce, Welcome Console (Vision, SuperVision – kommer snart)
Bärbart fodral
MonoLED
headset med kabel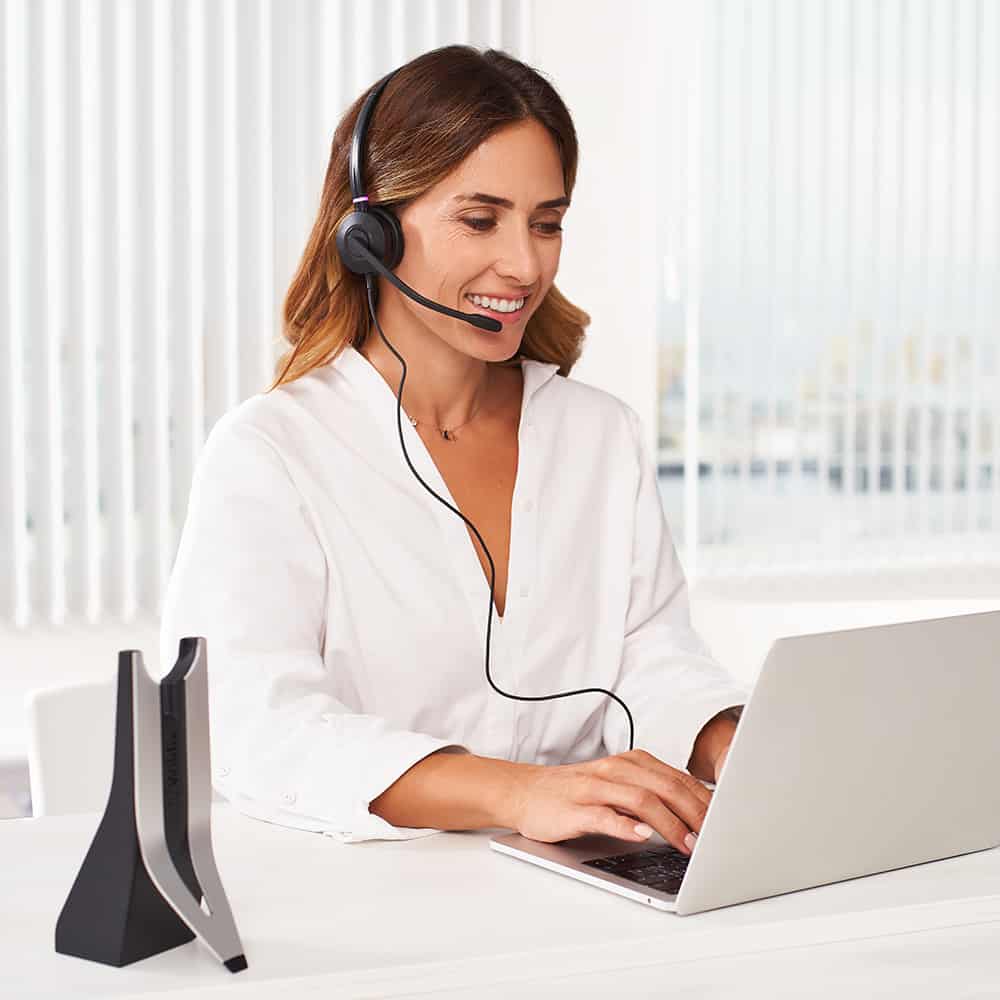 USB typ-C-kontakt
USB Type-A-adapter ingår
Brusreducerande mikrofon
Svara/lägg på/stäng av/volymkontroll knappar
Status Lysdioder: online, borta, DND/i konferens, i samtal, ringer, samtal parkerat, missat samtal
Bordsstativ ingår
LED-användarstatus stöds på Wildix Collaboration, WorkForce, Welcome Console (Vision, SuperVision – kommer snart)
Bärbart fodral
DuoLED-BT
trådlöst headset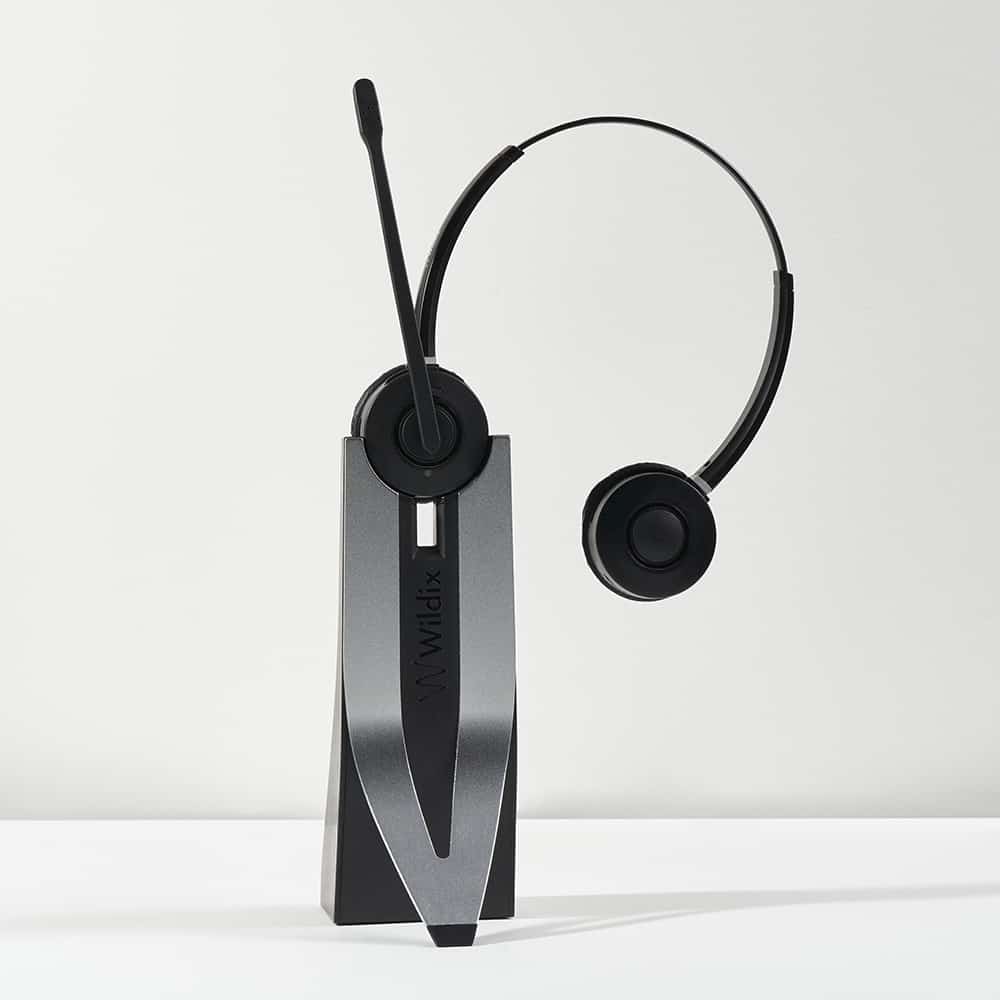 Räckvidd: upp till 30 meter
Taltid: upp till 15 timmar
Standby Tid: upp till 20 timmar
Brusreducerande mikrofon
USB-C-kabel och USB-C till USB-A-adapter ingår
Svara/lägg på/stäng av/volymkontroll knappar
Status Lysdioder: online, borta, DND/i konferens, i samtal, ringer, samtal parkerat, missat samtal
Bordsstativ ingår
LED-användarstatus stöds på Wildix Collaboration, WorkForce, Welcome Console (Vision, SuperVision – kommer snart)
Bärbart fodral
MonoLED-BT
trådlöst headset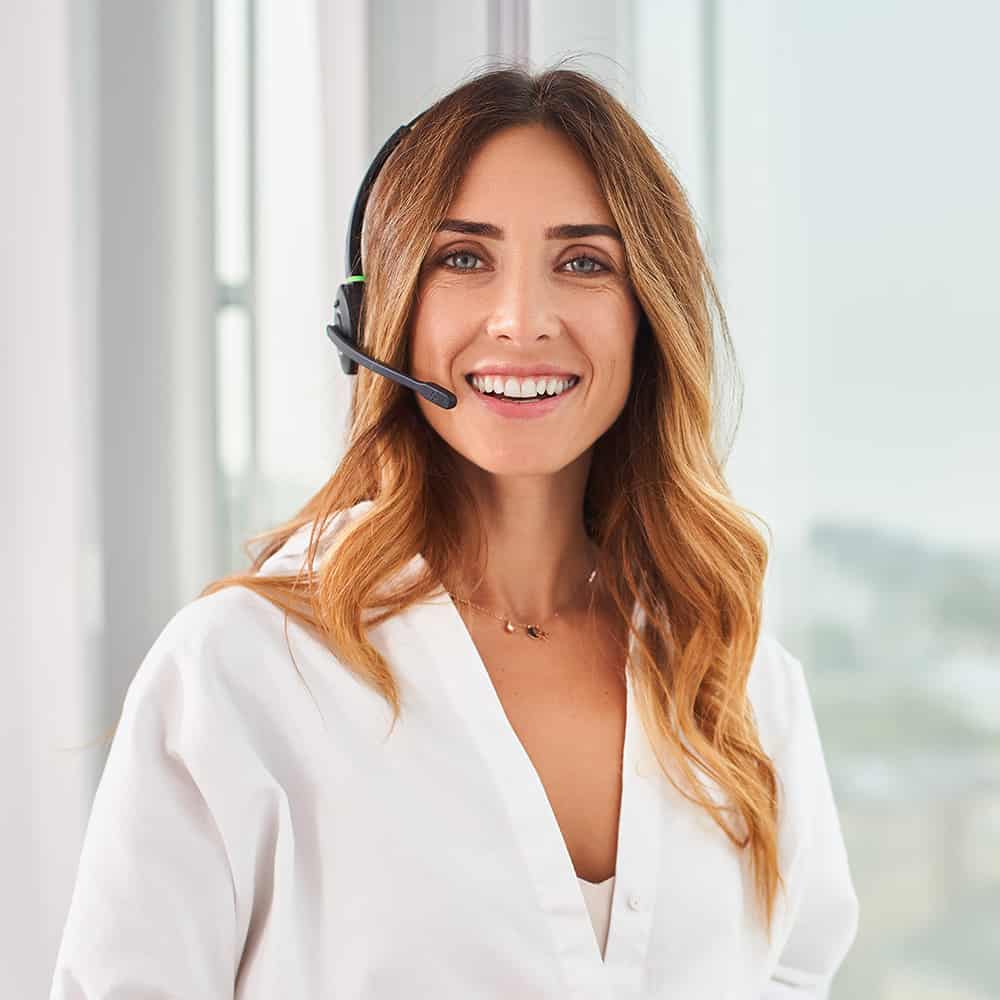 Mono LED-BT endast tillgängligt vid hårdvara som tjänst
Räckvidd: upp till 30 meter
Taltid: upp till 15 timmar
Standby Tid: upp till 20 timmar
Brusreducerande mikrofon
USB-C-kabel och USB-C till USB-A-adapter ingår
Svara/lägg på/stäng av/volymkontroll knappar
Status Lysdioder: online, borta, DND/i konferens, i samtal, ringer, samtal parkerat, missat samtal
Bordsstativ ingår
LED-användarstatus stöds på Wildix Collaboration, WorkForce, Welcome Console (Vision, SuperVision – kommer snart)
Bärbart fodral
WelcomeConsole-EXT
extensionsmodul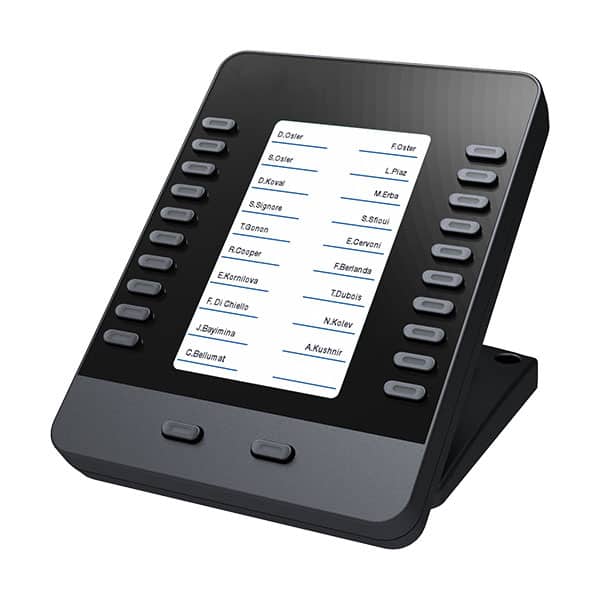 40 LED BLF-knappar (2 sidor)
4.3'' färgdisplay 272*480
Närvaroövervakning – kommer under 2019
Upp till 3-modulers Daisy-chain
Kompatibel med WelcomeConsole, WP490G
WiFi dongle
för WorkForce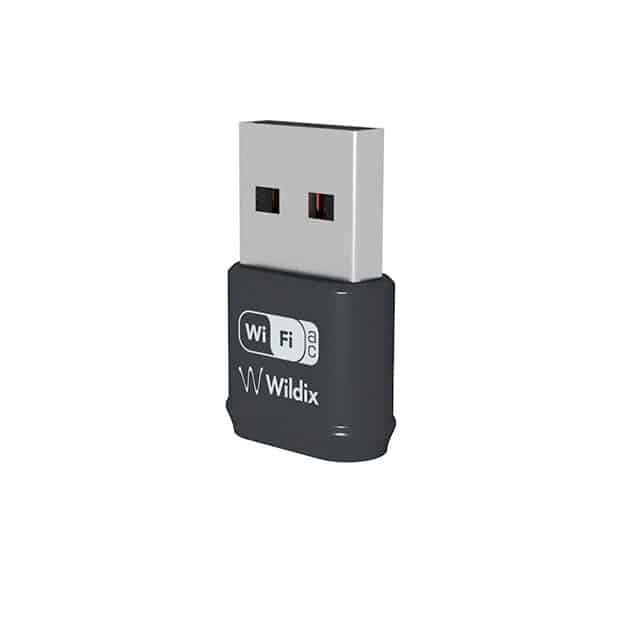 Adapter för WPEHS
trådlöst headset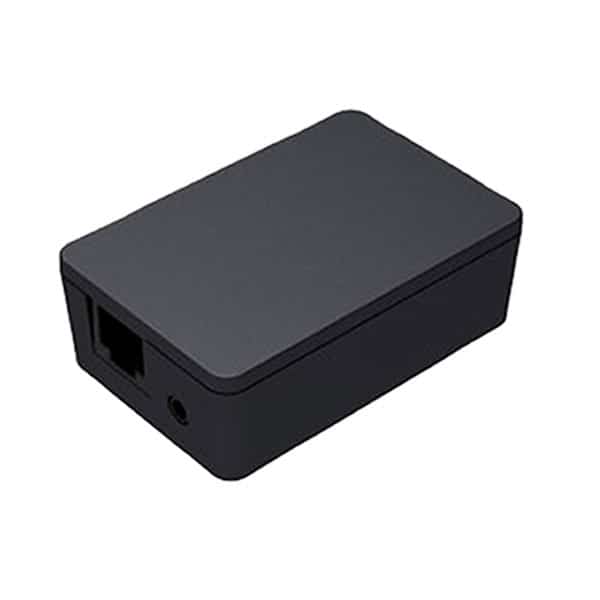 Kompatibel med WP480G / WP490G, WelcomeConsole
Kompatibel med headsets från Jabra, Plantronics och Sennheiser*
Svara och lägg på samtal på distans
*Se databladet för en lista över kompatibla modeller
Monaural Headset
WHS-MONO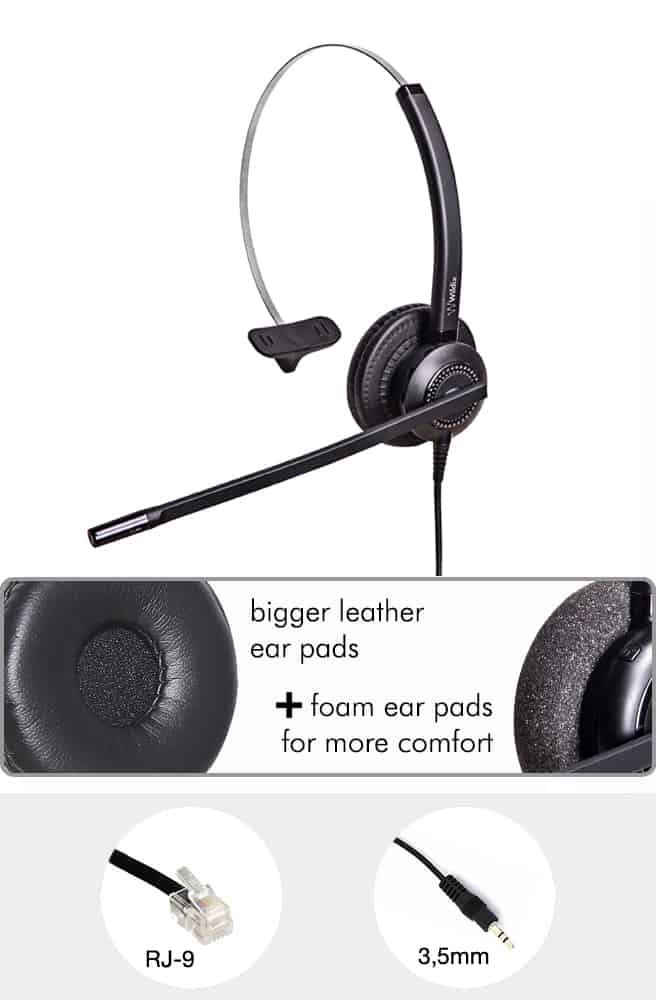 Brusreducerande mikrofon
Stora och bekväma öronkuddar (fuskläder / skum)
Kompatibla med Vision, SuperVision, WorkForce, WelcomeConsole, WP new series, WP first series and W-AIR
RJ9-kabel för WorkForce, WelcomeConsole, WP4X0(G) och WP first series
3,5mm-kabel för Vision, SuperVision, WP600AXX, W-AIR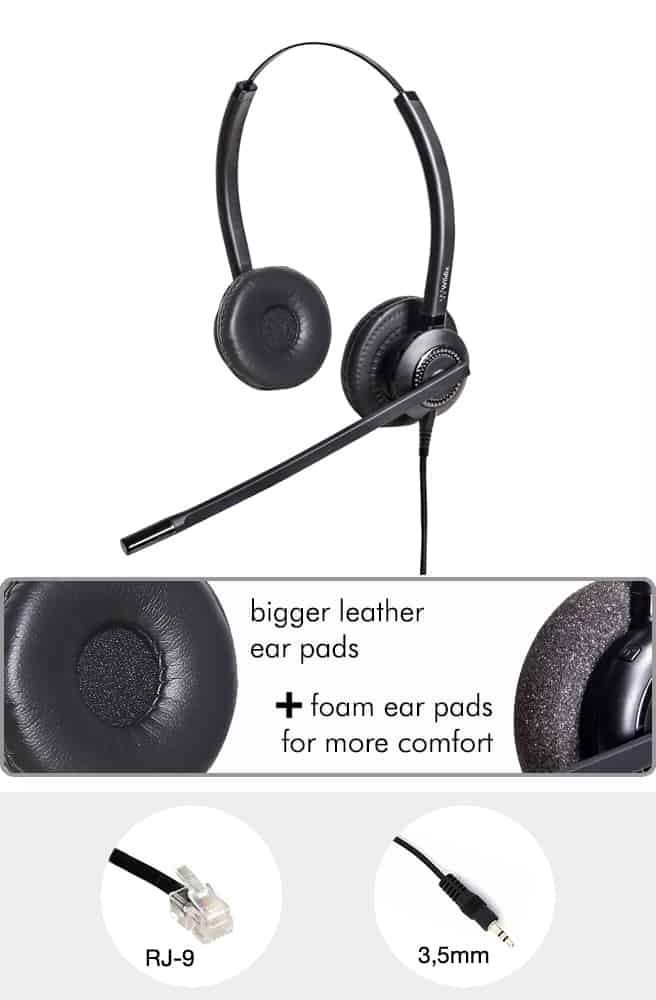 Brusreducerande mikrofon
Stora och bekväma öronkuddar (fuskläder / skum)
Kompatibla med Vision, SuperVision, WorkForce, WelcomeConsole, WP new series, WP first series och W-AIR
RJ9-kabel för WorkForce, WelcomeConsole, WP4X0(G) och WP first series
3,5mm-kabel för Vision, SuperVision, WP600AXX, W-AIR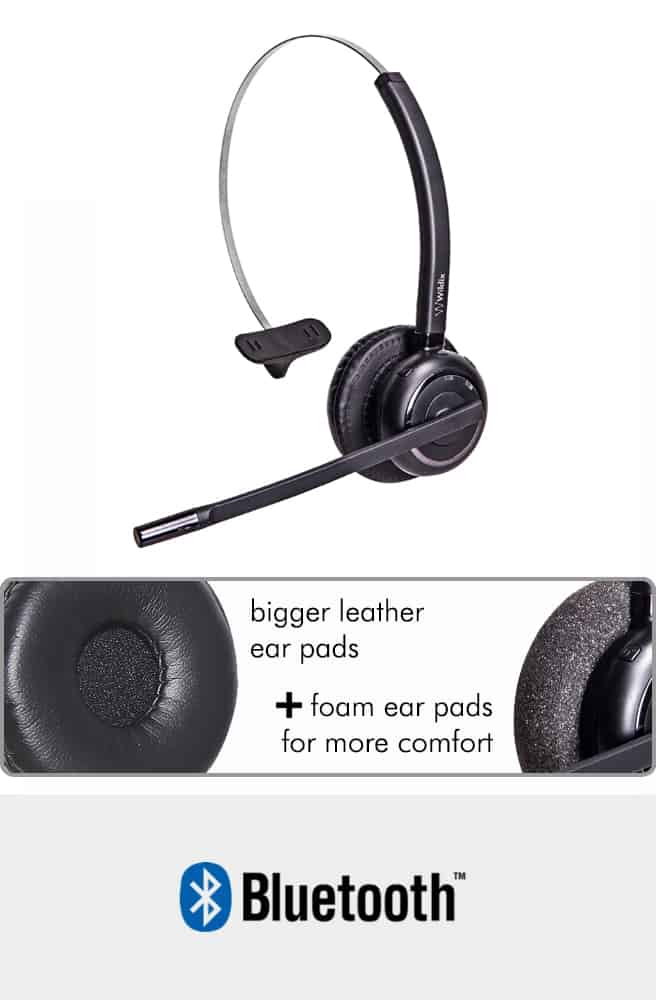 Stora och bekväma öronkuddar (fuskläder / skum)
Kompatibla med: Vision, SuperVision, WP600AXX, W-AIR LifeSaver, W-AIR Med, W-AIR Office
Bluetooth 4.0
Taltid: 12 timmar
Standby: 200 timmar
Räckvidd: upp till 20 meter
Svara / lägg på / volymkontroll på Vision and SuperVision / WP600AXX / WorkForce / W-AIR LifeSaver / W-AIR Med / W-AIR Office / iOS app (Mac OS / Windows / WorkForce endast med USB-dongle från Jabra / Plantronics / Sennheiser)
Även kompatibel med iPhone och Android-telefoner, Apple Mac och många Windows-datorer
Integration av Vision / SuperVision med porttelefon

Du får aldrig en andra chans att göra ett första intryck…
Completa el formulario para recibir más información