OROSOUND
Excellence quality sound and french touch combined in an headset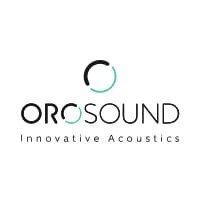 Type of Integration: Wildix Certified
Type of Connection: WI Service
Wildix Product Concerned: Business Headset
NO EXTRA CHARGES NEEDED
About TILDE® PRO
Designed and made in France, TILDE® PRO headsets bring together performance and sustainability.
The top-of-the-range headsets offer efficient denoising during calls and videoconferences, adjustable Noise-Cancelling to enhance concentration, as well as HD audio and great comfort and battery life.
TILDE® PRO is the only office headset with a modular design: its boom-microphone is detachable and on-ear or over-ear pads are interchangeable. The replaceable pieces make the product part of a sustainable approach.
About Orosound
Orosound is a technology company world-renowned for its excellence in acoustics, signal processing and edge AI. The company owns the Selective and Directional Noise-Cancelling TILDE® VOICE FIRST technology, patented and awarded many times including by the French Ministry of Research.
Admitted as the promising new player in the office headphones market, Orosound is the only company to offer premium headsets designed and manufactured in France. Its unique headphones are designed with a mindful societal and environmental approach.
Requirements
Latest version of WMS
Latest version of OROSOUND firmware
Latest version of Chrome extension
Supported Features through OROSOUND and Wildix Integrations
* Check the compatibility matrix to verify which OROSOUND devices support this feature.
EPOS at Wildix virtual Smart Working event
How audio quality affects SmartWorking efficiency?
French Discovery Webinar
EPOS-Sennheiser, OVH et Wildix : le combo parfait des centres d'appels
EPOS at Wildix Virtual Smart Working event
How does sound quality affect Smart Working efficiency?
…The introduction of the Plantronics headsets integrated with Wildix, had – as an immediate positive effect – an increase in productivity, above all, for the operators of the call center.

Valore BF - Business Development Manager

…In addition, Wildix mobility service has changed the way we work. We are often on the move, on different floors of the hotel or in the conference center, but now we have more mobility and freedom in our movements. Wildix mobility allows us to increase our availability and reachability, which is essential in our work, since we must provide the information or to make reservations on the phone, and thus, stay in touch at any time of the day.

Roseo Hotels - Vd