Castel Doorphones
Improve your company security thanks to Wildix PBX integration with Castel doorphones.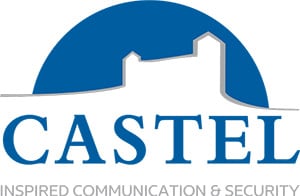 Type of Integration:

Wildix Certified

Type of Connection:

SIP End point

Wildix Product Concerned:

Doorphone
NO EXTRA CHARGES NEEDED
About Xellip Castel Doorphones
A pioneer in professional IP intercom, CASTEL has developed XELLIP, the latest generation of Full IP / SIP audio video access and intercom intercom. Benefiting from numerous technological developments and advanced features, XELLIP uses the SIP protocol, which guarantees interoperability with the security ecosystem (access control, video surveillance, telephony, etc.) and is Full compatible with WILDIX solutions. With many models available, with keypad, name scrolling, integrated access control reader, etc., XELLIP intercoms meet the various security and communication needs of buildings.
About Castel
With more than 50 years of experience in voice and security, CASTEL is the French leader for the design and manufacture of access control and intercom solutions (IP / SIP, digital, analog) . CASTEL solutions make it possible to secure and manage installations in the most demanding environments: medical sector, car parks, transport, penitentiary, defense, tertiary buildings (banks, hotels, offices), industrial sites, education, etc.
Requirements
Recommended browsers: the latest version of Chrome, Firefox or IE 9+.
Castel and Wildix Integration Supported Features
They Already Installed This Integration
…The introduction of the Plantronics headsets integrated with Wildix, had – as an immediate positive effect – an increase in productivity, above all, for the operators of the call center.

Valore BF - Business Development Manager

…In addition, Wildix mobility service has changed the way we work. We are often on the move, on different floors of the hotel or in the conference center, but now we have more mobility and freedom in our movements. Wildix mobility allows us to increase our availability and reachability, which is essential in our work, since we must provide the information or to make reservations on the phone, and thus, stay in touch at any time of the day.

Roseo Hotels - Vd